Henrique steps up to captain Movemeber initiative
An alternate captain on the ice, and New Jersey Devils Movember team captain away from the rink for the month, Adam Henrique has been steadily ramping up his efforts to raise awareness and funds for men's health.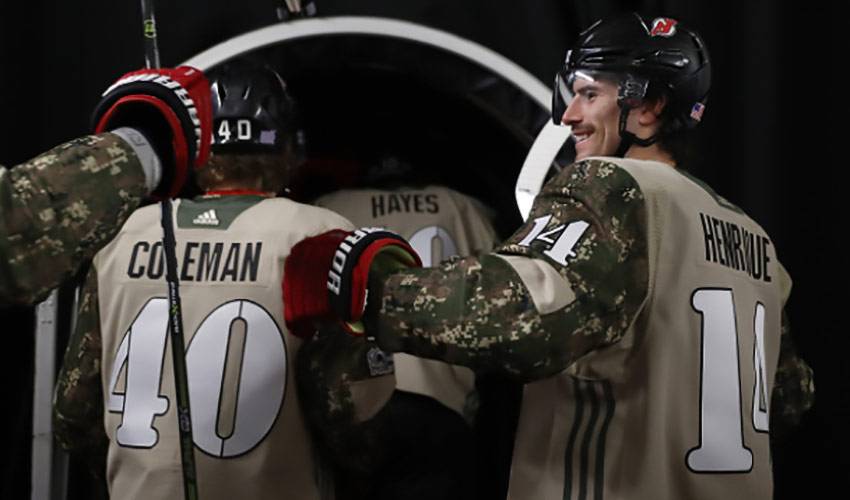 Here's no surprise: Adam Henrique is at the top of his Movember game.
As an alternate captain for New Jersey, Henrique is committed to stepping up for his team every time he takes a shift.
As captain of the Devils Movember initiative to promote men's health, the 27-year-old is stepping up in a different, albeit equally impactful way.
Henrique is part of an eight-man team – each player has their own Movember account – that is raising money and growing moustaches for the cause.
The Metropolitan Division squad's all-star lineup also features Brian Boyle, Jesper Bratt, Will Butcher, Blake Coleman, Jimmy Hayes, Nico Hischier and Miles Wood.
A fundraiser for men's health issues, such as prostate cancer, testicular cancer, fitness and mental health, the Movember campaign began on November 1. Those who participate in the annual event start out the month clean-shaven and then put away their razors for 30 days.
Henrique, who has the phrase "Mo Bro" sewn onto his skate tongue, has been a passionate supporter of the initiative since 2015.
👨🏻 @AdamHenrique's taking this #Movember to a whole new level! #RicoStache #MoBro pic.twitter.com/sIinz7wGMG

— New Jersey Devils (@NJDevils) November 3, 2017
"It began as something that was just fun being a part of each year," he told NHLPA.com. "I then realized that I could help make a real difference in raising awareness for men's health. The past couple years – with the help of people behind the scenes – we've tried to improve our efforts and have more fun with everything."
In less than two weeks, the veteran of nearly 450 NHL games will host his inaugural Rico's Soiree to benefit Movember. The event, which takes place in Hoboken, New Jersey on November 28 offers fans the chance to win prizes, meets and greets with Devils players and the opportunity to bid on shaving off Henrique's moustache.
He's excited – and battling a few butterflies – as the event draws closer.
"I'm looking forward to just meeting all of the people who will be at the soirée," said Henrique. "I'd be lying if I said I wasn't a little nervous, but we will have some of the players joining me which will help a lot and may even have some family in for the event."
When he's not busy helping the Devils keep their strong start to the season rolling, Henrique, who is also raising money through his own Movember-themed merchandise, can often be found on Twitter thanking fans for supporting the cause.
"People have really responded and supported it all," he said. "Selling hats, t-shirts and now Rico's Soirée – those are just a couple of things we're doing to help."
As for which teammate he thinks will sport the best mustache by month's end, Henrique has narrowed the field down to two.
"It could be Will Butcher or Brian Boyle."
Thanks @WillButcher4 and all the fans who came out last night to support @Movember! Great meeting everyone! #ShowYourStache #Stache14 @NJDevils pic.twitter.com/KFcO5LFFME

— Adam Henrique (@AdamHenrique) November 10, 2017
For more on Adam Henrique's Movember efforts, visit: https://Mobro.co/ah14.