Kyle Connor slotting in nicely for the Jets
Kyle Connor figured he'd feel right at home playing hockey in Winnipeg. Turns out, he was absolutely right.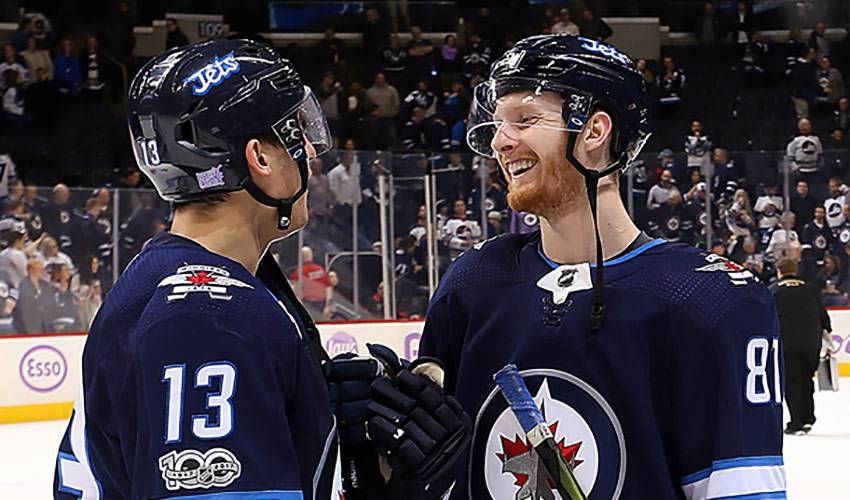 Kyle Connor figured he'd feel right at home playing hockey in Winnipeg. Turns out, he was absolutely right.
Growing up in Shelby Township, Michigan, a young Connor, like most of his friends, was drawn to hockey at an early age.
In the rinks, on the road, playing mini sticks in the basement – almost everything he did revolved around the game in some way.
And that suited him just fine.
"Obviously, hockey is a big thing in Michigan," started Connor. "I loved it right from the start. I always wanted to be out there playing. It was always hockey for me and it still is. There are definitely some similarities between where I grew up and here, the biggest one being the support and passion people have for the game."
'Here,' would be Winnipeg, the place where Connor now calls home during the NHL season.
Drafted 17th overall by the Jets two years ago, the left winger appeared in 20 games with the Central Division club in 2016-17, scoring twice and adding three assists. He also tallied 44 points in 52 games with the Manitoba Moose, Winnipeg's AHL affiliate, while being selected as the team's 2017 Player and Rookie of the Year.
This season, Connor, who had an assist in his NHL debut last October 13 and currently tows a 7-8–15 scoring record on the season, is on pace for a 28-goal, 60-point campaign with the Jets.
He points to several teammates as having a huge impact on his confidence and comfort level on the ice.
"I'm lucky because we have a really good group of leaders here," noted Connor, who set a Youngstown (USHL) record with 80 points (34 goals, 46 assists) in 56 games in 2014-15, and was named USHL Player of the Year. "I couldn't pick out just one guy along the way who has helped me out. There have been so many. Blake (Wheeler) is a great leader. But, it's also the younger guys, too. (Mark) Scheifele, (Jacob) Trouba, (Adam) Lowry, (Andrew) Copp – him being from Michigan – they've all really helped make the transition easier."
It's not only the players that have made Connor feel welcome.
All it took was one walk around Winnipeg for him to get a sense of the fan support for the Jets.
"They love their hockey and they're really passionate about it," said the soon-to-be 21-year-old forward, who idolized former Detroit star Pavel Datsyuk growing up. "The whole city has a great vibe about it."
For the kid from Shelby Township, there's no place he'd rather be.
"You just want to make a difference," said Connor. "You're not going to score every night, so if you can be sound defensively or just be hard to play against, that's what I want to do. We're off to a great start and we know can improve on things, but we like where we're at right now."