David Backes Is A Dogs' Best Friend
Blues forward and his wife Kelly heavily involved with local St. Louis animal shelter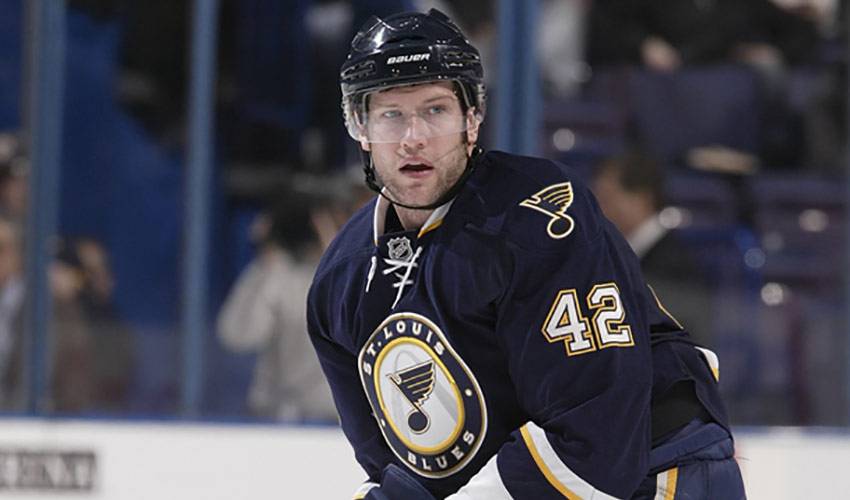 When you tell David Backes he's gone to the dogs, the St. Louis' forward does not take offence at all.
Now in his fourth National Hockey League season, Backes, who had a breakout year in 2008-09, is very much the epitome of a professional hockey player, an NHLPA member who understands the importance of making a mark both on and off the ice.
So when the opportunity arose to give something back to the community, Backes, along with his wife Kelly, didn't hesitate to become involved.
The couple has teamed with St. Charles Humane Society to help neglected animals through David's program, David's Dogs. David and Kelly also work to help the shelter by promoting and participating in various fundraisers, and recently joined the Board of Directors.
"We've always been animal lovers and now that we've put some roots down in St. Louis, we both wanted to give something back," said Backes, who netted a career-best 31 goals for the Blues in 2008-09. "For us, it was just the right thing to do. It was also important to us that this is a no-kill shelter."
The St. Charles Humane Society provides a home for nearly 1,000 cats and dogs each year. The majority of the animals at the shelter come from private citizens who are unable to keep their pets for one reason or another. Staff and volunteers care for the animals and help to find them a new home.
Though the majority of the animals come from owner surrenders, the shelter does take animals from other rescue groups when there is room and also works with the Missouri Department of Agriculture to help find a home for rescued animals. Most of the animals at the shelter are healthy, but they do rescue animals in need of extensive medical treatment or that require a foster home for a long recovery.
Recently, David and Kelly participated at a mobile adoption event before the Lindenwood University Men's Ice Hockey Game on November 13, a night that also saw David sign autographs and drop the puck before the game.
David's Dogs of the Month, featuring pictures of David with the dogs, appear on the jumbotron during Blues' home games and in e-mail blasts to Blues fans.
"It's something both Kelly and I truly believe in and we want to do our part to help out in any way we can," said Backes, who was drafted 62nd overall in 2003 by St. Louis. "We're honoured to be part of it all."
Backes, who played three years of collegiate hockey with Minnesota State, then spent two years in the American Hockey League with the Peoria Rivermen prior to joining the Blues, learned early on in his big-league career what defines a professional athlete.
"I was very fortunate when I first started out in the NHL to be surrounded by such great leaders and great people," said Backes, who had 10 goals and 23 points in 49 games in 2006-07. "Doug Weight and Dallas Drake were both very prominent in the St. Louis community and you took notice of that right away. As you begin to grow in your own career, you appreciate more and more what it means to be able to give back. What they did would inspire anyone to get involved."
Despite of a hectic schedule, Backes has managed to find the time to spread the word about the St. Charles Humane Society throughout the hockey season.
In fact, Backes doesn't mind getting dressed up to get out the message.
In October, several Blues players and members of the National Football League's St. Louis Rams attended the second annual Dogs & Duds Celebrity Fashion Show at the Kemp Auto Museum. Backes, along with teammates Brad Boyes, Alex Steen, Cam Janssen and DJ King represented the Western Conference club.
"It was a lot of fun," said Backes, of the event that saw the athletes and other celebrities stroll the catwalk with their favorite canine or a dog available for adoption. "We all enjoyed it and most importantly, it raised money and awareness for the shelter."
With the playoff race heating up and playing for Team USA at the Olympics this February in Vancouver a possibility, Backes has plenty on his mind these days.
But that doesn't mean he will ever forget what he learned from two respected veterans in his first NHL campaign.
"I think everyone can say there life is almost always busy," said Backes. "But you can always manage to find the time to lend a hand."