Andy, You're A Star
Blues forward McDonald playing a leading role in St. Louis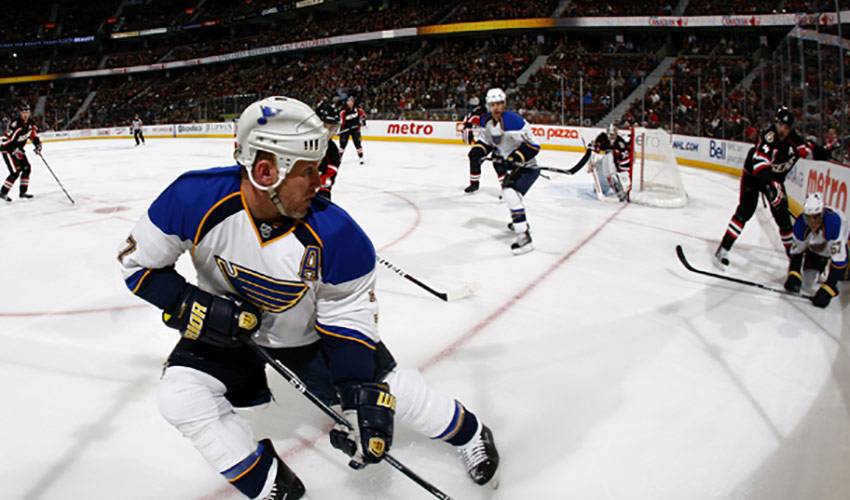 Whether it was during his college career, or in his National Hockey League tenure, Andy McDonald has often been referred to as an "unexpected surprise."
Hailing from Strathroy, Ontario, McDonald continues to be a strong presence in NHL circles, with the speedy forward playing a starring role in St. Louis for the Blues.
And though his numbers and performance might go under the radar at times, those who know him best certainly aren't shocked at his consistent contributions.
"Andy has always been the type of player that constantly amazes you," said Don Vaughn, head coach of Colgate University, McDonald's alma mater. "When we were scouting him, we really hoped that he'd come to Colgate. We were thrilled he decided to come here."
Pegged as too small by some, the 5'10", 180-pounder was an instant sensation in is rookie season.
The former Strathroy Rockets star, who was awarded OJHL Western Jr. 'B' Player of the Year honours in 1996, posted nine goals and 19 points in 33 games with the Red Raiders in 1996-97.
"You could see from day one that Andy was the type of player that loved to work hard," said Vaughn. "He's a quiet guy, somewhat shy, but he is a great team player and someone who will do anything to win."
During his four seasons with Colgate, McDonald stamped himself as a high-scoring centreman and in 1999-2000, he led the ECAC in goals (25), assists (33) and points (58), while being named to the ECAC First All-Star Team, ECAC Player of the Year, NCAA First All-Star Team and was a finalist for the Hobey Baker Award.
After all he had accomplished in his collegiate career, one would have expected plenty of NHL suitors interested in drafting Andy McDonald.
That, however, wasn't the case.
"Obviously, I wanted to make it to the NHL," said McDonald, who had 58 points in 24 games during his senior season with the Colgate Red Raiders. "I didn't want to do anything else."
Disappointed, but undaunted, he didn't give up on his dream of competing at hockey's top level.
McDonald's determination was rewarded when the Anaheim Mighty Ducks came calling.
"It was just a question of time before teams realized what type of player Andy was," said Vaughn. "He does so many things well and is a smart player."
In 2000-01, Andy dressed in 16 games with the Mighty Ducks, while spending the remainder of the season with Cincinnati of the AHL.
"It was a thrilling as it gets," said McDonald, of his first NHL game and his first NHL goal, the latter coming on December 3, versus the Los Angeles Kings. "It's a pretty amazing thing to look around the ice and see so many great players all around you."
The next season, he once again split the season between Anaheim and the AHL before earning a full-time roster spot with the club in 2002-03.
In 46 games, McDonald scored 10 goals and added 11 assists with the Ducks.
"You could see that he was becoming more comfortable on the ice," said Vaughn. "And you knew that Andy was working hard behind the scenes to get better. He's always looking to improve."
Unfortunately, McDonald missed the last 29 games of the regular season in 2002-2003 with post concussion syndrome, but all signs pointed to a full recovery.
"It's always tough when you aren't playing," he admitted. "Things were going well, but sometimes you just have to deal with things that don't go your way."
McDonald was about to find out that things were going to get better – a lot better.
After making significant inroads in his NHL career, the 2003-04 season offered McDonald just what he was hoping for.
"I really wanted to start strong and carry it through the entire year," said McDonald, who recorded his first multi-point game of the campaign with a pair of assists against San Jose on October 21, 2003. "Consistency is what I've always strived for."
At season's end, McDonald, who took 162 shots (fourth highest on the Ducks) had a career-best 30 points, including nine goals.
There was one person who knew exactly what he was thinking.
"He's the type of person that is never satisfied unless the team fares well," said Vaughn. "For him, seeing the team do well and being a significant contributor to that success is what matters to him."
After 30 points in 36 games playing in the German Elite League during the lockout in 2004-05, McDonald came to training camp with great expectations for the team and himself.
With a career-best 85 points, McDonald, who went on to record 78 points and win a Stanley Cup in 2006-07, did more than just do his part.
"I thought he would have the kind of year he did," said Vaughn. "With his skating ability and passing skills, it was just a matter of time before he put up the kind of numbers he did. It comes as no surprise to me at all."
As one of the most versatile members of the Blues, McDonald, who came to St. Louis via a trade on December 14, 2007, continually earns top marks for his playmaking skills and boundless energy.
This year is no different, as McDonald, who won the fastest skater challenge at the 2007 All-Star skills competition, finishing with a time of 14.03 seconds, has been huge at both ends of the rink.
"For some players, it takes a few years to really understand what the NHL is all about," said Vaughn. "I definitely think that was the case for Andy. When you commit yourself to self-improvement as much as Andy does, you knew this was going to be the end result. He's focused on raising the bar of every part of his game."