Burrows Turning Heads in 2010
Canucks forward in the spotlight for scoring prowess & strong play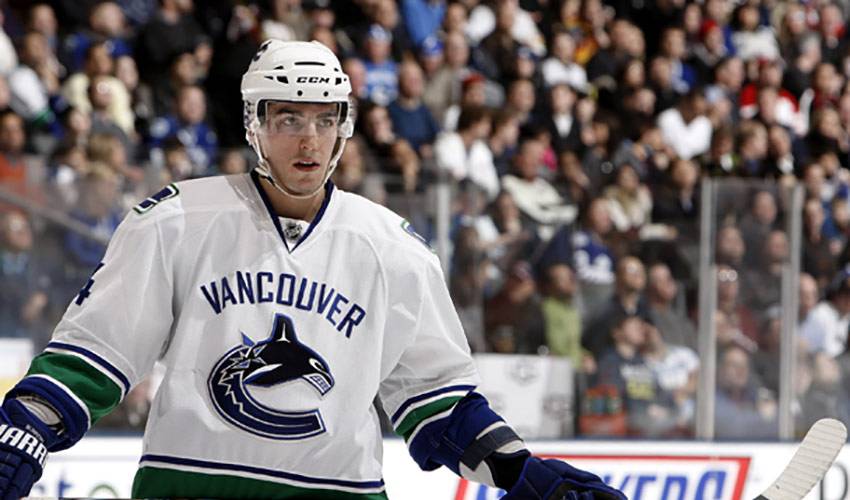 Alex Burrows and the Vancouver Canucks have been squarely in the spotlight of the hockey world since the beginning of 2010.
Since the start of January, it seems that Alex's New Year's resolution has been to score goals in bunches and be one of the game's hottest scorers. The proof is certainly, as they say, in the pudding.
Burrows became the first Canuck to score three goals in consecutive games since Petri Skriko did it during the 1986-87 season, recording the feat in a 4-0 blanking of the Phoenix Coyotes on January 7.
Burrows' production has lead the Canucks to their strong showing recently, as they have climbed the ladder in the Western Conference and narrowed the gap in the Northwest Division standings, going 7-1-2 in their last ten. The only loss over that time span being a controversial 4-2 defeat to Nashville on February 11th, a game that Burrows had two goals and a much-written about 17 minutes in penalties.
So was his goal heading into 2010 to light the lamp seemingly at will?
"No it wasn't, but maybe I should have done that," said Burrows, the afternoon following the win over the Coyotes. "I guess it's a combination of things. I've been getting a lot of lucky bounces and good things have been happening. I also have great linemates who get me the puck in every situation."
Those linemates would be the Sedin twins, Henrik, the league's leading scorer to date, and Daniel, who, despite injuries, is enjoying a brilliant 2009-10 campaign.
For Burrows, playing alongside the Swedes is a dream come true.
"I believe I am playing with the two best players in the league," said the forward, who went undrafted before signing a two-way contract with the Manitoba Moose, the Canucks' American Hockey League affiliate, on November 9, 2005. "They are unbelievable. They can get you the puck on their forehand, backhand, or through traffic. I consider myself very lucky to be playing with them."
Though he might downplay his goal rush of late, Burrows, who played two seasons of major junior in the Quebec Major Junior Hockey League (QMJHL) with the Shawinigan Cataractes from 2000-02, has been huge for a Vancouver team who have their sights set on winning the Stanley Cup.
Seeing the team solidify themselves as legitimate contenders is Burrows' greatest joy.
"To know that we are playing well together and we all want the same end result is very satisfying," said Burrows, who recorded his first career NHL goal and assist against the Toronto Maple Leafs in a 4–3 win on January 10, 2006. "That's the No. 1 thing for me. If I am helping to contribute to that success, I'm happy."
And his teammates couldn't be happier for him. Well, sort of.
"Everyone has been really great to me," offered the 28-year-old Quebec native. "They are happy for me. But they also tease me, too. They don't mind chirping at me."
What does Burrows have to contend with?
"They tell me if they were playing with the twins, they'd already be at the 30-goal mark."
Burrows certainly doesn't mind the good-natured ribbing he gets, nor does he mind the compliments he receives.
But he's not about to allow back-to-back hat tricks to go to his head either.
"No way," said the former ball hockey star, who was voted Canada's greatest ball hockey player in a 2006 poll. "I went through a tough streak during a time in December where I didn't score a goal. But I wasn't doing anything differently than I am now. Sometimes the bounces go your way and sometimes you get on a good roll."
Vancouver fans have definitely taken notice of Burrows' good roll.
Whether he's out shopping or grabbing a coffee, the winger does not go unnoticed.
"It's been really nice," said Burrows, of the recognition he continues to receive. "Vancouver is a beautiful city and the fans are great. People will come up and say nice things and wish you luck. They love their hockey and they love the Canucks, so it's always nice to have that connection with them."
All the more reason Burrows and the rest of his teammates would love to deliver a championship to the city.
"We are very lucky to have Roberto (goaltender Luongo)," offered Burrows. "We also have a great group on the blueline, too. To be successful in the playoffs, you need to count on everyone to be at their very best. We like the group we have and we know we have to continue to step things up as we go ahead."
While the season, both for Burrows and the Canucks, has been a rewarding one to date, the man who won the 2008 Fred J. Hume Award as Vancouver's unsung hero and the 2008 and 2009 award as the team's most exciting player isn't going to dwell on his recent accomplishments.
It might be easier said than done all things considered, but Burrows, who had 28 goals and 51 points in 2008-09, isn't too worried.
"Any hockey player will tell you the main thing is to always try and be better, always work hard at what you do," he said. "It's no different for me. I would love nothing more than to win the Cup."
And if he happens to net a few more hat tricks along the way, well, that would suit Burrows just fine.