Morrison More Than Happy To Be In Nation's Capital
Washington pivot provides veteran presence to one of the league's most exciting, and youngest, teams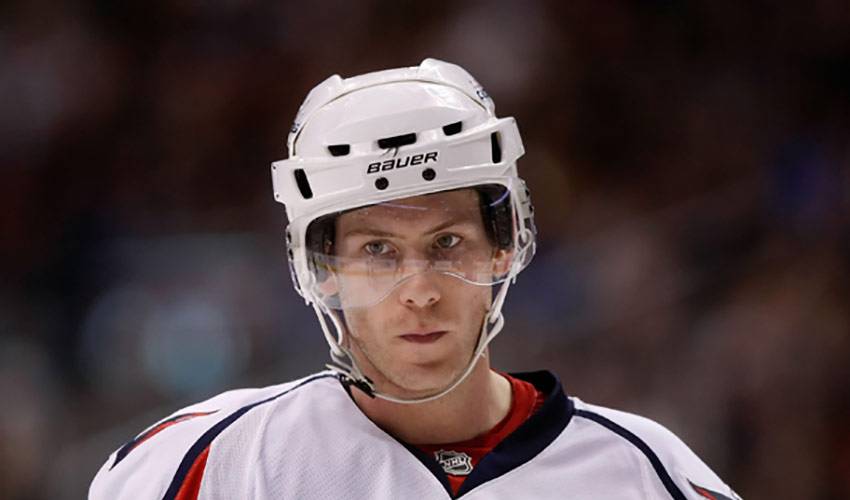 When the Washington Capitals lost two of their most respected veteran forwards prior to the start of 2009-10 season, it could have been a huge blow to their Stanley Cup aspirations. That was before they landed Brendan Morrison.
When Sergei Fedorov and Viktor Kozlov made the decision to return to their native Russia to play in the Kontinental Hockey League this year, it left a void, in terms of veteran talent, on a young Capitals roster.
But that situation was remedied when Washington inked Morrison and Mike Knuble, both unrestricted free agents, a duo known for their impact both on and off the ice.
For Morrison, the decision to sign with the Eastern Conference team was an easy one.
"It was a no-brainer," said Morrison, who won the Hobey Baker Award as the nation's top college player in 1997 and led Michigan to the national championship in 1996. "There were some options available, but when I found out Washington was interested, it was an ideal situation."
Why was it such a great fit?
"There are a lot of reasons I could come up with," said Morrison, who was a teammate of Knuble for two years at Michigan and again with Linkopings in Sweden during the NHL lockout in 2004-05. "The skill level and the style of play, where we love to attack, is great. But I suppose what stands out the most is that this is a very deep team and one who is very capable of winning it all."
And Morrison is very capable of playing a significant role in the quest to land the Caps their first championship.
A 5'11", 181-pound native of Pitt Meadows, British Columbia, Morrison has had 50-plus points six times, including four 20-goal seasons. He has played over 800 career games with five teams – Dallas, Anaheim, Vancouver, New Jersey and Washington – spanning 12-plus NHL seasons.
Morrison, who will turn 35 on August 15, split last season between Anaheim and Dallas, posting 16 goals and 31 points in 81 games. He also had 32 penalty minutes and a plus-3 rating. He played 542 consecutive NHL games from 2000-07, but was hampered by injuries the past two campaigns.
"It's been a bit of a tough go the past two seasons," admitted Morrison, who amassed 393 points in 543 games with Vancouver from 2000-08 and was among the team's top five scorers for six years in a row. "When you are slowed down like that, it gets to you. But I'm happy to be in Washington and I'm happy with how things have gone."
Morrison is even happier these days after he netted the first goal of the game, just over a minute in what turned out to be a 7-2 win over the New York Islanders on January 26.
"I hadn't scored in awhile, so that was frustrating," admitted Morrison. "I had a really good start, so it was nice to get back on the scoresheet again."
Still, Morrison found other ways to contribute.
"If you aren't scoring, it's imperative that you are able to do other things to help the team," he offered. "Our penalty kill has been solid and I'm happy with my defensive play. I feel happy and I feel healthy and the team is playing well, so I can't really complain."
Nor will you hear Morrison, a second-round draft choice of New Jersey in 1993, 39th overall, complain about his veteran status.
One of his first sit-down interviews during his rookie season with the Devils came at the NHLPA's office in Toronto more than 11 years ago.
"I do remember coming in that day," recalled Morrison. "It really doesn't seem that long ago. When I think of it, I really don't see myself as being an old guy. But time goes so fast playing in the NHL. It's amazing how quickly it goes. All that does is make you appreciate every day. You can't play forever, so you make sure you enjoy every moment.
"As for being for a veteran, it's a good position to be in," he continued. "It's an opportunity to take what you learned when you broke into the league and help others. I think the key to playing the game at this level is to be the consummate professional regardless of how long you've played in the league. Communication might seem like a small thing at times, but it really is a huge key."
While his career has certainly had its share of highs and lows over the past few seasons, Morrison is optimistic about the Caps' fortunes in 2009-10.
"This is a very well-rounded team and when you look at how things have gone for us so far, it really speaks of our depth. Our fourth line can play against anyone. Everyone contributes in some way. You can't ask for more than that."
Well, maybe with the exception of hoisting the Cup over his head.