Week 17 - All Smiles in Ottawa
Streaking Sens abound in this week's edition of the NHLPA.com Weekly Review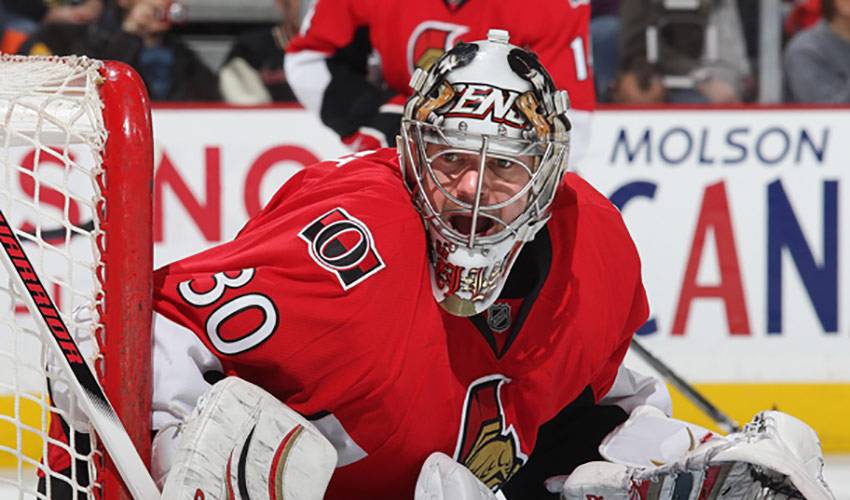 Player of the Week:
Brian Elliott (G, Ottawa Senators)

'One man's misfortune is another's fortune' is how the old proverb goes and it is certainly applicable in the case of Ottawa goalie Brian Elliott. With the bad luck and freak injuries of Pascal Leclaire widely documented, his replacement as the Senators starting goaltender has more than filled in admirably as of late. Since moving past a rough three-game patch where he was winless and yanked from a game against the Thrashers, Elliott has won five straight games for the Sens and has a tidy 1.00 GAA in that span. He's also beaten defending Vezina Trophy-winner Tim Thomas twice in the past five games and his latest victory was a shutout win over the New Jersey Devils and the all-time winningest goaltender, Martin Brodeur. He also held the high-flying Chicago Blackhawks to just a goal in a 4-1 Senators win during that stretch. A tough task lies ahead tonight as he faces the Penguins in Pittsburgh, a team that sits directly in front of Ottawa in the standings. The national spotlight will also be on Elliott and the Sens this weekend, as they face the Montreal Canadiens at home as part of Hockey Day in Canada. If recent history dictates anything, chances are Ottawa will be getting solid net minding for both.

Team of the Week:
Ottawa Senators (29-21-4)

Ottawa has been under siege by injuries this year, which is a common theme amongst NHL squads, but few have been able to handle their bad luck like the Senators have. Whether it was starting goaltenders, their first line, or their captain; all have been equally prone to the injury bug. But Ottawa has held together through the rough times and currently have a seven-game win streak to thank for their efforts. The Sens have catapulted themselves into a comfortable playoff position, sitting fifth in the Eastern Conference playoff race, at press time. With Daniel Alfreddson, Jason Spezza and Milan Michalek all having returned to the line-up, Ottawa is thriving and coach Cory Clouston is garnering many early Jack Adams nominations. The aforementioned Elliott has been the star of late, but it was the Sens' resolve throughout the season that has them in the position they're in.

Line of the Week:
Shane Doan (LW, Phoenix Coyotes – 1GWG, 3A, 2 PPA, 2PIM)
It was a game where Shane Doan played both the hero and the goat, all before redeeming himself when it counted most. In a game that went back and forth all night, Shane scored a goal to go along with three assists, but it was the timing of his scoring that told a bigger story. His first assist came on a Scottie Upshall power-play tally that tied the game 1-1 in the second period. Phoenix then took a brief lead, for just 11 seconds, before the Red Wings tied it up going into the third period. Two Nick Lidstrom goals later, the second one coming on a power-play from a Doan roughing penalty, and Detroit was up 4-2 with less than five minutes to go in the game. Cue the dramatics led by the Coyote captain. First, Keith Yandle took a feed from Doan to score on the power-play with 1:30 to go, cutting the lead to one. Then, with just 23 seconds left in the third, Shane set up shop behind Jimmy Howard's net and fed a beauty pass out to Ed Jovanovski for the equalizer. With the game sent to overtime, Doan completed his night's work by burying one past Howard in front of his crease, giving Phoenix one of its' biggest wins in a long time.

Milestone of the Week:
Chris Conner (RW, Pittsburgh Penguins)

Playing against the New York Rangers on Monday night, Chris Conner could have been happy with merely being in the lineup. After practicing with the Penguins' AHL affiliate that morning in Wilkes-Barre, Chris was called up to the big club and played one of the best games of his life. Chris recorded the first multi-goal game of his NHL career, with two goals in Pittsburgh's thrilling 4-2 win. Chris took a Sidney Crosby pass early in the first period to get the scoring going and then finished a nice play from Pascal Dupuis and Crosby for the game-winner in the third. It was Chris' first NHL game-winner in almost a year and came exactly a minute after Evgeni Malkin had tied the game 2-2 on a Pens' power-play. Congratulations from NHLPA.com on this accomplishment, Chris.

Quote of the Week:
"It just shows that things happen in life that are much bigger than hockey, much bigger than anything. If anybody runs into some bad luck or gets mad about something, or gets fired; whatever happens, anyone down there would trade for your little bad luck for anything. Actually, I wouldn't even say that that because the people in Haiti are proud and even though they are poor, they still know how to be happy. We could learn a lot from them."
- NHLPA member Georges Laraque, whose parents are Haitian, discussing the tragic earthquake that has devastated the small island country and left it in ruins. Georges has partnered with the Players' Association and World Vision to help create "Hockey for Haiti", which will donate an initial $100,000 along with proceeds from an online auction of hockey memorabilia to benefit the country in its time of need.