The Legend of Zenon
Lightning forward Konopka respected around the league for his hard work & dedication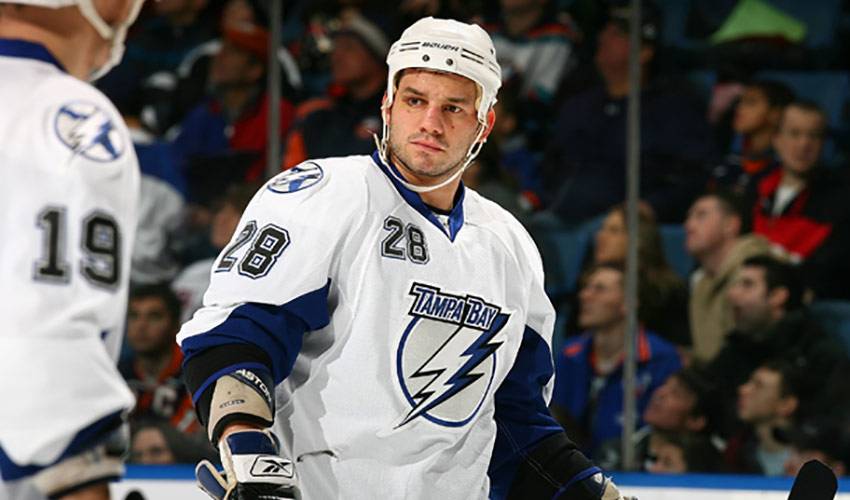 Zenon Konopka has earned a reputation among his Tampa Bay teammates as a man of action, someone who can be counted on to deliver when it matters most. He's also regarded in the same way when he's playing the game, too.
When veteran forward Georges Laraque and the NHLPA recently teamed up to form Hockey for Haiti, a relief project aimed at raising funds to provide the earthquake-ravaged country with the ability to provide critical healthcare and medical care to the Haitian people, Konopka took action.
After calling the NHLPA offices in Toronto to discuss what items members of the Lighting could donate to an online auction that features one-of-a-kind hockey memorabilia donated by the NHLPA, its members and other charitable individuals, Konopka gathered up his teammates to discuss how they could get involved.
"I called a meeting with the guys and everyone responded exactly how you'd expect hockey players would," said the 29-year-old native of Niagara Falls, Ontario. "In this sport, we are very lucky to have such a great relationship with the fans. But it doesn't stop there. Players want to make a difference with the fans, but they also want to make a difference in the community and in the world."
The end result was every member of the Lightning donating a signed stick for the auction, an initiative undertaken by a player in his first full NHL season.
It's not only a sign of Konopka's comfort level with his teammates, but also a measure of how he is regarded by those he plays alongside.
"I couldn't ask for a better, more supportive group of guys to play with," said Konopka, who played junior hockey with the Ottawa 67's of the Ontario Hockey League from 1998 to 2002, and was a member of the 1999 Memorial Cup champions. "They have all made me feel very welcome and appreciated."
That would include Vincent Lecavalier, one of the game's most respected performers both on and off the ice.
"When you catch wind of someone like Vince complimenting what you do, it means everything in the world," said Konopka, who was never drafted by a NHL team, but caught on with the Wheeling Nailers of the East Coast Hockey League in 2002-03. "All that does is make you want to play even harder and do whatever it takes to win."
Konopka, who, after three minor league seasons with various teams in the ECHL and AHL, made his NHL debut in 2005–2006, playing 23 games for Anaheim, certainly brings that mentality to the rink every night, a blue-collar approach that has endeared him to the home crowd, his teammates and coaches.
The simple fact he is playing in the NHL is a story in itself.
A veteran of over 500 games in the minors, Konopka returned to the AHL in 2006-07. On January 26, 2007, he was traded by Anaheim along with Curtis Glencross and a draft pick to the Blue Jackets in exchange for forwards Mark Hartigan, Joe Motzko and a draft pick.
Since that time, Konopka has played for Columbus' farm team in the AHL, the Syracuse Crunch, with occasional call-ups to the Blue Jackets. On July 10, 2008, he signed a two year contract with the Tampa Bay Lightning.
His strong play in training camp landed him a spot on the roster for the 2009-10 season.
"It was a lifelong dream to play in the NHL, something that always stayed in the back of my head," said Konopka. "At times, it seemed so far away and not obtainable. But I suppose it makes it all the sweeter that it took this long to get here. And even though I've played less than 100 games in the NHL, I absolutely love it. I really believe playing in the minors counts for something."
While there have been several players that have helped Konopka since his arrival on the NHL scene, there are two in particular he points to as key mentors.
"I was very lucky when I broke into the league in Anaheim," recalled Konopka. "Teemu Selanne is the nicest guy in the world. He was always willing to listen or to help you out. Sergei Fedorov was another one. Maybe he was misunderstood by some, but he's a terrific guy."
Konopka continues to earn rave reviews for his work ethic, something he learned from one of the biggest influences in his life and career.
"My dad passed away suddenly when I was 13," remembered Konopka. "He sacrificed everything for me and my two sisters. He was the hardest working person I have ever known. He taught me so much about everything."
Including an unselfish willingness to step up for others in need.