Pominville, Sabres Look to Rattle the Competition
Buffalowinger is one of many key contributors for the division-leading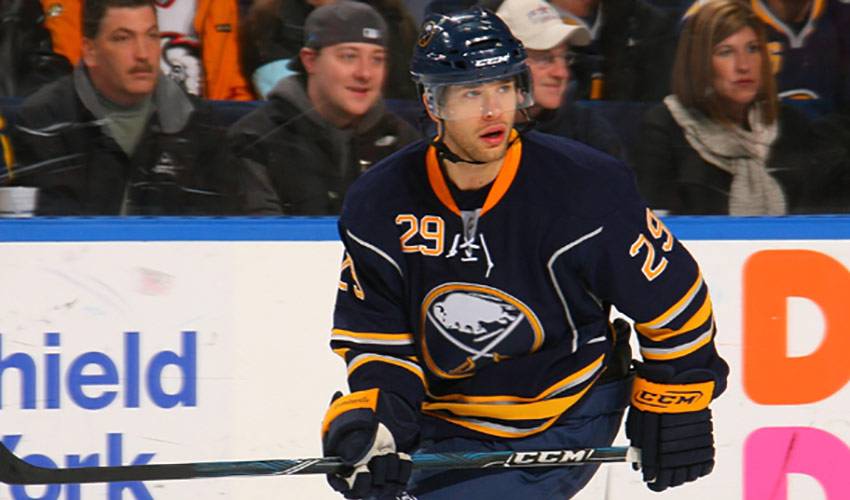 Pundits and prognosticators might not have picked the Buffalo Sabres to be a major player in the Eastern Conference in 2009-10, but Jason Pominville was certainly optimistic about his team's fortunes.
Pegged as a team that would have to fight tooth and nail to get into the top eight in the East, the Sabres have surprised many…with the exception of themselves.
"I was very confident in our group heading into this year," said Pominville, who was taken 55th overall by Buffalo in the 2001 NHL Entry Draft. "Mike Grier, who played here previously, was back. Steve Montador is another vocal guy who shows up every night and (rookie) Tyler Myers has been huge for us.
"It seemed as though we had the pieces in the place to have a good season. It's a team game and everyone was on the same page with what we needed to do in order to be successful. We expect a lot from ourselves."
Expectations have definitely increased as the season has unfolded.
That was quite evident after a recent 5-3 road loss to the Pittsburgh Penguins. Up 3-1, the Pens scored four consecutive goals en route to the win.
"We let that one slip away and we know that's just not acceptable," said Pominville, who played for the Shawinigan Cataractes of the Quebec Major Junior Hockey League, amassing 121 points in 66 games in 2001-02, his final year of junior hockey. "We've been pretty good at protecting the lead all year. We take a lot of pride in closing games out. If we stick to our system, we're able to do that."
Having Pominville in the fold has certainly been a boost for the Sabres, a player whose career has had its share of both good and bad times.
Pominville had initially been waived by the Sabres at the start of the 2005-06 campaign. Clearing waivers, he continued to play in the minors until he was called up a couple of months into the season. He scored his first NHL goal on November 27, 2005, a power-play tally in a 3-2 win against the Washington Capitals.
The Quebec native quickly became an integral part of the Sabres lineup and finished the remainder of the season with Buffalo, scoring18 goals in 57 games.
He was even better in the playoffs.
In the 2006 post-season, Pominville recorded a hat trick in Game 2 of the first round against the Philadelphia Flyers. Later in the Sabres' playoff run, he scored the series-clinching goal in the second round against the Ottawa Senators, a short-handed effort in overtime of Game 5.
After improving to 68 points in 2006-07, Pominville made a name for himself the next campaign. He scored at nearly a point-per-game clip with 80 points in 82 games.
In the absence of departed co-captains Chris Drury and Danny Briere, Buffalo used a rotating captaincy during the 2007–08 season.
Pominville was named captain for the months of March and April. At season's end, he was nominated for the Lady Byng Memorial Trophy as the league's most sportsmanlike player, along with Pavel Datsyuk and Martin St. Louis, with the honour ultimately going to Datsyuk.
"There are ups and downs for every athlete throughout their career," said Pominville, who was awarded the Frank J. Selke Memorial Trophy as the QMJHL's most gentlemanly player in 2001-02.
"I think it's all about perseverance and keeping confidence in your game."
Is this the most confident he's been?
"I think it is," said the 27-year-old right-winger. "I was really looking forward to this year. I felt we had a good team and that we could have a very strong year."
It was a belief that pushed Pominville to work even harder at his craft in the off-season.
"I'm skating better than I was last year," said Pominville, who reached the 20-goal plateau for the third consecutive season in 2008-09.
"The points aren't coming as easily as last year, but there are always other things you can do to contribute. I think Lindy (coach Ruff) has done a great job spreading out ice time and it shows in how evenly the scoring has been throughout the lineup.
"We've got a great goaltender in Ryan Miller, who has been amazing throughout the whole year, and a group of guys who want to be successful."
Pominville doesn't need to be reminded just how tough it will be down the regular season stretch in the quest to nail down a playoff position.
"You look at the standings and literally in one night, a team can move up or down three or four spots. It's so tight and you can't afford to lose a step. You've got to be at the top of your game every time you hit the ice."
It's a challenge Pominville and his teammates feel they are ready for.
"We think we are capable of doing a lot," he said. "We believe we have what it takes to play the best teams in the league."
Does that mean we can expect Pominville to duplicate his monster 2006 playoff performance?
"That would be fun to see, wouldn't it?" he said with a laugh.
"But on this team, it could be anybody that steps up."