Schenn a Hit in Toronto
Physical blueliner a big part of the future of the Maple Leafs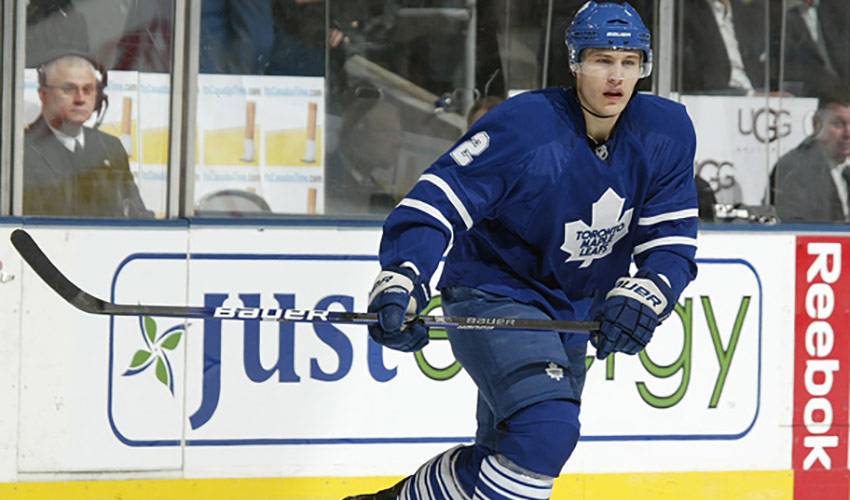 He's already turning heads for his sound defensive play and ability to ride out rough patches with a winning attitude. The best thing about Luke Schenn? He's only going to get better and better.
It's not like Schenn's abilities and demeanor were a secret heading into the 2008 NHL Entry Draft. The Western Hockey League standout had already been on the radar for many big-league clubs looking to land the blueliner.
When the fifth pick in the '08 Draft came, the Toronto Maple Leafs didn't hesitate in calling out Schenn's name at the podium.
And Schenn was thrilled at the opportunity to don the famous blue and white colours.
"It's pretty cool that Toronto turned up and wanted to get me, and I'm just so honoured to be wearing the jersey," said Schenn, who started his junior career with the Kelowna Rockets in 2005–06, after being the team's first pick in the 2004 WHL Bantam Draft. "I couldn't have been more excited."
Schenn wasted little time in living up to his billing as a solid defender.
After impressing the team's coaching staff in the 2008-09 pre-season, Schenn continued to show he belonged at the game's elite level. On October 27, 2008, Leafs' head coach Ron Wilson told Schenn he would be staying with the Original Six squad for the remainder of the season.
While he wasn't a Toronto fan growing up, Schenn certainly understood the long history and significance the club has in Canadian hockey circles.
"You always grew up watching the Leafs on TV," said Schenn, acquired his first NHL point (an assist) in a 6-5 shootout win against the New Jersey Devils. "I've actually never been to a Leafs game but I'm thrilled to be part of the organization."
And while the stress associated with performing in hockey's most demanding market can be overwhelming at times, Schenn wasn't looking to make any excuses in his rookie campaign and beyond.
"There's always pressure when you're playing in Toronto," said Schenn, who scored his first NHL goal with the Leafs on February 7, 2009 in the first period of a game agins historic rivals, the Montreal Canadiens. "I put a lot of pressure on myself to be the best I can be, so for sure there's a lot of pressure playing with the Leafs organization, but it's going to come from within, too."
That inner drive to succeed is already quite apparent to Leafs' fans.
Schenn was part of the Rookie YoungStars team in the 2008–09 NHL YoungStars Game. He scored on a breakaway as the Rookies beat the Sophomores 9-5.
On March 14, 2009, Schenn recorded his first multi-point game in an 8-6 win against the Calgary Flames, contributing two assists. On April 3, he recorded his first power-play marker.
In June, Schenn was named to the NHL's 2008–09 All-Rookie Team alongside Drew Doughty of the Los Angeles Kings.
While the 2009-10 season has been a bit of a rollercoaster ride so for Schenn, his play over the past 25 games is ample proof he will be a staple on NHL ice for a long time.
On February 7, 2010, Schenn recorded his first two-goal game and three-point game in a 5-0 win against the Ottawa Senators, a game in which he recorded two goals and one assist.
And though he has shown the ability to be a point-producing defenceman, Schenn singles out his physical play as his biggest asset.
"I've always been a bigger guy and it's always just been a part of me," he said. "I just like playing physical. It's just part of my game."
Schenn has also been a smash hit on the international stage.
He was part of Team Canada at the 2007 Super Series, where he helped the Canadian junior side go undefeated in eight games against Russia. He also wore the maple leaf at the Under 18 World Cup Tournament, where Canada won gold. In 2007-08, Schenn was named to the WHL's roster for the Canada-Russia Challenge.
Schenn was named to Team Canada's selection camp roster for the 2008 World Junior Ice Hockey Championships and officially named to the team on December 13, 2007, going on to win a gold medal. He was also named to Team Canada for the 2009 Men's World Ice Hockey Championships, where he was a part of the silver medal winning squad.
"It's an honour when you get to wear the Team Canada jersey and you get to play against the best players around the world," said Schenn, of his international experiences. "You know you can play at that level and you get to feel more confident and feel better about yourself for sure."
The same can also be said of his NHL career, as Schenn continues to develop into one of the game's most respected young blueliners.