Keith Fits In, Wherever He Goes
From MSU to Kelowna, Norfolk to Chicago, the Blackhawks' Duncan Keith is quick to adapt and excel, with a spot on Team Canada's blue-line now his latest challenge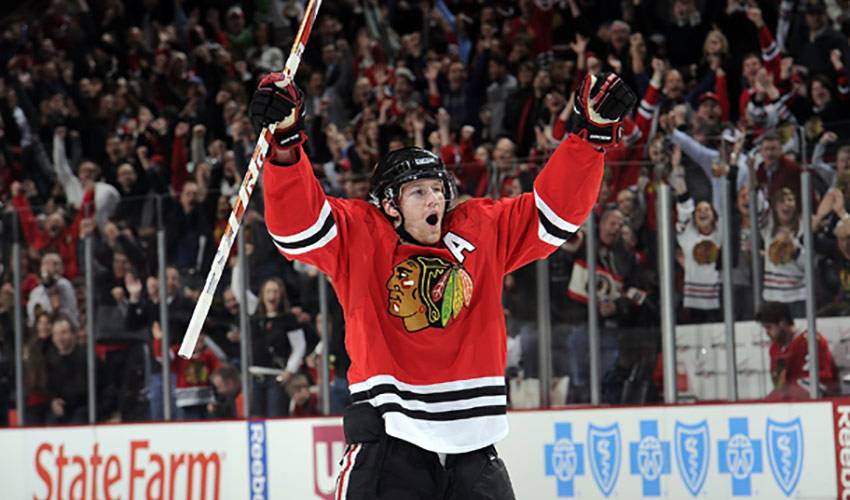 Although he skated in a grand total of 37 games with the Kelowna Rockets, it proved to be the perfect launching pad to an NHL career and an Olympic roster spot for one of hockey's most respected defencemen.
It was easy to see why the Michigan State Spartans and several other suitors were interested in having Duncan Keith play hockey for them. Though he was smaller, at least in terms of weight, than those he skated with and against, the blueliner possessed a heavy shot and plenty of offensive firepower.
Recruited by Michigan State University, Keith played collegiate hockey there for two campaigns. He scored a goal in his Spartans debut in the Cold War, an outdoor game at Spartan Stadium against state-rival University of Michigan Wolverines, on October 6, 2001.
He completed his freshman year with three goals and 15 points in 41 games. During Keith's second college season, he left the Spartans after just 15 games to join the major junior ranks in British Columbia.
Bruce Hamilton, president, general manager and governor of the Kelowna Rockets, was certainly glad to have Keith on the roster.
"We knew he was a skilled player before he got to us," recalled Hamilton, of the defenceman who played three years for the Penticton Panthers from 1999–00 through 2000–01, scoring 78 goals and 148 assists for 226 points in 163 games. "He was a slight guy when he first got here. There wasn't a lot to him."
It meant Keith, who originally started out as a forward before switching to defence before he turned 10, had to adapt to a more physical style of play. It also meant he had to alter his offensive-based approach.
"I think it was a real adjustment for Duncan and near the end of the year, it all came together for him," recalled Hamilton, who watched Keith amass 46 points (11 goals and 35 assists) and a plus-32 rating in his single season with Kelowna, adding 14 points in 19 post-season games. "He was a risk-taker out there. But he settled into our system and really bought into what we were preaching. It made him a solid contributor and someone you relied on each night."
It also made him a top-notch prospect to make the step to the next level.
Selected by the Chicago Blackhawks in the second round, 54th overall, of the 2002 NHL Entry Draft, Keith signed with the club prior to the 2003–04 season and spent his first two seasons after junior in the American Hockey League (AHL) with the team's affiliate, the Norfolk Admirals.
Following his time in the AHL, Keith made the Blackhawks out of the 2005 training camp. He played in his first NHL game on October 5, 2005, against the Anaheim Ducks.
He made an immediate impact at the game's elite level, scoring nine goals and 25 points, while averaging over 23 minutes of ice time in 81 contests during his 2005–06 NHL rookie season. The Blackhawks obviously liked what they saw in Keith and re-signed him in the off-season to a five-year contract extension.
None of it surprises Hamilton in the least.
"He has a cannon for a shot, can skate so well and competes really hard,"
praised Hamilton. "Even when he was with us, he probably weighed 165 pounds, but he could fire that puck. And now, he weighs around 190-195 pounds and he's become a complete player.
"We didn't want to diminish what his best skill is when he came here, which is his offence. In fact, we always try to exploit every player's strength. But to his credit, he listened to our coaches and understood what we wanted him to do. He's a good person and he was willing to listen and learn."
The numbers definitely don't lie.
In 2006–07, Keith played in all 82 games for the Blackhawks and once again led the team in average ice time with 23 minutes. He had two goals and 31 points, but the statistic that really must have brought a smile to Hamilton's face was in the blocked shots category, a team-leading 148.
By mid-January of 2007-08, Keith was averaging 24:31 minutes of ice time and had a team-leading plus-14. He was selected to his first NHL All-Star Game in 2008 and went on to finish the season with 12 goals and 32 points, along with a lofty plus-30 rating.
On October 8, 2008, Keith was named an alternate captain along with forward Patrick Sharp to the start the 2008–09 season. He helped a rejuvenated 'Hawks team return to the playoffs, after recording eight goals and 44 points in the regular season, along with a stellar plus-33 rating, tops among all defencemen and tied for fourth overall.
Keith added six points in 17 post-season games as the Blackhawks advanced to the Western Conference Finals, where they were eliminated by Central Division rivals, the Detroit Red Wings.
On December 3, 2009, the Blackhawks extended Keith's contract. His deal was a 13-year, $72 million contract, making it the richest in team history.
Twenty-seven days later, Keith was selected to play for Team Canada at the 2010 Winter Olympics in Vancouver. He was named to the squad along with defensive partner Brent Seabrook and another teammate, Jonathan Toews.
Keith is no stranger to playing on the world stage. He made his international debut for Team Canada came at the 2008 World Championships and notched two assists in nine games as Canada won a silver medal, losing in the gold medal game to Russia.
"He's a very intelligent player," raved Hamilton, of the 26-year-old, who has already surpassed his career-high NHL point total in 2009-10. "I don't think he gets nearly enough credit for just how good he is. He's the best power-play player we've ever had in Kelowna and I include forwards and defencemen when I say that. So I can't say I'm surprised at all to see what he's done in the NHL or that he's on the Canadian Olympic team."
Hamilton believes that decision to come to the Rockets was a pivotal move in Keith's career.
"I don't say that with any trace of conceit, but I do believe it was a gutsy choice on his part to leave the college ranks and come here. I think it was a very beneficial experience for him."
But not only for the player, one that is closing in on 400 career NHL regular season games.
"I think he was very grateful for the experience, but I would also say that we were, too. We were very happy that he chose to come play in Kelowna. I think it turned out well for both of us."
Some might say it was as good as gold.