Parise Proud to Wear 'Red, White & Blue'
Humble star forward is leading the Americans in Vancouver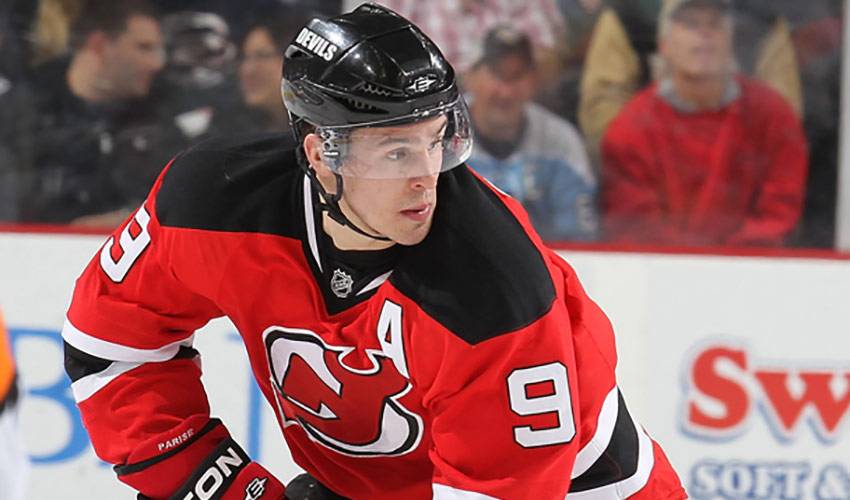 He's hardly surprised to see Zach Parise skating in the 2010 Olympic Winter Games, but that doesn't mean Dave Hakstol isn't thrilled to see his former player competing on the world stage.
The head coach of the University of North Dakota men's hockey team since 2004, Hakstol, a former player with the Fighting Sioux from 1989 to 1992, knew what to expect when the United States named their roster for the men's hockey event currently taking place in Vancouver.
"It's a heck of an accomplishment," said Hakstol, of Parise's Olympic nod. "He's a great player and a great person. It's certainly a very deserving honour."
An honour, Hakstol insists, that would not be lost on the player who has become one of the NHL's elite offensive forwards.
"I know it would mean a lot to Zach," said Hakstol, of the left-winger whose father, Jean-Paul, played 14 NHL seasons with Boston, Toronto, Minnesota, New York Islanders, and Cleveland, and represented Canada at 1972 Summit Series. "He has a great humility about him. He never takes any of his success for granted."
That was never more apparent to Hakstol than when he ran into Parise last June.
Hakstol, who saw Parise in Minnesota, was reminded of just what makes the New Jersey Devils' forward the consummate professional.
"It's 10 in the morning on a Sunday in the summer and there is Zach at a local rink, wearing shorts with his gloves on and stick in his hand," recalled Hakstol, who was the assistant coach during Parise's two collegiate seasons, from 2002-04. "He set up a station at the rink to work on his game.
"That to me is a perfect illustration of what Zach is all about. The sun is shining outside and there he is, focused on being a better player. It is a genuine love for the game. For him, it isn't work, but a routine. He wants to be one of the hardest working guys and he is."
Parise captured numerous honours at North Dakota, including WCHA Third Team All-Star (2003), WCHA All-Rookie Team (2003), WCHA First All-Star Team (2004) and NCAA West First All-American Team (2004). In his two seasons of collegiate hockey, he registered 116 points (49 goals and 67 assists).
It was the Devils who were able to land Parise, taking him 17th overall in 2003.
Hakstol had no doubt what was in store for Parise.
"You just knew he had what it took to be a strong presence in the NHL," offered Hakstol. "The basics of his game have been there for long time, but it's been great to watch him continue to mature."
In 2005-06, Parise appeared in 81 games, tallying 18 goals and adding 14 assists for 32 points. Five of his markers were game winners.
The following season, Parise scored 31 times, while also producing 31 assists. His third NHL campaign saw him record 32 goals and 65 points in 81 games. On April 28, 2008, Parise was named an alternate captain of the 2008 U.S. Men's National Team in the 72nd annual IIHF World Championship.
Parise was nothing short of sensational in 2008-09. He tallied 45 goals (second to Alexander Ovechkin) and 49 assists for an NHL career-high 94 points (fifth overall).
He made his first All-Star appearance at the 2009 NHL All-Star Game in Montreal, scoring a goal in the mid-season event.
At season's end, Parise, along with Pavel Datsyuk and Martin St. Louis, were nominated for the Lady Byng Memorial Trophy for the 2008-2009 campaign. The trophy is presented each year to the NHL "player adjudged to have exhibited the best type of sportsmanship and gentlemanly conduct combined with a high standard of playing ability."
"He has a quiet intensity," offered Hakstol, of Parise, who was named as one of the alternate captains for the U.S. Olympic squad. "He's certainly not the rah-rah type leader, but he's the type of person that everyone around him respects. He takes a lot of pride in not being a one-dimensional player."
Parise, the MVP of the 2004 IIHF World Junior Championship, won by the United States, has certainly left his mark on his alma mater.
"He has a wonderful outlook on life and his career," praised Hakstol, of Parise, who was named an alternate captain for the Devils on October 3, 2009. "It's a source of pride for all of us here at North Dakota to see how Zach has gone on to enjoy great success in the NHL. The fact he is humble about it all makes it all the more impressive."