Leopold Happy to Land in Pittsburgh
Newest member of Penguins blueline looking forward to a shot at the Stanley Cup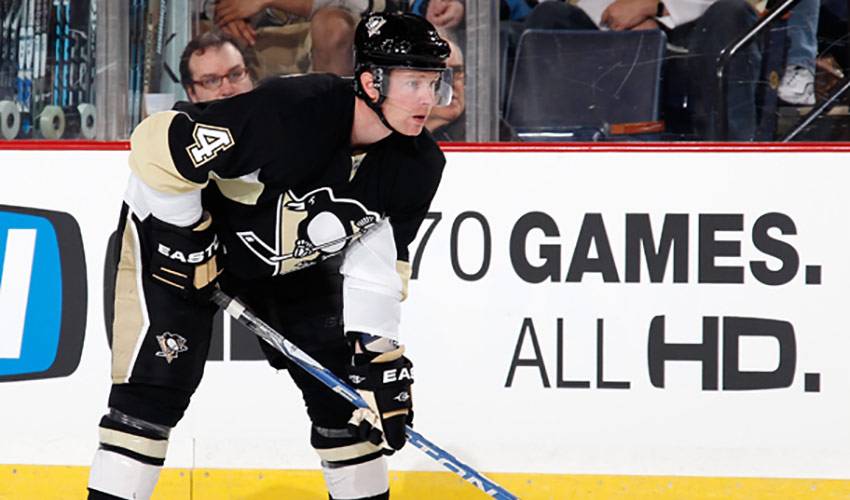 When the Pittsburgh Penguins traded for Jordan Leopold, they got much more than just a one-dimensional player.
Don Lucia, head coach of the University of Minnesota men's hockey team, certainly knows what Leopold, who was dealt to the Penguins on Trade Deadline Day on March 3, brings to the rink.
"Jordan is a unique defenceman," said Lucia, of the defenceman who won the 2002 Hobey Baker Award as the top U.S. collegiate player. "He brings both offensive and defensive parts of the game. You usually find one or the other."
The former Golden Gopher blueliner, who left the Division 1 hockey program as one of their all-time greats, will be counted on as a key component in Pittsburgh's push to net their second consecutive Stanley Cup championship.
Lucia believes the 44th overall selection of Anaheim in the 1999 NHL Entry Draft will fit in well with a defensive corps that boasts both brawn and smooth-skating types.
"He's the type of guy who will be well-liked by his teammates, someone who will let the superstars do what they need to," said Lucia, of Leopold, who had no shortage of standout moments during his university tenure, ranging from his role in a memorable 6-5 thriller over Boston College in 1999, to leading the WCHA in scoring by a defenceman in 2001-02. "He's a true team player."
After seven goals and 23 points in his rookie year at Minnesota, Leopold netted 20 markers during his last campaign in Golden Gopher colours, three of which were of the game-winning variety.
Leopold started his professional career in the NHL in the 2002–03 NHL season. He appeared in 58 games for the Calgary Flames and scored four goals along with 14 points.
In his second season, Leopold played in all 82 regular season games and recorded 33 points as well as contributing to the Flames' playoff run to the 2004 Stanley Cup Final.
"I think that showed what type of player he is," said Lucia, of Calgary's playoff run that ended with a heartbreaking game seven loss to the Tampa Bay Lightning in the championship series. "He's one of those defencemen that can do everything, from scoring to taking care of his own end."
Leopold's strong play in the 2004 campaign earned the native of Golden Valley, Minnesota, a spot on Team USA at the 2005 World Championships and the 2006 Winter Olympics.
After one more season with the Flames, Leopold was dealt to the Colorado Avalanche at the 2006 NHL Entry Draft. His first campaign with the Avalanche, in 2006–07, was marred by a rash of injuries.
Having missed the first 25 games of the season recovering from hernia surgery, Leopold suffered a groin injury on December 11, 2006, sending him to the sidelines for another 17 games. Just a month later, he was injured again, fracturing his wrist on February 17, 2007. He totaled just 15 regular season games.
At season's end Leopold was re-signed by the Avalanche to a two-year contract on May 22, 2007.
In 2007–08, Leopold once again had to contend with a rash of injuries, including missing 35 games with a hip ailment, lacerated leg and pneumonia.
He recovered for the start of the next campaign and played in every game with the Avalanche until the NHL trade deadline, when he was traded back to the Flames for Lawrence Nycholat, prospect Ryan Wilson and a second-round pick. Leopold dressed in all 19 games for the Flames becoming the only NHLPA member to play 83 games of the 82-game season.
On June 27, 2009, Leopold's negotiation rights were traded by the Flames to the Florida Panthers, for the negotiation rights of Jay Bouwmeester, at the 2009 NHL Entry Draft. After testing free-agency, Leopold signed a one-year contract with the Panthers on July 2, 2009.
Now, the veteran of over 420 regular season games will work towards earning his first Stanley Cup ring.
"It's been said so many times before, but you have to work hard every day and you can't give anything less than your all each time you take a shift," said Leopold. "Each time you play, you have to expect more and want more."
Lucia wouldn't expect anything less from his former player.
"Defensively, he's very solid," praised Lucia. "He's got a strong lower body and he's able to use it to keep the opposition off balance. Jordan can quarterback a power-play, and he's reliable in his own end. There's a lot to like about his game."