Week 20 - Eyes on the Prize
As the battle for the playoffs heats up, Stamkos, Metropolit & Iginla have been hot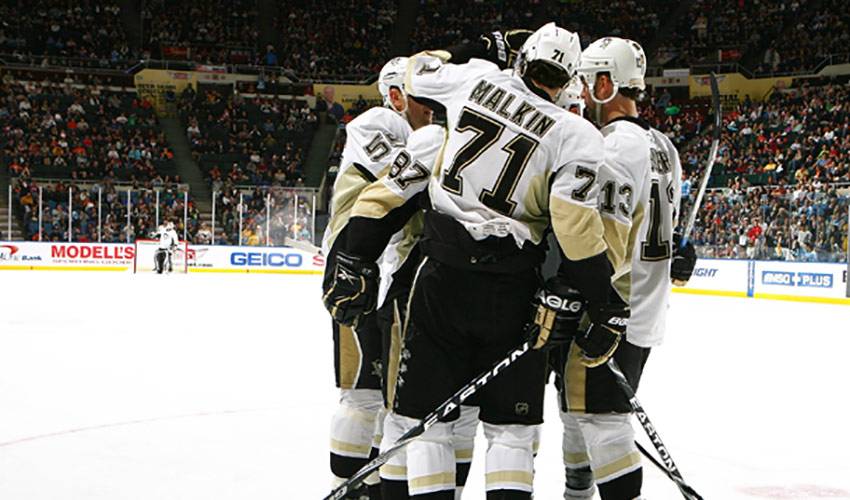 Team of the Week
Pittsburgh Penguins (40-22-4)
The Penguins sent five players to the Vancouver Olympics, but the break certainly has not seemed to slow down the defending Stanley Cup champs at all. Since returning to action, the Pens have rattled off four straight wins and have jumped to the top of the Atlantic division. The team's top-three centres have been the catalysts on offense, with Sidney Crosby pacing the team with 44 goals, Evgeni Malkin leading the way with 45 assists and Jordan Staal being a team-best +18. During their current streak, the Penguins have faced a rash of teams that are in the playoff mix, making their play even more impressive. With some shrewd pick-ups at the deadline in Alexei Ponikarovsky and Jordan Leopold, the Pens are looking poised for another deep playoff run.

Player of the Week:
Steven Stamkos (C, Tampa Bay Lightning)
Sidney Crosby and Alex Ovechkin are currently tied for the NHL's goal-scoring lead and they are poised to make it a very interesting race for the Maurice Richard Trophy. At this point of the season, only one other player is on the north side of 40 goals and that is Tampa's Steven Stamkos, who, at the pace he's currently on, may be the only player who could catch Sid or Ovie. The 19-year-old, is showing an awful lot in just his second pro season, as he is currently riding a franchise-record 17-game point streak, with 31 points and an amazing 16 goals in that span. He has goals in each of Tampa's last six games, as the young forward is doing everything in his power to help the Lightning stay in the hunt for a playoff spot. The league's leader in both power-play goals and power-play points, Steven is sixth in overall league scoring, just edged out of the top-five in scoring by line mate Martin St. Louis. In 2006-07, St. Louis rode shotgun on a line where his centre, Vincent Lecavalier, scored 50 goals for the first time, and just three years later, he may be in the same spot for a second time, this time beside Stamkos.

Line of the Week:
Glen Metropolit (C, Montreal Canadiens) – 1PPG, 1A, +1
Playing in the 400th game of his career on Wednesday night, Glen made the night a memorable one in a variety of ways. The 35-year old native of Toronto gave the Habs a 1-0 lead early in the game, taking a pass from Scott Gomez and burying a power-play goal. The goal was his 15th of the season, giving him a new career-high with still over a dozen games remaining for Montreal. It was also his ninth man-advantage goal of the campaign, putting him atop the Canadiens' leader-board in that category. The goal was also doubly impressive by the fact that Glen had only recorded eight power-play goals in his career before this season. And if that wasn't enough to make the night special, Glen drew the primary assist on the game's winning goal, setting up a beautiful play for Mathieu Darche to finish.

Young Player of the Week:
Tyler Myers (D, Buffalo Sabres)
The Calder Trophy buzz for this year is starting to really get going, with Colorado's Matt Duchene and Detroit's Jimmy Howard getting a significant amount of early-votes so far. Not far behind is Buffalo's Tyler Myers, who is playing a pivotal role for the Northeast Divison-leading Sabres. After slipping behind Ottawa in the standings before the Olympics, Buffalo has returned to the top of the pack after reeling off three straight victories. Tyler has been a key player in all three of the victories, registering some of his highest ice-time totals of the season. Against the Rangers on Sunday, Tyler played over 28 minutes for the fourth time this season, helping the Sabres come away with a 2-1 win in overtime. Against Dallas on Wednesday, Tyler had his game of the year in a season where there are plenty of highlight nights for the young blue-liner. Tyler notched a goal and added three assists, setting a new career-high for points in a game and more than doubled his +/- for the year, going from +3 to +7.

Milestone of the Week:
Jarome Iginla (RW, Calgary Flames)
When it comes to being a great goal-scorer, consistency is key. For proof to that rule, look no further than Calgary's Jarome Iginla. With a hat-trick on Sunday night against Minnesota, Jarome passed the 30-goal mark for the ninth straight year, and joined some lofty company in doing so. If he can do it again next year, the Flames' captain will join nine other players to have done it for ten years straight, adding his name alongside such stalwarts as Jaromir Jagr (15 seasons of 30 or more), Mike Gartner (15), Wayne Gretzky (13), Phil Esposito (13), Bobby Hull (13), Marcel Dionne (12), Jari Kurri (10), Mike Bossy (10) and Darryl Sittler (10). Congratulations from NHLPA.com on reaching this outstanding accomplishment Jarome!

Quote of the Week:
"Every time Daniel and I visit BC Children's Hospital we meet kids and their parents who come from all over BC. This is our way of saying thank you to British Columbians for all the support we've received since we joined the Canucks"
- Henrik Sedin, speaking on behalf of himself and his brother Daniel, announcing their donation of $1.5 million to the Campaign for BC Children. The money will go towards the construction of a BC Children's Hospital, and will specifically target the Intensive Care Unit and Diagnostics and Imaging area of the new facility.