NHLPA/NHL Grant Trading Card Licenses to Upper Deck/Pannini America
The NHLPA and the NHL announced multi-year trading card license agreements with Panini America and The Upper Deck Company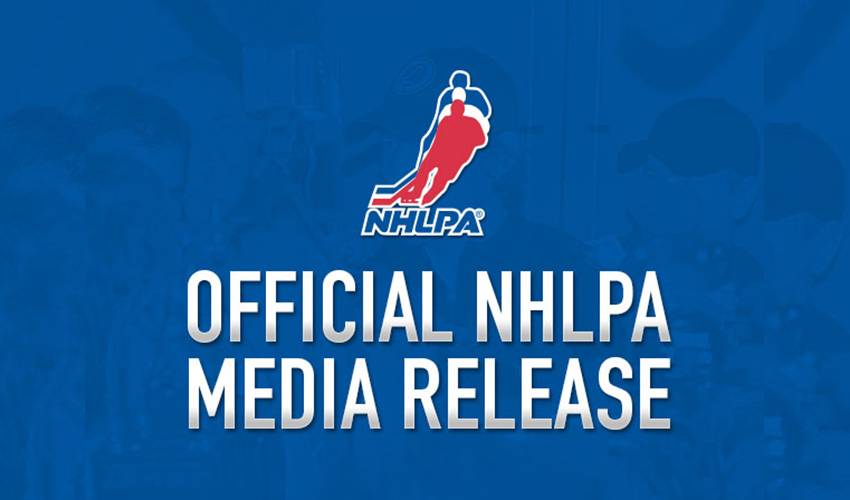 NHLPA & NHL GRANT TRADING CARD LICENSES TO UPPER DECK & PANINI
TORONTO/NEW YORK/CARLSBAD/ARLINGTON (March 24, 2010) - The National Hockey League Players' Association (NHLPA) and National Hockey League (NHL®) today announced multi-year trading card license agreements with Panini America and The Upper Deck Company.
"The NHLPA is excited to renew our long-term partnership with Upper Deck and to welcome Panini into the hockey trading card marketplace," said Adam Larry, NHLPA Director of Licensing. "We look forward to working with both of these companies to provide quality NHL player products and exciting new choices for fans and collectors of all ages."
"Having considered the input from all stakeholders, we have concluded that a semi-exclusive model would bring customer choice, revive legacy brands and add new and innovative products and marketing initiatives that appeal to all consumer segments," said Dave McCarthy, Vice President of Integrated Marketing, NHL.
"Upper Deck is very pleased to continue its 20-year trading card partnership with the NHLPA and the NHL," said Richard McWilliam, Upper Deck's Founder and CEO. "Since 2005, through its exclusive partnership with the NHLPA and the NHL, Upper Deck has taken the category and Upper Deck's hockey brands to unimaginable levels. For the past 20 years, Upper Deck has been the only licensed company consistently producing NHL trading cards. We will continue to deliver high-end excitement and innovation and I am happy to say, our best is yet to come."
"Panini is delighted to be extending its partnership with both the NHLPA and NHL to produce trading cards; this further establishes Panini's strategy to rapidly become the most comprehensive publisher of trading cards domestically and enhance the presence of North American sports," said Mark Warsop, CEO Panini America, Inc. "We are extremely excited about growing hockey trading card sales through our extensive marketing programs, and by bringing back heritage brands such as Zenith, Score and Crown Royale."
For Upper Deck, this announcement marks a new chapter in a 20-year partnership with the NHL and the NHLPA, one that saw Upper Deck operate as the exclusive NHL player trading card manufacturer since the 2005-06 NHL season. For Panini, it means the introduction to hockey of new brands such as Adrenalyn and Certified, and the return to the hockey market of some hobby favourites issued under previous Donruss, Score, Pinnacle and Pacific licenses.
The 2010-11 NHL trading card season is scheduled to launch this August with the release of Victory from Upper Deck, while Panini has tentatively marked Score as its first release under the new license.
ABOUT THE NHLPA:
The National Hockey League Players' Association (NHLPA), established in 1967, is a labour organization whose members are the players in the National Hockey League (NHL). The NHLPA works on behalf of the players in varied disciplines such as labour relations, product licensing, marketing, international hockey and community relations, all in furtherance of its efforts to promote its members and the game of hockey. In 1999, the NHLPA launched the Goals & Dreams fund as a way for the players to give something back to the game they love. Over the past 10 years, more than 40,000 deserving children in 22 countries have benefited from the players' donations of hockey equipment. Goals & Dreams has donated more than $18-million to grassroots hockey programs, making it the largest program of its kind. For more information on the NHLPA, please visit www.nhlpa.com.
ABOUT THE NHL
The National Hockey League, founded in 1917, is the second-oldest of the four major professional team sports leagues in North America. Today, the NHL consists of 30 Member Clubs, each reflecting the League's international makeup, with players from more than 20 countries represented on team rosters. According to a Simmons Market Research study, NHL fans are younger, more educated, more affluent, and access content through digital means more than any other sport. The NHL entertains more than 250 million fans each season in-arena and through its partners in national television (VERSUS, NBC, TSN, CBC, RDS, RIS, NASN, ASN and NHL Network™) and radio (NHL Radio™, Sirius XM, Radio and XM Canada). Through the NHL Foundation, the League's charitable arm, the NHL raises money and awareness for Hockey Fights Cancer™ and NHL Youth Development, and supports the charitable efforts of NHL players. For more information on the NHL, log on to NHL.com.
About Upper Deck
Upper Deck is the leading sports and entertainment trading card and collectibles company. For more information on Upper Deck and its products please visit www.upperdeck.com.
ABOUT PANINI:
The Panini Group, established almost 50 years ago in Modena, Italy has subsidiaries throughout Europe, Latin America and the United States. Panini is the world leader in officially licensed collectables and is the leading multi-national publisher of comics, children's magazines and Manga in Europe and Latin America. Panini has distribution channels in more than 100 countries and employs a staff of over 800. For more information visit us at www.paniniamerica.net or www.paninigroup.com.
NHLPA, National Hockey League Players' Association and the NHLPA logo are trademarks of the NHLPA. © NHLPA.
NHL and the NHL Shield are registered trademarks of the National Hockey League. All Rights Reserved.