Gonchar Geared Up for Post-Season
Penguins defenceman loves to win & knows what it takes to make it happen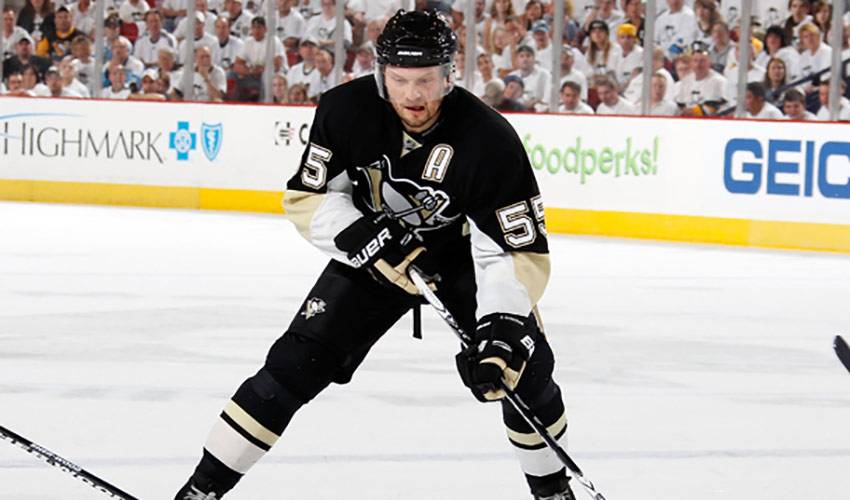 As a kid, he was told he was too slow and didn't have what it took to be a forward. Nearly 1,000 NHL games later, Sergei Gonchar has done just fine for himself, earning a well-deserved reputation as one of the game's top defencemen.
It wasn't too far into his hockey career when Gonchar, who hails from Chelyabinsk, Russia, was told by one of his coaches that he was best suited for patrolling the blueline. His skating, he was told, wasn't quite up to par with his teammates. And his offensive skills were average in comparison.
Fast forward to 2010, some 30 years after that conversation, and Gonchar has proven he's quite adept at both skating and scoring, just two of the things that make the Pittsburgh Penguins defenceman one of the very best at his position.
And that talk he had with his coach? It never bothered Gonchar in the least. Not then and not now.
"I didn't know what to say when he told me I should play defence," said Gonchar, the 14th overall selection of the Washington Capitals in the 1992 NHL Entry Draft. "I loved to play the game and I just wanted to do what I could to help the team win. That's what I cared about."
And to this day, it's still what Gonchar cares about.
Making his NHL debut with the Capitals, on February 7, 1995 against the Buffalo Sabres, Gonchar played in 31 games during the lockout-shortened 1994–95 season. The following year, his first full NHL campaign, Gonchar recorded 41 points, reflecting his potential as a capable offensive defenceman.
Posting 57 and 67-point seasons in 2000–01 and 2002–03, respectively, Gonchar was named to the Second All-Star Team both campaigns and further solidified his reputation as an invaluable member of the Washington defensive corps.
On March 3, 2004, in his ninth season with the Capitals, Gonchar was traded to the Boston Bruins for Shaone Morrisonn and two selections in the 2004 NHL Entry Draft. Finishing the season with Boston, he notched 58 points, leading all defencemen.
Between 2000 and 2004, Gonchar recorded more points than any other defenceman, with 74 goals and 241 points.
During the 2004–05 NHL lockout, Gonchar returned to his native Russia to suit up with Metallurg Magnitogorsk, where he played with future teammates Petr Sykora and Evgeni Malkin. After the lockout, Gonchar inked a five-year, $25 million deal with the Pittsburgh Penguins on August 4, 2005.
Gonchar tied a career-high with 67 points in 2006–07, his second season with Pittsburgh. He also took countryman Evgeni Malkin under his wing when he arrived from Russia in October of 2006.
"He's a fun guy to be around," said Gonchar, at the time. "You know, he doesn't talk much. At the same time he makes the short jokes and smiles a lot. I can say he's quiet around the house, spends a lot of time on Internet reading newspapers and chatting with his buddies back home, helping around the house, playing with my kids. So he's a good housemate."
In 2007-08, Gonchar was key in leading the Penguins to the 2008 Stanley Cup Finals – Pittsburgh's first finals appearance since 1992. After recording 65 points in the regular season, he contributed 14 points in 20 playoff games, but was on the losing end of a six-game set against the Detroit Red Wings.
During the first game of the 2008–09 pre-season, Gonchar suffered a shoulder injury, keeping him out of the Penguins lineup until February of 2010. He played in the final 25 games of the regular season and tallied 19 points, helping the Penguins into the 2009 post-season as the fourth seed.
Gonchar suffered a knee injury in their highly-anticipated matchup against the Washington Capitals, but returned for game seven of the series. Squaring off against the Detroit Red Wings in the Stanley Cup final for the second consecutive year, Pittsburgh reversed the previous year's outcome, capturing the Cup in seven games.
Despite some injury woes once again in 2009-10, Gonchar has remained a force, a soft-spoken player with a big-time game.
And in spite of his successes, both individually and as part of the Penguins, Gonchar's philosophy hasn't changed since the day he was told to be a defenceman.
"The only thing that matters is that you do what you can to help the team win," he offered. "That is what the game is all about. Everyone does what they can to win. It doesn't matter if you score goals or stop them. It always feels good when you win."
It's a feeling Sergei Gonchar knows well.