Foligno Puts Paws on a Special Cause
Bear Hug III 'close to my heart,' Sens winger says of cancer fundraiser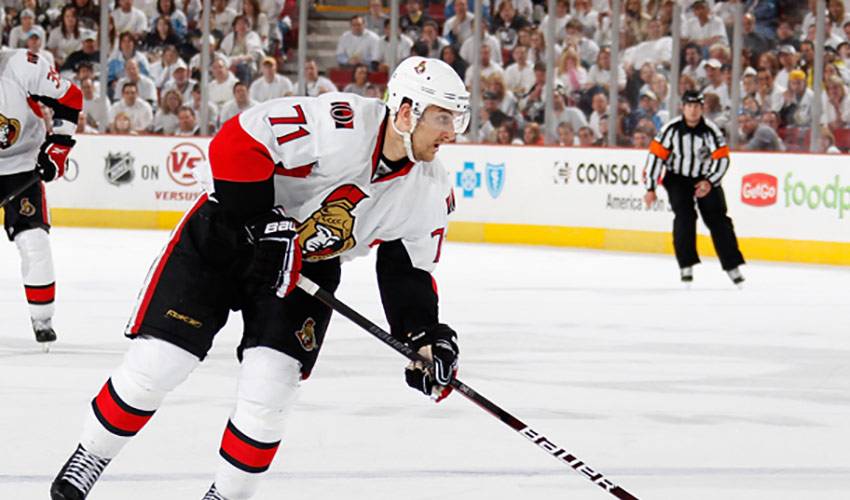 By Rob Brodie /Ottawa Senators
Nick Foligno hopes he'll soon get to celebrate the biggest victory of them all.
Since the Ottawa Senators forward lost his mother, Janis, to breast cancer at age 47 last summer, he has championed the cause of defeating the disease that affects millions across Canada.
It is why he eagerly accepted the opportunity to wrap his arms around Bear Hug III, a local event that aims to raise more than $500,000 in support of cancer patient care and research at Roger's House, the Children's Hospital of Eastern Ontario Foundation, the Ottawa Regional Cancer Foundation and the Ottawa Hospital Foundation.
The Sens Foundation and Ottawa Catholic School Board are partnering with the Bear Hug committee, which aims to set a Guinness World Record for the largest group hug. More than 16,000 students from 15 local high schools will ring the Rideau Canal on May 7 in their record attempt.
"It's obviously close to my heart," said Foligno, who has been named honorary captain for the event. "I lost my mother to breast cancer and what these kids are setting out to do is very admirable. They're raising money for cancer in a pretty neat way and they get to try to break a world record … I feel honoured that I'm going to be their honorary captain.
"(Cancer) is a terrible disease. I've been affected by it and I know a lot of other families who have been affected by it as well. The sooner we can get a cure and do the research to prevent it, the better."
Foligno also hopes his story can inspire others to join the fight.
"I want to make these kids realize that it touches everyone," he said. "I'm sure there are so many kids in their schools that have unfortunately been affected by cancer. It opens their eyes to being able to make a difference. As a kid, too, you always look to make differences in your community and your life. They have a chance to do that and I'm proud to be a part of it."
The death of his mother has brought the Foligno family closer than ever, he said, and that's a message he'd also like to share with anyone who has to deal with the same kind of loss.
"What I went through, I want to educate people about and let them know that it's something that's very hard to deal with, but you can get through it," he said. "With a lot of help and a lot of support, you can get through it … It's nice to get the word out that you can survive something like that and you can become stronger as a family and as a person.
"We've become so close (as a family) because of what unfortunately happened. We didn't want to lose her at all, but she had a funny way of bringing us all together. She's an unbelievable lady, she'll never be forgotten and we miss her every day. I think she'd be proud of what we're doing here."
He is confident that, with the support of fundraisers like Bear Hug III, the battle against cancer can indeed be won.
"It's something that can be beaten, I'm sure," said Foligno. "We're going to find a cure, hopefully soon."
For more information on Bear Hug III and the chance to donate to this worthy cause, please visit: https://secure.e2rm.com/registrant/donate.aspx?EventID=45240&LangPref=en-CA