Making Memories
The Predators have proven they are a tough team to handle in the Western Conference and J.P. Dumont is a huge part of their success.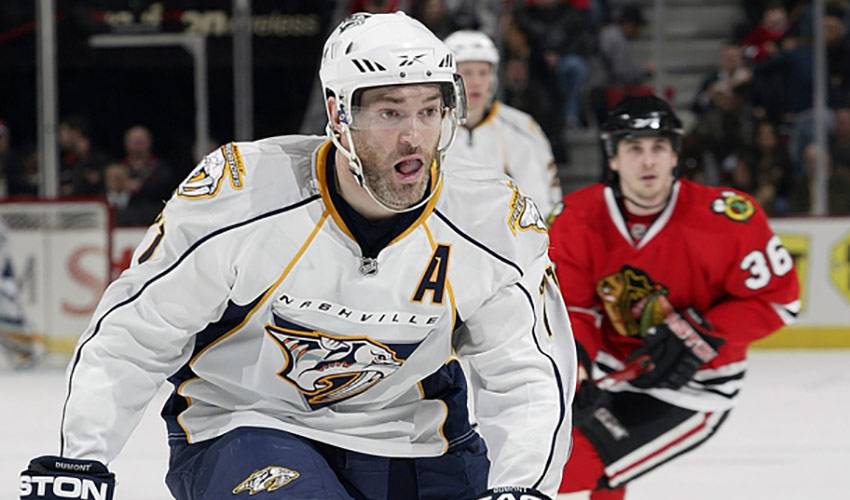 It wasn't too long ago when Jean-Pierre Dumont spoke about a pair of memorable moments in his hockey career. That list, however, now has another entry.
The goal was by no means the prettiest he's ever scored, but the tally that tied Game One of Nashville's opening round set against the Chicago Blackhawks, was certainly a meaningful one for Dumont and the Predators.
Down 1-0 as the visitors in the third period, Dumont's seemingly harmless flip of the puck towards the net wound up turning on the red light and with it, swung the momentum in Nashville's favour.
But Dumont wasn't quite done.
The former third overall selection (New York Islanders) in the 1996 Entry Draft put the Preds ahead to stay, en route to a 4-1 victory.
Characterizing his first goal as a "lucky bounce," Dumont was a huge factor in giving Nashville their first road post-season win in 11 tries.
On a personal level, it gave the Montreal native, who once played for the Blackhawks, another career highlight.
"I have two highlight moments I am really fond of," Dumont once told NHLPA.com. "One is getting drafted in the first round in the 1996 Draft. The second was breaking Mario Lemieux's (Quebec Major Junior Hockey League) playoff record of 31 goals in 19 games. That was a pretty special memory for me, too."
While he only offers less than a handful of key moments in his hockey life, there has been more than that for the former junior star with the Val-d'Or Foreurs, a team that also featured all-star goaltender Roberto Luongo.
Dumont, who made his big-league debut in 1998-99 with the Chicago Blackhawks, has produced six 20-goal campaigns at the NHL level.
It's hard not think numbers when Dumont's name is mentioned.
In junior, Dumont became one of the Quebec Major Junior Hockey League's biggest stars, racking up three 40-plus goal campaigns and two 100-point seasons, while falling one point shy of reaching the triple-digit mark in his final year with Val d'Or.
It was during the 1997-98 QMJHL playoffs, where the right-winger gained prominence as a top-flight talent, netting the aforementioned 31 goals in 19 post-season contests, breaking the record set by Lemieux.
After splitting his time between the bigs and the minor league ranks, Dumont, who was acquired by the Sabres from Chicago on March 10, 2000, along with Doug Gilmour in exchange for Michal Grosek, has become known as a player who can score timely goals.
Suiting up with someone of Gilmour's stature was a major boost to his on-ice development.
"It's really great because Doug was a fantastic player," said Dumont, who, in August of 2006, signed a two-year, $4.5-million contract with the Predators. "He was great when I was a rookie and he really helped me out. It was an invaluable experience for me."
On October 17, 2008, Dumont, who two years earlier signed a four-year, $16-million contract extension with the Predators, scored his 400th point in a game against the Columbus Blue Jackets.
With over 750 games of NHL regular season service, Dumont, an active participant in a number of community-service initiatives, has made the most of his talents, a player that is no stranger to success in the playoffs.
It was during the 2005-06 post-season when the right-winger stepped up his game, recording seven goals and seven assists in 18 games with the Sabres.
Now, he'll seek similar results with a Nashville team eager to build off a 100-point campaign, good enough to land them in the sixth overall slot in the West. A team many, including the Blackhawks, admit are very difficult to play against.
It's something the opposition became accustomed to early on when it came to facing off against Dumont. His first NHL goal was the game-winner (and part of a two-goal night) on March 6, 1999 at San Jose.
Over 11 years later, his impact is still being felt, a Predator hungry to add another meaningful accomplishment to an already impressive list.