Samuelsson Scoring for Canucks
Swedish winger has been a consistent threat on the scoresheet so far in the playoffs for the Canucks. With a Rough 2 battle with the Blackhawks underway, Samuelsson is looking to keep the points flowing.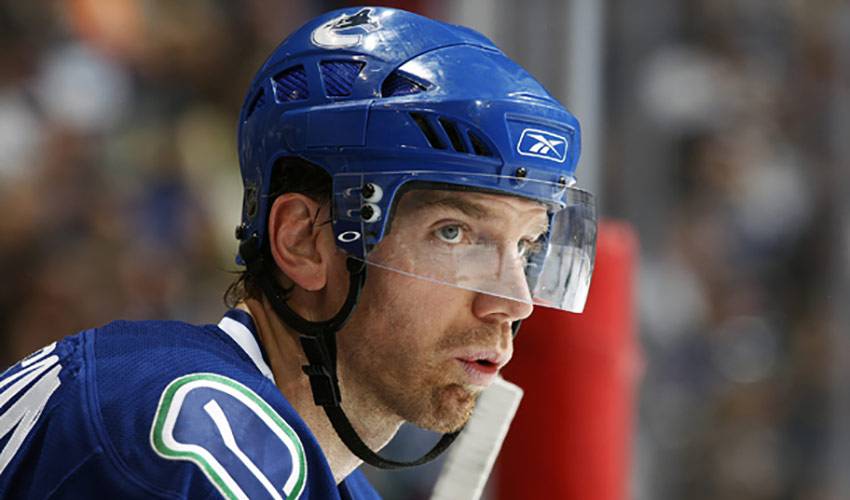 There was a brief time when Mikael Samuelsson preferred making saves to taking shots.
But thankfully for Vancouver Canucks fans, the talented forward chose the right career path.
He's been of the hottest players in this year's Stanley Cup playoffs, a constant threat every time the puck touches his stick and a newfound fan favourite in British Columbia hockey circles.
So imagine, if only for a moment, that Samuelsson didn't trade in his goalie stick when he was growing up in his native Sweden.
Canucks' supporters wouldn't like it one bit.
"When I was in Sweden, I would always play goalie when we played road hockey," recalled Samuelsson, who had 11 points in Vancouver's Western Conference first-round win over the Los Angeles Kings. "I actually liked it. I was the youngest, so that's what I had to play. It was fun."
Growing up in Mariefred, just 65 kilometers west of Stockholm, Samuelsson was part of a group of 20-25 kids who spent countless hours on the town's outdoor rink.
It was on the ice, though, where Samuelsson shed the goalie equipment for a forward spot.
And does he ever think about what the future would have held, hockey-wise, if he had pursued the backstopper's role.
"I guess I'm glad I decided to be a forward," said Samuelsson, who began his career in the Swedish Elitserien, playing for Södertälje SK, Frölunda HC and Brynäs IF. "It worked out pretty well, I guess."
It has indeed.
Drafted in 1998 by the San Jose Sharks 145th overall, Samuelsson began his NHL career in 2000–01. After short stints with the Sharks, New York Rangers, Pittsburgh Penguins and Florida Panthers, he skated with the Detroit Red Wings after the 2004–05 NHL lockout, remaining with the club for four seasons.
In the summer of 2009, Samuelsson signed a three-year deal with the Vancouver Canucks worth $2.5 million a season on July 3.
On the international stage, Samuelsson has won two gold medals in three appearances with Sweden at the 2006 Winter Olympics and 2006 World Championships. He is a member of the exclusive Triple Gold Club, having also won the Stanley Cup with the Red Wings in 2008.
His first campaign with the Canucks has been as good as gold, a season in which he reached the 30-goal plateau for the first time in North America.
Samuelsson hasn't slowed down at all in the playoffs, averaging more than a goal per game and nearly two points per game after the first round.
"I don't know if this is the best I have ever played in my career," offered the right-winger, who scored his first career hat trick in a 6–4 win against the Colorado Avalanche on March 9. "I've had good playoffs before, but points-wise, I can't argue that it is the best from that perspective."
Samuelsson credits linemates and fellow Swedes, Henrik and Daniel Sedin, for his own personal success.
"They are amazing players and for us, it's as though we don't have to think when we are out there," said Samuelsson. "It's as though we know where we will all be and what we expect next. When we are on the bench, we are constantly talking, discussing what happened the shift before and what we can try to do the next one.
"You don't always have to over think situations on the ice. The more you just go out, relax and do what comes naturally, good things can happen."
Samuelsson is hoping it only gets better as they face-off against the Chicago Blackhawks, the team that ousted them from last year's post-season.
"Playing in Vancouver has been great. My family loves it here. I think a big part of your confidence on the ice comes from being comfortable where you live. We have great fans that really support us."
It's something Samuelsson is extremely grateful for.
"People have recognized me when I'm out. They are great. They will wish me good luck and tell me to keep playing well. That means a lot. When we came back from winning the series against Los Angeles, people were waiting for us at the airport. That's happened to me when I've played other places, but not after the first round."
Can he even imagine what it would be like if the Canucks delivered the city its' first Cup win?
"It would be amazing," he said. "That's definitely our goal."