Asham Embodies Flyers Style
Physical winger brings blue-collar effort, something the fans in Philly love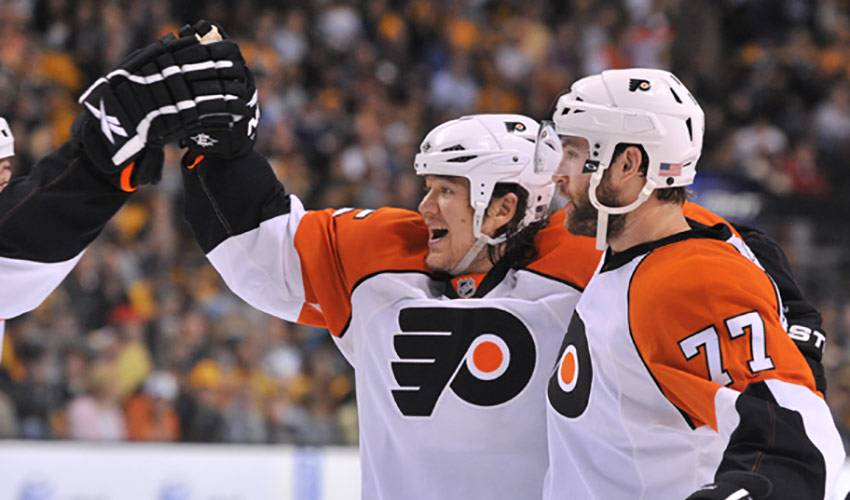 Arron Asham is used to dodging jabs and uppercuts on the ice, but the blue-collar Philadelphia Flyers' forward didn't expect to have to do the same off it.
An errant high stick that struck his eye in Philadelphia's Game Five series-clinching win over the New Jersey Devils hasn't diminished his spirits, but it does have Asham on the defensive, so to speak.
"My son has been trying to poke my eye and I've been doing my best to make sure he doesn't get me," the winger told NHLPA.com the day after the Flyers punched their ticket to the second round of the Eastern Conference playoffs where they'll meet the Boston Bruins. "So far, so good."
That's the likely mantra coming from the Flyers' dressing room these days, a banged-up, but undaunted squad that seems to have as many players on the sidelines as they do in their line-up.
With offensive heavyweights Simon Gagne and Jeff Carter out for the year and hard-nosed Ian Laperriere looking like he's played his last game in the 2009-10 playoffs, Philadelphia has somehow found a way to get the job done.
Asham has marveled at the Flyers' ability to endure in spite of the seemingly endless issues the club has faced both in the regular season and the playoffs.
"When you lose quality players like we have, you hope that everyone comes together and works that much harder," said Asham, who was originally selected by Montreal in the third round (71st overall) of the 1996 NHL Entry Draft. "And that's what has happened for us. It hasn't been just one guy or a few guys. It's been a collective effort that has made the difference."
The 5'11'', 205-pounder, who signed as a free agent with the Flyers on July 7, 2008, might not be a finesse sort, but his hard-nosed approach is exactly what's needed at this time of the year.
And while Asham is hardly a liability when it comes to offence – he's reached double-digits in goals on four occasions (10 this season) – the native of Portage La Prairie, Manitoba knows his role.
"I'm not going to score 50 goals and I'm not going to get 100 points," offered Asham, who, after parts of four seasons with Montreal, was traded to the New York Islanders on June 22, 2002 along with a 2002 fifth-round draft pick for Mariusz Czerkawski. "But what I hope to do is use my physical style to make an impact. In the playoffs, it takes a mix of all styles to be effective."
When is Asham at his most effective?
"If I can throw some hits, put some forechecking pressure on the other team and make sure every shift is an up-tempo one, I think that's when I'm at my best."
It's that attitude that made Asham an attractive free agent, a player that is perfectly suited for Philadelphia's traditional tough brand of hockey.
"Arron is a hard-nosed aggressive winger that can play a lot of different roles for our hockey team," said Philadelphia GM Paul Holmgren, the day they signed the forward.
Asham proved that during his time with the Islanders, where he had his most productive offensive season to date, during his first campaign with his new team, 2002–03. He scored 15 goals and 19 assists for 34 points in 78 games. After four seasons with the Islanders, he inked a one-year contract with the New Jersey Devils on August 7, 2007, the very team the Flyers sent packing in the first-round of the 2009-10 playoffs.
"I figured we matched up well with New Jersey," said Asham, who reached the 40-goal mark twice during his Western Hockey League career with the Red Deer Rebels. "We were successful against them in the regular season and we really came together in the playoffs.
"You have to give a lot of credit to a lot of guys. (Goaltender) Brian Boucher is a perfect example of the type of effort we've received. New Jersey is a very good team and he was fantastic throughout the series."
Although his season appears to be over, Ian Laperriere, a player whose style is very similar to Asham, also deserves a lot of praise, according to the 32-year-old.
Having become one of Philadelphia's most beloved athletes for his gritty style and win-at-all-cost attitude, Flyers' fans grimaced when Laperriere found himself front and centre after a scary incident on April 22.
Dropping down to block a shot from the blueline, the end result for Laperriere was a pool of blood on the ice and between 60 to 70 stitches above his right eye.
But in typical Laperriere fashion, he had to be held back from practicing just days after blocking Paul Martin's slapshot in the third period of the Flyers' opening-round, series-clinching 3-0 win against rival New Jersey.
"What can you say about a guy like that?" offered Asham. "'Lappy' is as tough as they come. Everyone respects what he brings to the ice."
Asham's teammates would no doubt say the same of him, a no-nonsense player (who has his own charity, Arron Asham's Chance To Play Hockey) whose biggest hurdle these days is avoiding a playful poke from his son.
"I'm okay so far. It's always good to have some distractions at this time of the year. But I can't wait to get back at it."