Pavelski Loving the Playoffs
Dynamic forward has Sharks fans in a frenzy with his clutch goal scoring ways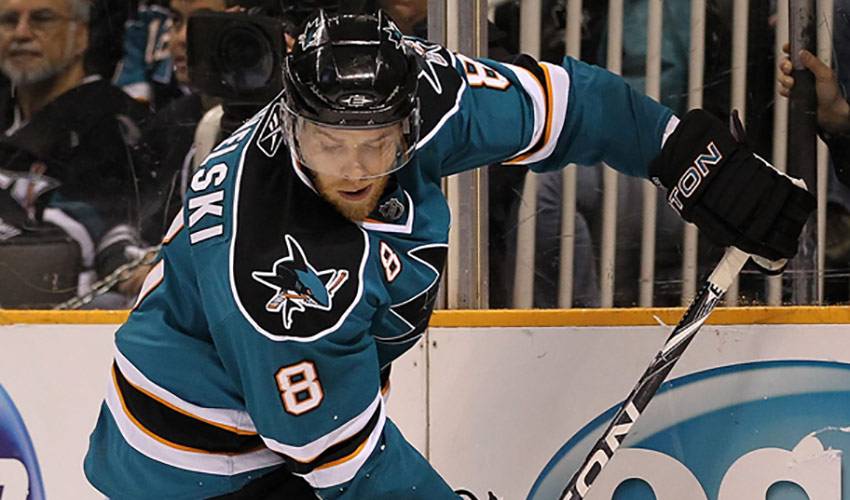 He waited until the seventh round of the Entry Draft for people to finally take notice, but after what he's been accomplishing in this year's playoffs, everyone knows who Joe Pavelski is.
Two hundred and four players heard their names called before Pavelski did in the 2003 NHL Draft. A decorated collegiate career, a slew of personal honours and a wealth of talent made him an attractive pick, but it didn't translate into a higher call.
Pavelski won a Wisconsin State Hockey Championship with SPASH (Stevens Point Area Senior High) Panthers in 2002 and was a member of the 2004 Clark Cup champion Waterloo Blackhawks of the USHL.
The Wisconsin native played in 84 games over two seasons (2004–06) at the University of Wisconsin of the Western Collegiate Hockey Association. He recorded 101 points in total and in 2005 was named to the All-WCHA Rookie Team, the All-WCHA Second Team, and the Men's RBK Division I West All-America Second Team. He helped the Badgers win the 2006 NCAA Division I Men's Ice Hockey Championship, while leading the team in overall points.
And as he proved during his collegiate days and now in the NHL, Pavelski doesn't just put up points in key situations. He scores the ones that matter.
That was evident in San Jose's first-round 2009-10 playoff series with the Colorado Avalanche in their Western Conference matchup.
In the six-game set, Pavelski led the Sharks with five goals and three assists.
His goals were significant. Pavelski recorded the last-minute, game-tying tally in Game 2, netted the overtime winner in Game 4 and added the series-clinching goal in Game 6.
In Game 1 of their semifinal against Detroit, Pavelski scored two times, including the winner and added an assist in the 4-3 Sharks triumph.
It was more of the same in Game 2. Pavelski scored a pair of power-play goals, including his league-leading ninth tally, to extend his goal-scoring streak to five games and set up Ryane Clowe's goal in another San Jose 4-3 win.
If Pavelski is contending with any pre-game jitters, he's doing an excellent job concealing it.
"The atmosphere is unbelievable, the intensity," said Pavelski, who appeared in 67 regular season games in 2009-10, recording 51 points on 25 goals and 26 assists. "You feel it the night before games. You feel it watching all the games on TV. Sometimes you just got to step away and just kind of try to get away from it because you can get yourself overexcited. That's an easy thing to do.
"You step out on the ice, especially in the Shark Tank at the HP there, the crowd has been great. In Game 5 (against the Avalanche), we scored a couple goals and I think that's the loudest it's ever been in the building. It helps us. We like playing in there. The fans have been great for us."
Pavelski has certainly endeared himself to Sharks' supporters throughout the season. He also made his presence known as a member of the silver medal winning Team USA at the 2010 Olympic Winter Games in Vancouver this past February.
The winger is part of a San Jose squad eager to shed their image as playoff underachievers.
"You've got to work extremely hard to change your reputation once something happens," admitted Pavelski, who scored a goal in his first NHL game, making him the 11th Sharks player in the history of the team to do so. "A lot of us in that room have only been to the second round. I mean, a few guys won Cups. We know that experience. But you always have to reprove yourself every year.
"It's a new challenge for us. We haven't made it past the second round in four or five years, not since I've been here. It's new territory. We have to understand it only gets harder and there are more important games. The mental side of the game I think is really important for us. Overcoming situations, we have to take it game by game."
Armed with a sense there is some unfinished business, Pavelski and his teammatewilling to look beyond their current opponent.
Pavelski doesn't need to be reminded of who the Red Wings are and the top to bottom talent they showcase.
"They've got a lot of really good players and good defence," he offered. "They're just kind of solid all the way through. They've been there and they've had the experience."
Which is why Pavelski and his teammates didn't kick up their feet following their opening-round victory over the Avalanche.
"You're just trying to keep your legs, get your rest when you can recover," said Pavelski. "You know, you're still preparing a little bit. You see these teams enough to know that you can go and be ready for them. For the most part we have an understanding of what they're doing, their tendencies."
And while Pavelski's name was likely front and centre during Detroit's preparations, figuring out how to stop him is by no means be an easy task.
In fact, all it takes is one look at the scoresheet to understand just how dangerous a Shark Joe Pavelski is.