Laich Gets the Call
Dynamic forward, Brooks Laich eager to represent Canada at the 2010 IIHF World Championships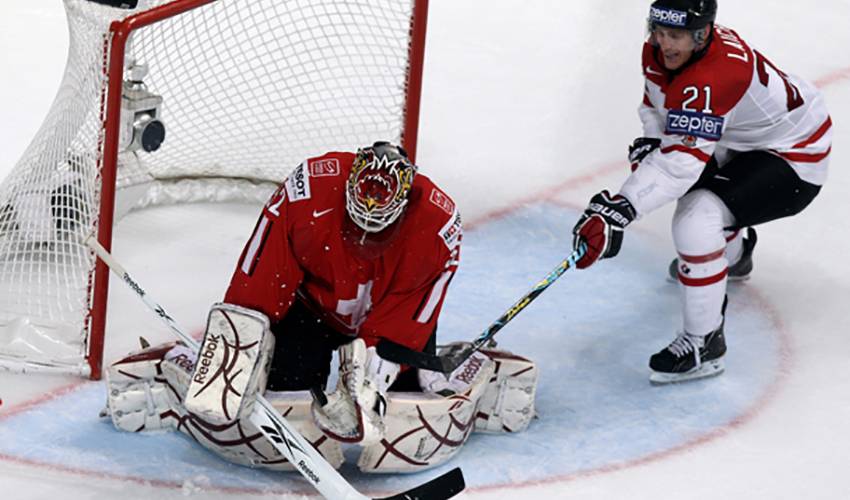 There was plenty going through his mind when he received the call asking if he wanted to play for his country, but for Brooks Laich, it was an offer he simply couldn't refuse.
Just days after Washington's disheartening loss to the Montreal Canadiens in the opening round of the Eastern Conference playoffs, Laich, along with his teammates, were still reeling from the stunning defeat.
Laich did manage to make national and international headlines after the game, however, when he helped a mother and daughter, both Caps fans, after their car had blown a tire.
The Alberta-born forward, who was raised in Wawota, Saskatchewan, received widespread praise for his efforts, something he continues to downplay, but is very much in character for the 26-year-old forward.
So when Laich answered the phone and was given the chance to play for Team Canada at the upcoming World Championships in Germany, he once again was eager to lend a helping hand.
"When I got that call, I was grinning from ear to ear," said the 26-year-old, who was selected 193rd overall in the 2001 NHL Entry Draft by the Ottawa Senators. "To be honest, I was going through a lot of emotions after the disappointment of the playoffs. But the honour of playing for your country brought back some wonderful memories."
Laich is referring to when he was a member of the silver medal-winning Canadian team at the 2003 World Junior Championships played in Halifax, Nova Scotia.
Now, seven years later, Laich will wear the familiar red and white jersey, as Canada looks to win their first gold since 2007 after earning silver medals in 2008 and 2009.
"I like our squad," offered the 2003 Western Hockey League Western Conference MVP. "It's very young, but it's also has a lot of talent. It's an energetic group of guys who skate very well. I can't say I know a lot of the players that well, but you can't help but be impressed by what they bring to the table."
As for what he's hoping to contribute, Laich, who played 73 games for the Capitals in 2006-07 and was lauded for his two-way play and his ability to play both the centre and wing positions, isn't concerned about his role.
Whatever it will be, Laich, who helped lead the Hershey Bears to the American Hockey League's Calder Cup championship in 2006, recording 15 points (eight goals, seven assists) in 21 playoff games, is happy to oblige.
"I suppose I'll find out, but I'm not worried at all," said Laich, who scored 21 goals and posted 37 points in 2007-08, leading the team with a 17.2 shooting percentage and topping all Capitals forwards with 56 blocked shots. "I could be one of the power-play guys, but I know the coaching staff will do a great job in putting everyone in the right spots."
One place Laich will likely be is a familiar position for him, in front of the opposition's net.
"If I can get to the front of the net, provide a screen or perhaps tip in a shot or bang in a rebound, that's a style I like," said Laich, who contributed an NHL career-best 25 goals and 59 points in 2009-10. "Hopefully, we can create plenty of scoring chances each game."
Laich will have at least one familiar face in the crowd when Canada starts the round-robin portion of the tournament when they take on Italy on May 8.
"My father, Harold, was born in Germany, and he'll be coming over to watch the games," said Laich. "We're both looking forward to the opportunity."
And the younger Laich will be hoping for a happier outcome than this year's NHL post-season.
"It was really difficult to deal with," he admitted. "But when you a chance like this, it gives you a little spark. I can't wait for the tournament to get started."