Gill a Tower of Strength for Habs
Steady defenceman has been a crucial element in the Canadiens run to the Eastern Conference Final.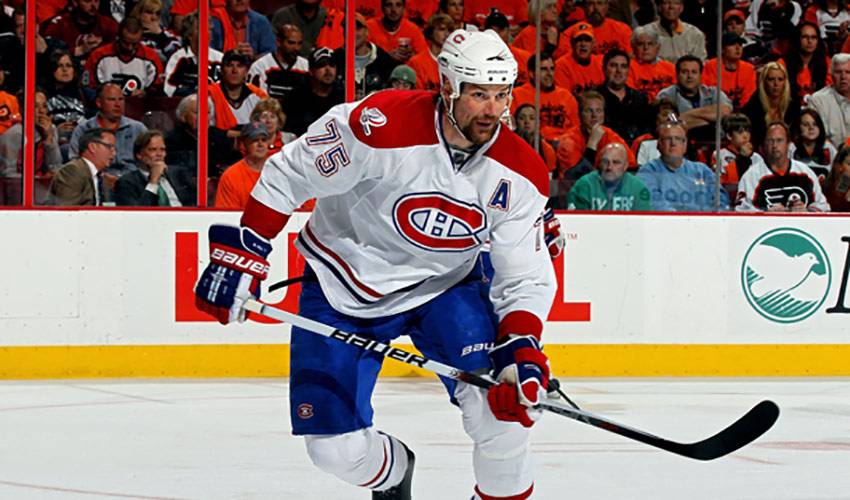 A proud former coach wasn't just delivering a casual compliment when he said, 'Every team can use a Hal Gill.'
He was a solid high school quarterback in his native Massachusetts, tall and talented, strong and sure-handed.
But when Gill, a native of Concord, a town noted for its leading roles in American history and literature, made the jump to the collegiate hockey ranks, he had to win over doubters who figured the 6'7", 240-pounder might not have what it takes to make his mark on the ice.
Paul Pooley, who took over as the head coach of the Providence men's hockey team in the 1990's, liked what he saw in Gill. Not only for his imposing physical presence, but more importantly, his understanding of the game.
"Obviously, the first thing you notice is his size," said Pooley, of Gill. "But the more you got to know him, the more you realized he had a great grasp of hockey."
During his days on the gridiron, Gill was often asked to scramble and utilize a quick turn of foot to shed pursuers, one of many skills he was able to incorporate into his hockey repertoire. It was also a position that put him in the line of fire when it came to hard-hitting contact.
"When you play quarterback, footwork is extremely important,"offered Pooley. "Hal was anything but clumsy when he was on skates. He was just the opposite. He was effective, could really pivot and obviously used his reach to his advantage."
Laid-back away from the rink, the defenceman, drafted in the eighth round, 207th overall by Boston in 1993, was the exact opposite whenever the game got underway.
Far from a sure thing to nab full-time duty in the NHL, Gill wasn't a complete longshot either.
"Hal was always focused on what he had to do," praised Pooley, of the player who appeared in 131 games during his NCAA tenure with the Friars. "That's something he's always been able to draw upon. It's what makes him so effective."
Gill started his big-league career in the 1997–98 NHL season and went on to play more than 600 regular season games over eight seasons with the Bruins. During the NHL lockout in the 2004–05 season, Gill played for Lukko in the Finnish SM-liiga.
On July 1, 2006, Gil signed a three-year deal with the Toronto Maple Leafs. On February 26, 2008, Toronto traded him to the Pittsburgh Penguins for a second-round selection in the 2008 NHL Entry Draft and a fifth-round pick in the 2009 NHL Entry Draft.
Gill played a pivotal role in helping Pittsburgh win the Eastern Conference and advance to the 2008 Stanley Cup Finals, where they lost to the Detroit Red Wings in six games.
One season later, though, Gill and the Penguins reversed the outcome and downed the Detroit Red Wings at Joe Louis Arena in seven games, earning him his first Cup ring.
"It really is hard to put into words what it means to be able to say you've won the Stanley Cup," said Gill, who signed a two-year, $4.5 million contract as a free agent with the Montreal Canadiens less than a month after hoisting Lord Stanley aloft. "It's a great feeling, one you have to experience to know what it means."
The Canadiens are hoping Gill is their good luck charm as they continue their magical playoff run in 2009-10. After knocking off the first-seeded Washington Capitals in seven games, the Habs duplicated the feat in their semifinal set against the Penguins, the defending Stanley Cup champions.
Gill was a force throughout both of the first two rounds, blockings shots, neutralizing the game's top players and clearing the opposition from in front of the net.
In short, the tall defenceman has been simply sensational.
Doubtful for game seven against the Pens, Gill finished the evening with 22:10 in ice time, three blocked shots and one hit.
Is he happy to be playing for Les Habitants?
"Someone explained it to me really well," Gill told NHLPA.com. "I've been very fortunate in my career. I got to play for my hometown team, win a Stanley Cup and play for Toronto and Montreal. It's what any player would dream about."
You can be assured Montreal fans and management are happy to have him in their uniform.
After all, as Paul Pooley once said: "Every team can use a Hal Gill."