Little Things that Win
Coburn says Flyers have continued to pay attention to detail throughout the 2010 playoffs and have now reached the Stanley Cup Finals.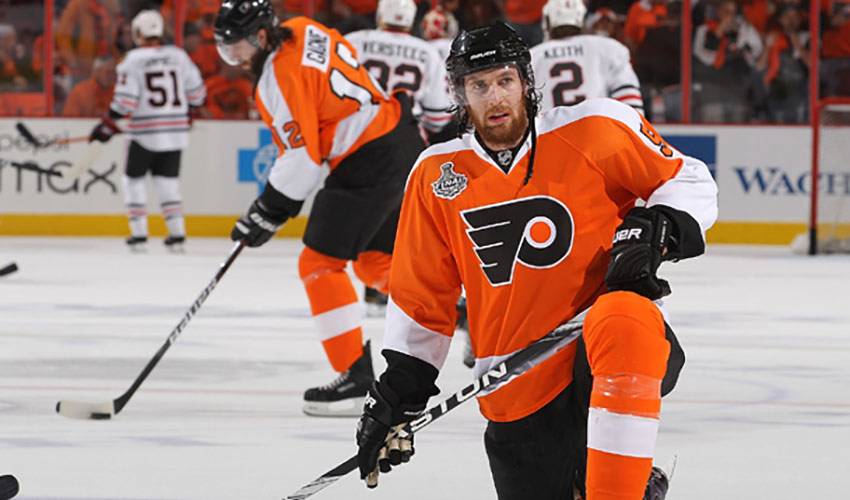 When the most troubling issue you face after two rounds of the NHL Playoffs is a lackluster-looking post-season beard, things can't be too bad.
"I'm doing pretty well," Braydon Coburn told NHLPA.com one day before Philadelphia opened up their Eastern Conference final series against Montreal with a strong 6-0 victory. This series is an unimaginable match-up, one that pits the seventh seed against the eighth to decide who plays for the Stanley Cup. "Things are good."
Just good?
"Well, I suppose things are really good when you think about it," said the Flyers' defenceman, the eighth overall selection of the Atlanta Thrashers in the 2003 NHL Entry Draft. "I guess the only thing I've got to work on is this red beard I have going. It's patchy and not that good to look at."
Fortunately for Coburn and his teammates, the Flyers have certainly been looking good since the playoffs got underway.
After a tough stretch to end the regular season, Philadelphia drew the New Jersey Devils in the first round. They sent their rivals packing in five games before their unbelievable seven-game win over Boston in the semifinals.
Down 3-0 in the series and behind 3-0 in Game 7 against the Bruins, Philadelphia, who has lost a host of players to various injuries, became the third team in NHL history to capture a series after losing the first three games.
The only other teams to win a series after being down 3-0 were the 1942 Toronto Maple Leafs and the 1975 New York Islanders. The other 159 teams that took the first three games in a series all won.
"After we lost the first three games, we really tried to stay focused on the next game," said Coburn, who played major junior hockey with the Portland Winter Hawks of the Western Hockey League (WHL) where he was awarded the Jim Piggott Memorial Trophy as rookie of the year for the 2001–02 season. "There was no panic, no one getting to low when we lost and no one getting too high when we started getting back into the series.
"It was guys like Mike Richards and Chris Pronger who kept us all on an even keel. Our coach (Peter Laviolette) did a great job in keeping everything in perspective, too."
Was that still the prevailing feeling when the Flyers found themselves down three goals as the visitor in the deciding game against the Bruins?
"The only thing we could do was what we had done throughout the playoffs and that was be resilient," said the native of Calgary, Alberta, who was dealt on February 24, 2007, at the trade deadline, to the Flyers in exchange for defenceman Alexei Zhitnik. "We knew what we had to do and we couldn't press the panic button. That's what we've tried to do throughout the playoffs."
Still, Coburn admits it would be nice to escape the drama that has been Philadelphia's calling card in the 2009-10 post-season.
But it's also comforting to know they have a penchant for engineering seemingly impossible comebacks.
"We don't want to dig ourselves into those type of deep holes," offered Coburn, who competed in two World Junior Championships for Team Canada, winning silver in 2004 and gold in 2005. "There is a real belief in one another and in what we can do."
It's something that Flyers' fans have picked up on as Philadelphia attempt to win their third Cup and first since 1975.
"It was really cool when we came back from Boston and there were fans waiting for us at the airport at one in the morning," recalled Coburn, who was awarded the WHL's Doug Wickenheiser Memorial Trophy in 2004 as humanitarian of the year. "It's nice to see how passionate they are and how much they believe in us."
For his part, Coburn, who has just 30 over games of playoff experience at the NHL level, isn't going to try and radically redesign his approach against the Canadiens.
"You want to try and do what you do as a team and that's get stronger as you go along," he said."We had to move on mentally from the last series and prepare to play Montreal. We all know we have to do the little things that can make the difference out there."
And who knows? Perhaps Coburn can figure out a way to get his beard in game shape sooner rather than later.
"Some guys on this team just needed a week and it looked like a playoff beard should," he noted. "For me, it's just not working out the way I want it to yet."
The Flyers' playoff appearance, however, is better than Coburn could have ever asked for.