Immovable Object
Dustin Byfuglien has found a home in front of the net & it's paying off for the Blackhawks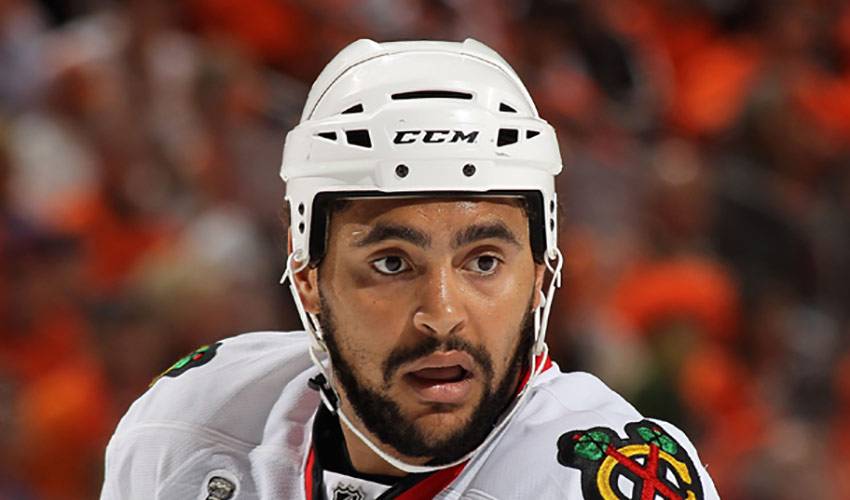 Dustin Byfuglien might not choose the easiest spot to set up shop throughout the course of a game, but the strapping forward's hard work is paying off handsomely for both himself and the Chicago Blackhawks.
It's no secret where Byfuglien, the 245th overall selection in the 2003 Entry Draft, will be when the puck is in the opposition's end. The Minnesota native has made a highly successful habit of putting his 6'4", nearly 260-pound frame in front of the crease in the 2009-10 playoffs, a place that makes him an unwelcome target, but an effective point producer.
Whacks to the back, chops across the ankle – it's all comes with the territory when you venture where Byfuglien, the defenceman-turned-forward, does.
"He's one of those guys I'm sure you don't like playing against because he's big, strong and powerful," praised Chicago head coach Joel Quenneville. "I think he does have a nice complement to his game besides his size. He's got a tremendous shot. It's heavy. Nice hands, good play recognition as well. That familiarity of playing defence, too, helps him in the needed time."
Ironically enough, Byfuglien netted the game-winning goal against San Jose in Game 1 of their Western Conference final far removed from his usual residence, using a quick slapshot shot from mid-range to net the victory.
"It's always been the big thing, always getting the shot off," said the 25-year-old, who played for the Brandon Wheat Kings and Prince George Cougars of the Western Hockey League from 2001-05. "Always think shooting first before making a play, at least in my head it's going off that way. You know, it's just a matter of getting pucks to the net."
For goaltenders, it's a matter of trying to fend off Byfuglien while maintaining focus on where the puck is.
Facing Evegeni Nabokov, who has been strong for the Sharks in the post-season, remains a huge challenge for both Byfuglien and his teammates.
"He seems to always be in the right spot, finding pucks," said Byfuglien, who beat Nabokov with a front-of-the-net deflection in Chicago's 4-2 Game 2 triumph. "You know, that's something that we're going to have to continue, seeing what he's doing and getting in front of him, getting traffic, lots of pucks to him."
It's what made Byfuglien a welcome addition to the Prince George lineup.
Rick Brodsky, who relocated the former Victoria Cougars to Prince George after purchasing the franchise in 1994, felt Byfuglien had the goods to be an impact player from the get-go.
"Obviously, the things that stood out with Dustin was his size and his shot," said Brodsky, whose involvement with hockey began in 1975 when his Brodsky Construction Ltd. purchased the Western Hockey League's Saskatoon Blades. "He could really fire the puck and he was very imposing on the ice."
Byfuglien's NHL debut came on March 1, 2006, against Nashville. He scored his first career goal that night, which turned out to be the game-winner, in a 3-0 blanking over the Predators.
In total, Byfuglien appeared in 25 games for Chicago in 2005-06, recording five points (three goals, two assists), along with 45 shots and 40 hits. He also recorded eight goals and 15 assists for 23 points in 53 games played for Norfolk, Chicago's American Hockey League affiliate. In four playoff games with the Admirals, Byfuglien tallied one goal and two assists.
In 2006-07, Byfuglien appeared in nine games for the Blackhawks, contributing three points while also skating in 63 contests with Norfolk, recording 44 points (16 goals, 28 assists). He was named to the AHL All-Star Second Team, the Planet USA AHL All-Star team and was awarded the Hardest Shot trophy at the AHL All-Star Skills Competition, with a slap shot clocked at 98.7 mph.
Two seasons ago, Byfuglien just missed reaching the 20-goal plateau, lighting the lamp 19 times to go with 17 assists, while making the Byfuglien had 15 goals in 2008-09 and 17 goals in 2009-10, as part of a talent-rich 'Hawks squad that will look to win their first Stanley Cup since 1961.
Having Byfuglien continue his invaluable play would certainly boost their chances.
"With the team they have, I think anyone would be a good fit," said Brodsky. "But I think Dustin is comfortable being around other guys his age and he can use that great shot and great size of his that I remember from junior."
One look at his numbers and rave reviews suggests Byfuglien hasn't forgotten either.