Goc a Leader for German Hockey
NHLPA member Marcel Goc led his country to a strong 4th place finish at 2010 IIHF World Championships, a tournament that was extra special to him as it was held in Germany.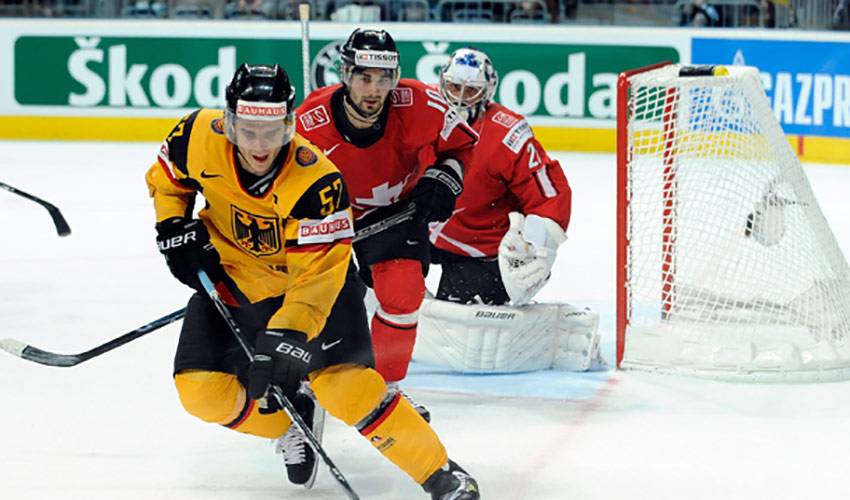 COLOGNE– Marcel Goc hardly had enough time to get the NHL playoffs out of his mind before he was back in the midst of yet another battle.
Goc was asked to wear the "C" for Germany at the 2010 World Hockey Championship and help his country resume its place in international hockey's elite division.
The Germans were supposed to be demoted to the world B pool this year after finishing 15th at the 2009 world tournament in Switzerland. But the International Ice Hockey Federation has a rule that says a host team can't be demoted to Division I when it is staging the showcase.
But the Germans are determined to show they belong with the best and asked Goc to help them make their presence known.
So after the Nashville Predators were eliminated by the Chicago Blackhawks in the first round of the Stanley Cup playoffs, Goc was playing meaningful hockey again.
"It's an honour to represent my country and be team captain," said Goc before Germany 2-1 to advance to the quarterfinals for the first time since 2003.
The 2010 world tournament is sandwiched between two major events on the international sports calendar – the 2010 Vancouver Winter Olympic Games and the World Cup of Soccer – and organizers were determined to have a showcase event to remind the world that international hockey matters.
They came up with a plan to hold a game at a soccer stadium and chose the home turf of the club team Schalke 04, which is one of the most legendary clubs in German soccer history.
So on a Friday night in early May, a record crowd of 77, 803 packed themselves into Veletins Arena to watch Germany beat the United States 2-1 in overtime.
Goc recalled the game like it happened yesterday.
"When we were going out for the warm-up, I said to everybody take it in, take a look around and everybody did. Then we went on the ice and it was fun," he said.
"Everybody's going to be talking about if for a long time. And it turned out to be a good start for the tournament for us. Everything looks a little different when you're down there yourself.
"We had goose bumps when we walked out there. It was pretty loud, it was tough to talk to each other out there. But the louder the better. The energy level and the adrenaline go up in a hurry with the noise."
Goc is one of less than a dozen German-born players in the NHL and the Goc name is synonymous with hockey in Germany.
"The Goc family is like our Sutters," says Germany coach Uwe Krupp, referring to the six Sutter brothers from Alberta who played in the NHL. "They are all very good players."
Marcel's brothers are Sascha and Nicolai and they both play pro hockey in Germany. Nicolai is on the German national team, while the only thing that prevented Sascha from joining was a knee injury.
"We live pretty close together and in the summer we work out together and we push each other," said Goc "It is pretty competitive. Nobody wants to be third and it is a good mix between having fun and being competitive. "
Goc was drafted in the first round, 20th overall, by the San Jose Sharks in 2001 and it did not take long for him to establish himself as a dependable forward with an impeccable work ethic.
He signed with the Predators as a free agent last summer and jumped from 11 points in 2008-09 to 30 this season. He made enough of an impression that the team re-signed him.
And when it came time for Krupp to pick a captain, Goc was a natural fit. He has been a mainstay with German hockey and a name in German hockey circles since he made his debut as a 16-year-old for Germany's National Junior team in 2000.
Goc doesn't crave the spotlight but doesn't balk at the responsibility that comes with being the captain.
"It makes me proud that people and young guys in hockey look up to me. It is an important role. They look up to you and they how you play, what kind of a person you are when they get a chance to meet you and you can help them," he said.
"You just have to be yourself and don't try to do anything different that you would not do normally. It is a different feeling. People look to you a little more and I try to lead. I don't change the way I play or the way I am but I want to help the team as much as I can. We have a pretty young team and I talk to the guys."
Goc likes playing in Nashville and he thinks the Predators have a good thing going.
"We played pretty good and we maybe surprised some people by making it into the playoffs and we had a pretty good run," he said.
The Predators drew the Chicago Blackhawks in the first round of the playoffs and they didn't go down without a battle.
"In the playoffs, we ran into a good team. We did not have to have our heads down when it was over."
The playoffs are behind him and now Goc is thoroughly enjoying seeing Germany play host to the world.
"This is great fun," he said.