Karlsson Caps Off Stellar Season
Senators rookie defenceman turned heads in the NHL; helped Sweden capture IIHF World Championship bronze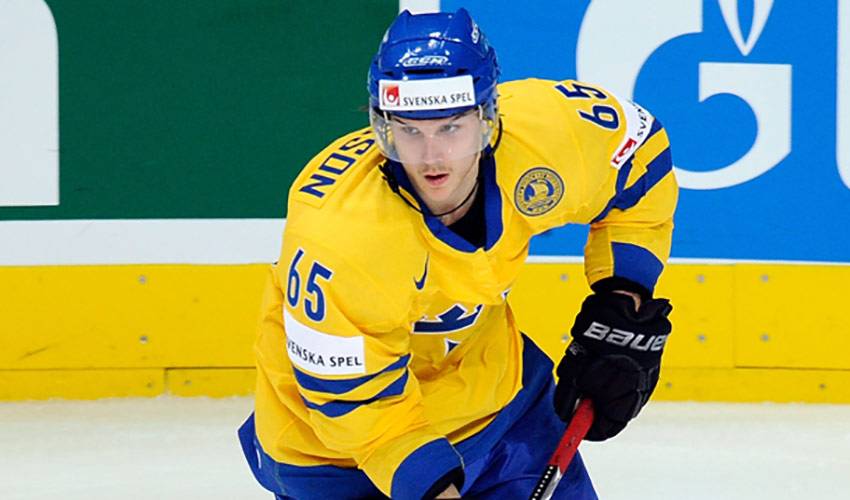 By Alan Adams
COLOGNE– Erik Karlsson broke out in a wide smile when he looked at the World Championship bronze medal around his neck.
It was minutes after Sweden beat Germany 3-1 in the medal round at the 16-team world tournament and Karlsson was happy because he was leaving Germany with a medal that signaled his whirlwind season was over.
"It feels good," said Karlsson, who at 19 made his debut on defence for the Swedish national team after the Ottawa Senators season ended with a playoff exit.
Karlsson has been on international hockey's radar screen ever since he was named the top defenceman at the 2008 World Junior Championship in Ottawa.
It was simply a coincidence that he had an outstanding tournament in Ottawa because only months before the Senators had made him their top pick, 15th overall, in the 2008 NHL draft.
Karlsson had the option of staying in Sweden for the 2009-10 season. He would have logged a lot of minutes playing in the Elite League but he was looking for a bigger challenge.
So he packed his bags for North America, crossed the Atlantic and went to the Senators camp in the hope he could make the team.
He succeeded and he followed with an impressive rookie campaign in Ottawa, which in turn, led to the invitation to the world championship and the bronze medal around his neck.
"It was the right decision to go over this year," said Karlsson. "I did not take a safe year in Sweden and I developed a lot more than had I been somewhere else."
Karlsson has tremendous upside, and the best is yet to come. He is a offensive-minded defenceman who shoots right and there isn't a team in the NHL that would not want to have that asset in their line-up.
Karlsson had five goals and 26 points in 60 games for the Senators, and added 11 assists in 12 playoff games.
Just imagine what he will be like when the 5-11, 175-pound Karlsson adds a little more size to a still-growing frame that held up well through the rigors of a long NHL season
"He is so skilled. He has so much offence in his game and he can do almost everything with the puck," said Sweden goalie Jonas (The Monster) Gustafson, who plays for the Toronto Maple Leafs "He has a good shot and he reads the play well and I know he will only get better and better.
"He is so young and I think if you wait a couple of years he will be one of the top defencemen in Sweden."
"He has a hell of a future," said Swedish defenceman Victor Hedman of the Tampa Bay Lightning. "He plays the point on the power play and he is very dangerous."
Karlsson didn't know what to expect when he went to Ottawa last fall and there was a lot to contend with in a short time.
"The biggest thing was it is a different country and a different culture and everything was so different from what you are used to," he said.
Senators captain Daniel Alfredsson had an idea what Karlsson was going through and he took his fellow countryman under his wing.
"He did a lot for me, especially off the ice. If he would not been there, I do not know if I would have been there. It is hard to describe everything he helped me with. He did so much. He was such a good friend to me and I hung out a lot with him and his family. I spent a lot of time with their family and it was great to have him there."
Karlsson also had to adapt quickly to the smaller ice surface, and to a faster paced game where the reaction time is lightning-quick.
"The speed is different and it is a different kind of game and it is a different feeling but at the sametime, I felt pretty good,'' he said.
And while he had an idea of what to expect on the ice, Karlsson had his eyes opened by the passion and dedication fans in Ottawa, and around the NHL, have for hockey.
"It was bigger than I expected. I knew it was big and everybody cared so much and everybody was passionate but it is not something you talk about until you experience it, until you are really there and you see it with your own eyes," he said.
When the Senators season ended, Karlsson was invited to represent his country at the 2010 Worlds.
Again he had to adjust his game – this time back to the larger international dimensions.
"It is a different type of game and this tournament is not a long run and it is a little more intense and every game you can feel the intensity," he said.
Karlsson is a big part of the future of the Swedish national team, and it's easy to see how he and Hedman will anchor the blueline for years to come.
"Both me and him played in the NHL this season. It was a big step and we adjusted well," said Hedman. "We have a bright future ahead."
Karlsson was asked to reflect on the last couple of years of his life, being drafted, being named the top defenceman at the '08 world juniors, making the Senators at training camp, an now winning a world championship bronze medal.
"Everything has happened so fast and you have to take it with charm. You have to learn as fast as you can and adapt as fast as you can and just enjoy because it can end pretty quick," he said.
With that he turned toward the Swedish dressing room and started his summer vacation.