Captain Chicago
Toews caps off season to remember by leading the Blackhawks to their first Cup since 1961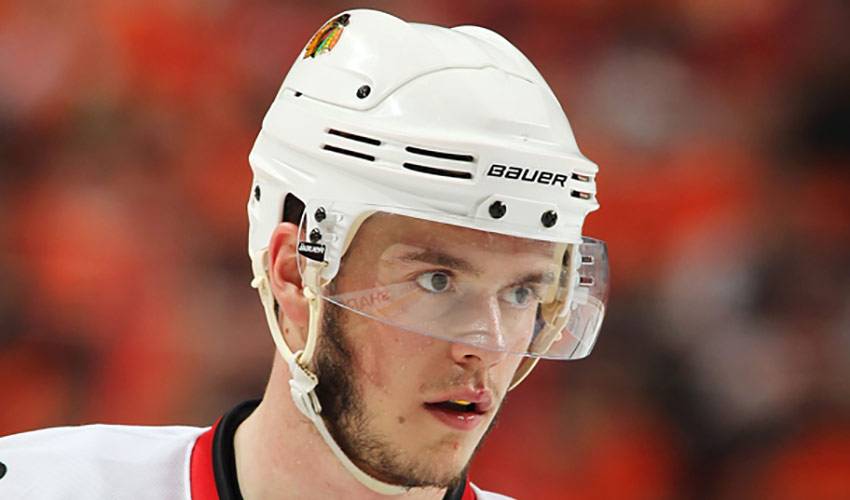 Jonathan Toews' season was as good as gold…and silver.
If you asked Chicago's dynamic 22-year-old captain to craft a dream campaign before the puck dropped on the 2009-10 NHL season, Toews' checklist no doubt would have included a gold medal as a member of Team Canada's Olympic team and a Stanley Cup championship with the Blackhawks.
Turns out, dreams do come true.
Toews is still likely shaking his head days after the 'Hawks celebrated their first Cup win since 1961, a six-game triumph over the Philadelphia Flyers, capped by Patrick Kane's thrilling overtime marker to seal the championship.
Just how good of a season was it for Toews?
The Winnipeg native won gold at the 2010 Winter Olympics, a tournament in which he was named Best Forward and took home the Conn Smythe Award as the NHL Playoff MVP.
He also put his name in exclusive company. By winning the Cup, Toews passed Peter Forsberg as the youngest player to be inducted into the Triple Gold Club, an elite group of international players and coaches who have won an Olympic gold medal, a World Championship gold medal, and the Stanley Cup.
"I think they're both special in their own way," said Toews, of the Cup and Olympic victories. "Not to take any attention off of our team here right now, but to represent your own country, especially Canada, at the Olympics and your home country, that's something you'll probably never experience again in your lifetime as a hockey player. That's pretty cool.
"But on the other hand, everything you go through, the tough times over a long season like we had this year, with such a great group of guys like we have in this locker room, nothing compares to that camaraderie and what you go through as a team. The pressure we were facing all season, to get to this point and win a Stanley Cup, we knew we could do it. We battled hard for each other. That's what makes this one so much better."
His success at such an early stage of his professional career is indeed impressive. But it's a hardly a surprise to those who have watched Toews' ascendancy from collegiate standout to big-league star.
For two memorable campaigns, Toews made his mark as a member of the NCAA's North Dakota Fighting Sioux.
Playing alongside fellow future NHLers such as Drew Stafford and Travis Zajac, Toews was a force for North Dakota from 2005-07.
Toews is also one of the most popular players to have ever worn a Fighting Sioux jersey.
"He has a presence about him that many people notice right away," said Cary Eades, Associate Head Coach at North Dakota. "He's a special player who wants to get better. When someone asked him what he wants to achieve in his career, he said, 'I just want to be the Jonathan Toews I can be.' He means it. There's nothing fake about him.
"He's about as loyal a person as you can find. He doesn't forget. He's got a good head on his shoulders."
And enough talent to stamp himself as one of the sport's top performers.
"He loves to win," said teammate Patrick Kane, of the third overall selection in the 2006 NHL Entry Draft. "He loves to play. He's a great player. And he's had a hell of a year. He's going to be a force to be reckoned with in the future as far as, I think, one of the greats of all time."
Joel Quenneville, Chicago's head coach, certainly believes so.
"Jonathan Toews is a special human being," praised Quenneville. "A young kid who had one of those years. Big player in the Olympics. Big player for us in the playoffs. The bigger the setting, the bigger the game. The bigger he seems to rise to that challenge and that occasion."
It's all in season's work for one of the league's most decorated young talents.