NHLPA Members Select Ovechkin as Ted Lindsay Award Winner
Ovechkin becomes first player since Wayne Gretzky to receive honour in three consecutive years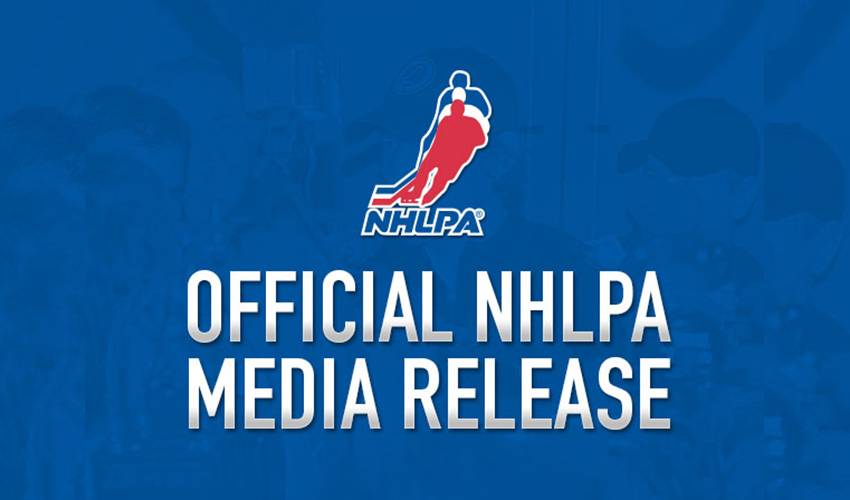 NHLPA MEMBERS SELECT ALEXANDER OVECHKIN AS THE 2009-10 TED LINDSAY AWARD RECIPIENT
LAS VEGAS (June 23, 2010) – The National Hockey League Players' Association (NHLPA) today announced Alexander Ovechkin as the inaugural recipient of the 2009-10 Ted Lindsay Award, presented annually to the "Most Outstanding Player" in the NHL as voted by fellow members of the NHLPA. Ted Lindsay was on hand to present the players' award as part of the 2010 NHL Awards, held at the Palms Hotel in Las Vegas. Ted Lindsay Award finalists, Henrik Sedin of the Vancouver Canucks and Sidney Crosby of the Pittsburgh Penguins, were also in attendance.

"I'd like to congratulate Alex Ovechkin on receiving this award after another great year. Receiving this nod of respect from your peers carries a lot of meaning, and I know Alex will cherish this honour," said Lindsay, following the presentation of the first Ted Lindsay Award.

Ovechkin, of Moscow, Russia, is now the three-time defending recipient of the NHLPA's "Most Outstanding Player" award, the first player since Wayne Gretzky to do so and also just the third player out of the award's 22 recipients to accomplish this feat (along with Guy Lafleur, 1975-76 – 1977-78). He appeared in 72 games for the Washington Capitals in 2009-10, finishing amid the top-three players in the league in points (109) and goals (50), while leading the Capitals to their third-consecutive Southeast Division title in 2009-10, as well as to the first Presidents' Trophy in franchise history. This is the third straight season that Ovechkin reached the 100-point plateau and tallied more than 50 goals – reaching the 50-goal plateau for the fourth time in his five-year career.

On April 29, 2010, the Ted Lindsay Award was introduced, and it remains the only award voted on by the players themselves, carrying on the tradition established by the Lester B. Pearson Award. The Award honours Ted Lindsay, an All-Star forward known for his skill, tenacity, leadership and his role in establishing the original Players' Association.

In recognition of being named the 2009-10 Ted Lindsay Award winner, Ovechkin was presented with an elegant men's watch from Breitling.

Fans and media are encouraged to visit www.nhlpa.com/About-Us/Ted-Lindsay-Award to view further background information on the Ted Lindsay Award and in-depth finalist profiles.

2009-10 Ted Lindsay Award Recipient
Alexander Ovechkin
Height: 6'2"
Weight: 220 lbs.
Shoots: Right
Age: 24
Born: Moscow, Russia
Date of Birth: 09/17/1985
Entry: Selected 1st Round, 1st Overall by the Washington Capitals
in the 2004 Entry Draft
Career Achievements:
Lester B. Pearson Award (2008, 2009); Ted Lindsay Award (2010)
Hart Trophy (2008, 2009)
Art Ross Trophy winner (2008)
Maurice Richard Trophy (2008, 2009)
Calder Trophy winner (2006)
Named to First All-Star Team (2006, 2007, 2008, 2009)

"Most Outstanding Player" Award Recipients:
| | | |
| --- | --- | --- |
| Lester B. Pearson Award | 1983-84Wayne Gretzky | 1997-98Dominik Hasek |
| 1970-71Phil Esposito | 1984-85Wayne Gretzky | 1998-99Jaromir Jagr |
| 1971-72Jean Ratelle | 1985-86Mario Lemieux | 1999-00Jaromir Jagr |
| 1972-73Bobby Clarke | 1986-87Wayne Gretzky | 2000-01Joe Sakic |
| 1973-74Phil Esposito | 1987-88Mario Lemieux | 2001-02Jarome Iginla |
| 1974-75Bobby Orr | 1988-89Steve Yzerman | 2002-03Markus Naslund |
| 1975-76Guy Lafleur | 1989-90Mark Messier | 2003-04Martin St. Louis |
| 1976-77Guy Lafleur | 1990-91Brett Hull | 2005-06Jaromir Jagr |
| 1977-78Guy Lafleur | 1991-92Mark Messier | 2006-07Sidney Crosby |
| 1978-79Marcel Dionne | 1992-93Mario Lemieux | 2007-08Alexander Ovechkin |
| 1979-80Marcel Dionne | 1993-94Sergei Fedorov | 2008-09Alexander Ovechkin |
| 1980-81Mike Liut | 1994-95Eric Lindros | Ted Lindsay Award |
| 1981-82Wayne Gretzky | 1995-96Mario Lemieux | 2009-10 Alexander Ovechkin |
| 1982-83Wayne Gretzky | 1996-97Dominik Hasek | |