Blues Make a Pitch for Janssen
St. Louis native throws out 1st pitch at Cardinals game; signs new deal with Blues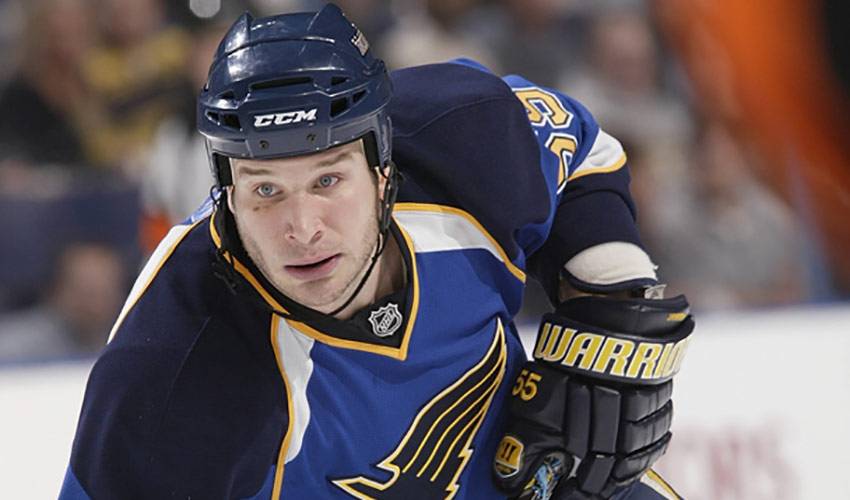 Cam Janssen never has to make a pitch for being one of St. Louis' most beloved athletes.
As one of the toughest players in hockey, Janssen, the 117th overall selection in the 2002 NHL Entry Draft, rarely, if at all, lets his nerves get the best of him.
Well, at least not on the ice.
The St. Louis native recently found himself front and centre at a St. Louis Cardinals' baseball game, when he was given the honour of throwing out the ceremonial first pitch at the National League squad's home park.
"I practiced two days before the game because I didn't want to go out there and make a fool out of myself," joked Janssen, who played for the Windsor Spitfires and Guelph Storm of the Ontario Hockey League and saw action in the Memorial Cup tournament with Guelph in 2003-04. "I threw a few warm-up pitches prior to going out on the mound. I was a bit nervous before I headed out there."
It didn't get any easier for Janssen in the moments leading up to the delivery.
"You get out there and there are thousands of people focusing just on you," recalled Janssen, who led the New Jersey Devils during the 2005-2006 season with 11 major penalties for fighting, scoring his first career goal against the Washington Capitals on February 24, 2007. "It felt like a pretty big buildup. Some people are heckling you, others are cheering. All that's going through your mind is that you want to make a decent pitch."
And that's just what Janssen did.
Does that mean he's ready to consider hanging up his hockey gloves for a shot at baseball stardom?
"No way," he admitted. "It was a lot of fun, though. I got to meet a lot of the players and they asked me a lot of questions about hockey. It was a great night. I felt honoured to be able to be there."
His role as an enforcer is well-established, but so too, is Janssen's commitment to the community and the fans.
While his job is as demanding as any in the sports world, the 26-year-old is always willing to lend his time and support to a number of charitable initiatives.
"I'm very fortunate in many ways and to be able to play the game I love is something I really cherish," said Janssen, who was traded to the St. Louis Blues for defenceman Bryce Salvador, on February 26, 2008. "We have great fans and even if you've had an off night, they support you. That means the world to any athlete."
And as Janssen has found out on occasion, some supporters are more vocal than others.
"I remember one game, there was one guy right behind our bench yelling throughout the whole game to put me on the ice," he remembered. "It was non-stop. I didn't turn around for the longest time, but finally I had to see who this guy was. I look back and it was the father of this kid I knew. It was pretty funny."
It's far from the only memorable moment.
"Obviously, things can still be a little heated after you drop the gloves and sometimes it carries over into the penalty box," said the 5'11, 210-pound right-winger. "There are times when you're in the box, you're chirping away at one another and you use a few choice words. And then you realize there are kids listening to the whole conversation. If that happens, I'll just look up say, 'I'm sorry,' and give them a little wink."
For now, Janssen, who just re-signed on a one-year deal with the Blues and is closing in on 200 career NHL regular season games, doesn't have to worry about his next opponent.
"I like to take my boat out, listen to some music and relax with my friends," said Janssen. "I like to explore around the lakes and just take in the scenery. You could be anywhere, it's a great way to unwind."
But, sounding like a typical hockey player, Janssen admits he can't wait to get back out on the ice.
"It's getting to be about that time when I want to start feeling that contact again and enjoying that physical part of the game."
When he does lace up the skates, Janssen will have the chance to share a big highlight from his summer with his teammates, one that didn't throw him too much a curveball.
"It all worked out great, I didn't mess up the pitch and I had a great time," he said. "I just gave it my best."