Datsyuk Dominates at Both Ends of the Rink
Russian forward contributes to the Red Wings success by scoring & shutting down opponents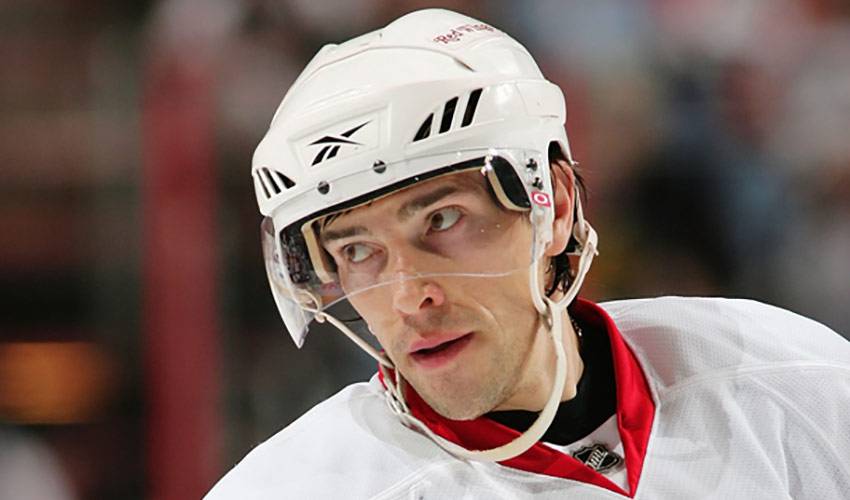 Pavel Datsyuk wasn't about to go on the defensive when it came to the latest acknowledgment of his talents.
Considered one of hockey's elite two-way players, the latest recognition of Datsyuk's talents came in the form of a third consecutive Selke Trophy, the award that goes to "the forward who demonstrates the most skill in the defensive component of the game."
For the 31-year-old Russian star, having his name etched on the trophy once again is a tremendous honour.
"For me, actually, every award means a lot," said Datsyuk, who also has four Lady Byng awards, (which recognizes the league's most gentlemanly player), along with two Stanley Cups, in 2002 and 2008. "The Selke, it's like I'm kind of between a forward and a defenceman. And for me it's a perfect for help. If I can help the defencemen, I am forward. This trophy is special for me. It means a lot. I'm happy I won."
Datsyuk's name has been synonymous with success before and throughout his National Hockey League career.
After a decent 35-point rookie campaign in 2001-02, expectations were high heading into Datsyuk's sophomore campaign. A knee injury limited him to just 64 games, but he still contributed 51 points in the 2002-2003 season.
With the departure of Sergei Fedorov in the 2003 off-season, Datsyuk's stock continued to rise. He embraced the extra ice time he was afforded, utilizing his playmaking skills to put his name in the mix of the league's top offensive performers, while earning a spot in the 2004 NHL All-Star Game.
In 2005–06, Datsyuk was awarded his first Lady Byng Trophy and also earned a spot on the Russian team for the 2006 Winter Olympics.
He matched his previous campaign's total of 87 points in 2006-07, including 27 goals. Prior to the beginning of the playoffs, on April 6, 2007, Datsyuk signed a seven-year contract extension with the Red Wings for $46.9 million. He helped the Red Wings make it to the Western Conference finals against the eventual Stanley Cup champion Anaheim Ducks, contributing 16 points in 18 games.
In 2007–08, Datsyuk was voted by the NHL fans, along with teammates Nicklas Lidström and Henrik Zetterberg, to start for the Western Conference in the 2008 NHL All-Star Game.
He had a career year, points-wise, with a team-high 97 points in 82 games, also leading Red Wings forwards in blocked shots. In leading the team in scoring, he joined legendary Wings Ted Lindsay, Gordie Howe and Steve Yzerman as the only players in franchise history to achieve the feat in three consecutive seasons.
At season's end, Datsyuk became the first NHLPA member to win the Lady Byng three straight times in over 70 years. Frank Boucher of the New York Rangers was the last player to do so, winning the Lady Byng from 1933–35.
Datsyuk and former NHL star Ron Francis are the only two players to have been awarded both the Selke and Lady Byng trophies during their careers.
The playoffs brought out Datsyuk's best as he recorded two assists in a 3–2 Game Six win to clinch the team's 11th Stanley Cup title and fourth championship in 11 years.
Datsyuk was selected to his third NHL All-Star Game in 2009, but due to a hip injury suffered in a game against the Phoenix Coyotes on January 20, 2009, just prior to the All-Star weekend, he did not attend. He finished the 2008-09 season with 97 points (32 goals and 65 assists), equaling his career high. He also won the Selke and Lady Byng, the latter for the fourth consecutive season.
But in spite of his stellar offensive numbers and crowded trophy case, Datsyuk takes great delight in doing the simple things that can ultimately make a big difference in the final outcome of games.
"I'm happy to," said Datsyuk, of the opportunity to diffuse a scoring chance. "I just disappoint a guy and make him not score on us and help the team. I'm very happy for this one. I wanted to score a lot, but I'm happy if they don't score on us. I like it. It makes me happy, and it makes it fun, too."
Perhaps for Datsyuk, but not for those saddled with the task of trying to stop him from putting the puck in the net, or those attempting to convert a high percentage scoring chance.
And nothing, not even a serious injury, can derail Datsyuk's enthusiasm for the game.
"I think at wing, center, defenseman, I want to play so bad. I don't want to watch this game again," admitted Datsyuk, after he was sidelined with an injury in 2008-09. "I'm just hungry and I want more excitement. I want to play. When I play more, I'm more comfortable."
If he had his own way, Datsyuk wouldn't be spending any time on the bench.
"The game is 60 minutes," he offered. "I hope I play 60 minutes."