2010 Golf Classic a Huge Success
Current & former NHLPA members tee-it-up in support of charity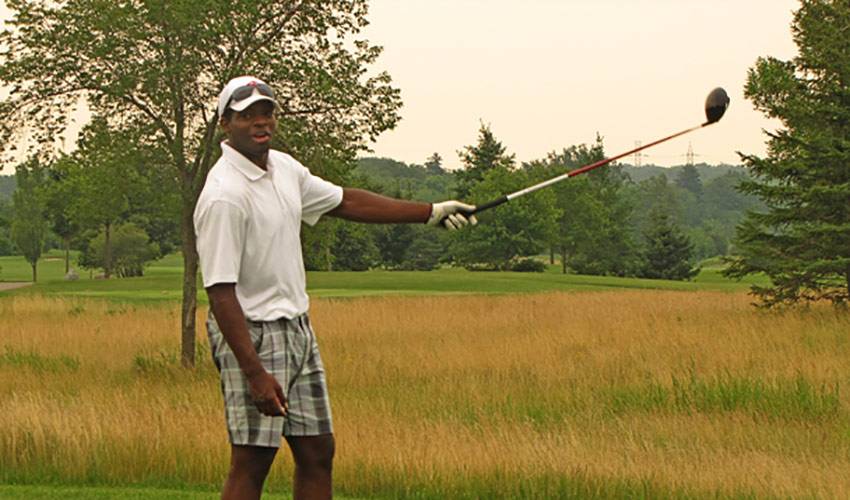 Even with a little of the wet stuff coming down to dampen the course in the afternoon, there was no indication the rain had any effect on the 2010 NHLPA Golf Classic. Guys that battle hard on the ice every night over the course of an NHL season once again got a chance to put rivalries aside and tee-it-up to raise money for some worthy charities and enjoy the camaraderie of a round of golf. There was no time to be wasted on worrying about the weather, even when the umbrellas came out for a brief time.

Current and former members of the National Hockey League Players' Association, along with various sponsors and corporate partners, hit the linksat RattleSnake Point Golf Club on Monday in Milton, ON. In its 18th year, the players' tournament raised $75,000 for "Hockey for Haiti" – a joint relief initiative between the NHLPA, Georges Laraque and World Vision Canada – and the NHL Alumni Association's Players Helping Players Fund (PHPF).

"This is a great event, it's a chance for us to come together and raise some money for good charities. This is my fifth or sixth time at the Golf Classic and it's always been great," said NHLPA member Jamal Mayers.

An additional portion of this year's Golf Classic centered around the man who helped form the NHLPA over 40 years ago, as the current and former players presented Ted Lindsay with a painting commemorating his namesake award which will now be presented to the league's most outstanding player, as voted by his peers. As the Buffalo Sabres' Steve Montador introduced Ted Lindsay to the players in attendance, he spoke for all of the members by saying that "quite literally, we would not be here today if nor for Ted's sacrifices and the efforts he made in starting the NHLPA. We are indebted to you and we thank you very much."

After taking the stage to thunderous applause, Mr. Lindsay himself said a few words, thanking the players repeatedly for the honour bestowed upon him. "I played the game I loved," Mr. Lindsay told the crowd, "and I still love it today as much as I ever did. All of a sudden, I'm retired and these wonderful things happen in my life. And what's happening today is another one of those wonderful things. I'll remember this to my dying day."

Ken Belanger, formerly of the Los Angeles Kings, and his group were the first-place team for the event, with former Chicago Blackhawk Steve Larmer and his foursome finishing closely behind. The Carolina Hurricanes' Justin Peters was the low net player for the day, finishing with a 62 on the day, while former player Nathan Lafayette was the low gross player with a 71 on his card.

This year's tournament included a group of 56 current and former NHL players, a group that collectively boasts a total of 26,064 NHL games played, and recorded a total of 4,271 goals and 6,315 assists for 10,586 points.

The annual NHLPA Golf Classic began in 1993 with current and former NHL players teaming up with corporate sponsors to benefit the Players Helping Players Fund, as well as other chosen charities. A silent auction helped with the fundraising, with featured items such as autographed jerseys from three-time Ted Lindsay Award winner Alex Ovechkin and Sidney Crosby, an autographed Chicago Cubs jersey by Hall of Fame baseball player Ferguson Jenkins and a painting of a childhood Martin Brodeur playing net in his driveway. Since its inception, the tournament has raised close to $3 million for the chosen charitable causes.