Gervais Grateful to Give Back
Islanders d-man co-hosts annual golf tourney with Max Talbot to raise money for chosen charities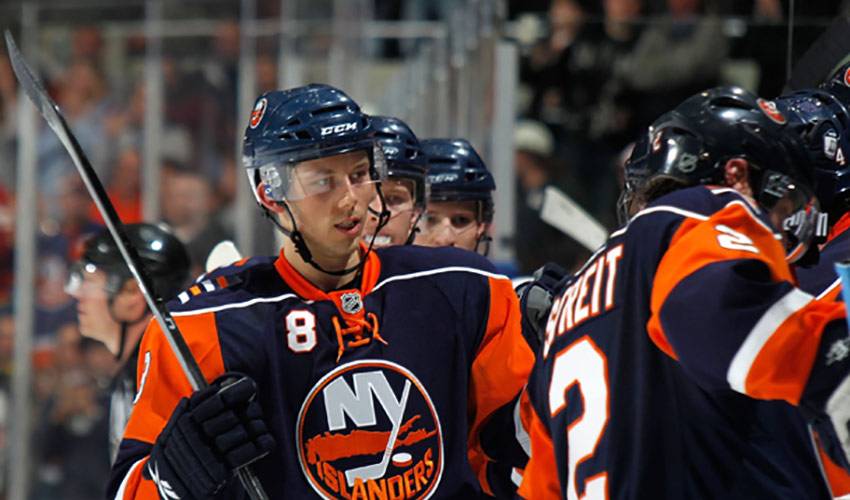 He's one of hockey's most giving players, but that doesn't mean Bruno Gervais waits until the season gets underway to get into the swing of things.
Gervais, who has played his entire National Hockey League career with the New York Islanders, recently teamed up with Maxime Talbot of the Pittsburgh Penguins, to host their second annual golf tournament, The Gervais-Talbot Open, which was held on July 9 at the Club de Golf St-Hyacinthe, in St-Hyacinthe, Quebec.
Profits will go to an organization which helps autistic children: the Fondation Les Petits Trésors (Foundation for Little Treasures), which focuses on autism research. Funds will also be contributed to two other organizations which help children from underprivileged families.
"I didn't know a lot about autism, but I was at a golf tournament in Regina few years ago and I met a man who has a young kid that is suffering from the disorder," recalled Gervais. "After that, I got to know more about it and met more people who are affected by autism.
"What Max and I wanted to do this year is help give families and kids afflicted with the autism the opportunity to succeed in life."
Gervais' commitment to his team and teammates is only rivaled by his dedication to worthy causes. And he wouldn't have it any other way.
"To spend two hours a day interacting with people, that's something I am happy to do," said Gervais, who was named the 2008 Nassau County Athlete of the Year by the Nassau County Sports Commission, in recognition of his commitment to the community. "I've been blessed and I realize that. I was given the chance to do something I love. To be able to share time with others just makes me realize how lucky and fortunate I am."
Whether it's a trip to a hospital to spend time with sick kids or visiting Long Island hockey rinks on teaching hockey skills to young Islander fans, Gervais never disappoints.
Ask him, however, who gets the most out of the interaction, and the Quebec native is insistent he is the one that truly benefits.
"I am always amazed at how resilient kids are," said the sixth-round, 182nd overall selection of the New York Islanders in the 2003 NHL Entry Draft. "When you walk into a hospital and see their struggles, you also see strength. When I was young, I always wondered it would be like to meet someone who was playing in the NHL, how pumped you'd be at getting a chance to talk to them. And when you see how happy these kids are to meet you, it's a very humbling feeling."
A graduate of the Quebec Major Junior Hockey League's Acadie-Bathurst Titan, Gervais played three seasons with Acadie-Bathurst registering 76 points (30-46-76) despite missing the better part of the 2003-04 season.
Despite his easy-going manner and comfort level around others, that wasn't always the way. In fact, Gervais admits he's a much different person now.
"I used to get caught up in the stress and pressure when I was playing in junior," he recalled. "In junior, no one could talk to me after a loss. My family would come down to see me after a game and I just couldn't deal with losing. But I've learned to separate hockey and life. I still have the same passion for the game and when I'm at the rink, I am focused on winning. Away from the game, I've learned to relax more."
Following his three-year stint in the QMJHL, Gervais made his professional debut in 2004-05 with the AHL's Bridgeport Sound Tigers before going on to make his NHL debut with the Islanders in 2005-06.
He signed a three-year contract with the Isles in 2008, a deal that will keep him under contract until the 2010-11 season.
"Bruno is a homegrown talent," said Islanders General Manager Garth Snow. "He's a high character player and person and is someone who is great in the Long Island community."
His reputation as a good guy extends far beyond Long Island, something one of his fellow Quebecers recently discovered.
"There is family that lives next-door to me and they have a son in Grade 6," said Gervais. "He was really shy when I first met him. He recognized me and we got to talking. I gave him a jersey and I ended up going to his school and meeting his classmates. It was supposed to be for an hour, but it ended up being two hours. It was great."
As for his hockey life, Gervais is looking forward to doing his part to put the Islanders back in the playoff spotlight.
"Rebuilding is not easy, but we are past that stage," said the defenceman, who has appeared in five NHL post-season games. "We want to be hard to play against. We took big steps last year, but we also had a seven-game losing streak that really hurt us. We know we need to be ready for every single game. With the new additions and young players who made big steps last year, I'm excited about what we can do."
But not even a hectic schedule and great on-ice expectations will stop Gervais from fulfilling his role as one the game's great ambassadors.
"To take a little bit of your time to meet with people is never a burden," he said. "I'm very fortunate to have that opportunity."