Who's Who of Hockey To Gather for World Hockey Summit
Meet the participants of the World Hockey Summit.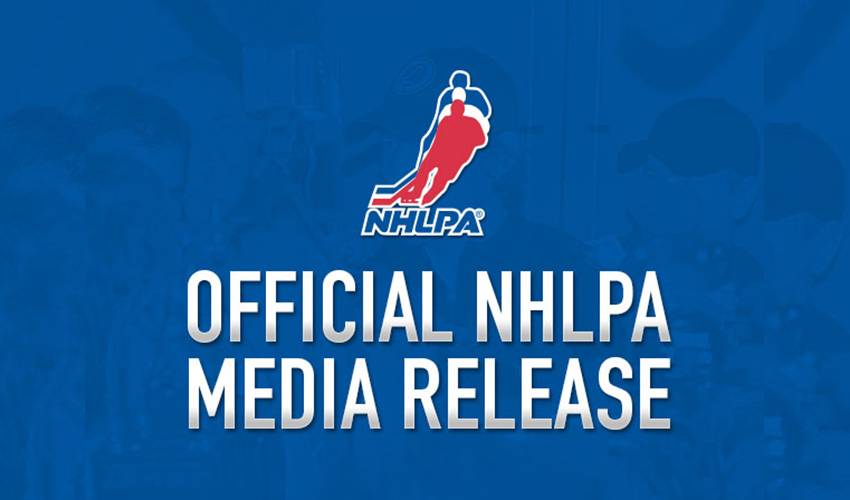 WHO'S WHO OF HOCKEY WORLD TO GATHER IN TORONTO AT 2010 MOLSON CANADIAN WORLD HOCKEY SUMMIT, AUGUST 23-26
TORONTO (July 29, 2010) -- The 2010 Molson Canadian World Hockey Summit Steering Committee, comprised of National Hockey League Deputy Commissioner Bill Daly; Hockey Canada President & CEO Bob Nicholson; USA Hockey Executive Director Dave Ogrean; International Ice Hockey Federation General Secretary Horst Lichtner; Canadian Hockey League Commissioner Dave Branch; National Hockey League Players' Association Chief of Business Affairs Mike Ouellet andMolson Coors Director, Sports & Entertainment Pat McEleney announced today details of the seven sessions that will provide the backdrop for the four-day Summit, August 23-26, in Toronto, Ontario.
The World Hockey Summit will dissect the current state of hockey at all levels and collaboratively identify and address key concerns and issues facing the game today. The Summit's theme, Global Teamwork Promoting the Growth of the Game, will be brought to life through interactive seminars, presentations, and discussions led by a who's who of the global hockey world from the IIHF, the NHL, Hockey Canada, USA Hockey, and the CHL.
The Summit begins with a reception followed by a series of interactive "hot stove" sessions at the Hockey Hall of Fame on Monday, August 23 (7:00 p.m. - 10:00 p.m.). The sessions will address the state of the game on a variety levels around the world.
NHL Commissioner Gary Bettman will take part in an interactive Q/A session at a luncheon on Wednesday, August 25, while IIHF President Rene Fasel will be available for a similar session on Aug. 24.
The Summit is open to the public and registration information can be obtained online at worldhockeysummit.com.
Each session will be entirely interactive and feature guest speakers and panelists from across the hockey world. The session topics will include: Player Skill Development; Junior Development in the World; Vancouver 2010 Evaluation; Establishing a Long-Term Global Event Agenda; Women's Hockey after 2010; and Growing Participation in Hockey.
Following is a summary of each of the six sessions:
PLAYER SKILL DEVELOPMENT - Tuesday, August 24 (9:00 a.m. - 12:30 p.m., Air Canada Center)
Understanding the need for and establishing a long-term plan for player development will assist player recruitment and retention and provide opportunities for a safe, positive, and enjoyable experience in youth hockey and foster long-term participation in the sport at all levels of play. Session topics will include:
Long-term player development strategies
A review of current youth development programming best practices
Addressing the developmental shortcomings in youth hockey
Opportunities for growth through the IIHF Audit Initiative
Current trends and issues concerning player safety in today's game
Speakers: Dr. Steve Norris, Director of Sport Physiology & Strategic Planning at the Canadian Sport Centre for 2002, 2006 and 2010 Winter Olympics, and Dr. Mark Aubry, Chief Medical Officer of the IIHF and Hockey Canada.
Panelists: Peter Laviolette, Philadelphia Flyers head coach; Bob Mancini, regional manager of USA Hockey's American Development Model; Brendan Shanahan, NHL vice president of hockey and business development; Bob Boughner, Columbus Blue Jackets assistant coach; Jack Hewitt, vice president, marketing services for Kraft Canada and a longtime minor hockey coach
JUNIOR DEVELOPMENT IN THE WORLD - Tuesday, August 24 (1:30 p.m. - 5:00 p.m., Air Canada Center)
Assessing the results and figures from the IIHF World (U20) Juniors, the Olympics and the NHL Draft. Session topics will include:
The impact of European migration to the Canadian Junior ranks
Effects of Europeans leaving for the NHL and AHL
Strategies for maintaining the popularity of the IIHF World Juniors
Addressing the developmental shortcomings in elite junior and college programs
Speakers: Slavomir Lerner, director & head coach, Czech National Team; Murray Costello, IIHF Vice President.
Panelists: Darcy Regier, Buffalo Sabres general manager, Tommy Boustedt, director of hockey development and national teams with the Swedish Ice Hockey Association; Jim Johannson, USA Hockey assistant executive director of hockey operations; Kelly McCrimmon, Brandon Wheat Kings general manager & coach; Jan Filc, vice president of Slovak Ice Hockey Association; Tom Anastos, Central Collegiate Hockey Association Commissioner.
VANCOUVER 2010 EVALUATON - Wednesday, August 25 (8:30 a.m. - noon, Sheraton Center)
Evaluating the 2010 Olympic men's ice hockey tournament, helping hockey to benefit long-term from the unprecedented success by sustaining the positives while developing other areas. Session topics will include:
Television, Commercial and Public Relations impact of Vancouver 2010
The financial breakdown of Olympic hockey
NHL participation - impact, consequences and costs
Rink Comparison; IIHF vs. NHL size
Speakers: John Furlong, CEO of the Vancouver Organizing Committee for the 2010 Olympic and Paralympic Winter Games; Rene Fasel, IIHF president; Timo Lumme, IOC managing director, television & marketing services.
Panelists: Ken Holland, Detroit Red Wings executive vice president & general manager; Daniel Alfredsson, Ottawa Senators; Jamie Langenbrunner, New Jersey Devils; Brian Cooper, Hockey Canada, director of the foundation board of directors; Igor Kuperman, vice president of European operations for Pointstreak Sports Technologies, Inc.
ESTABLISHING A LONG-TERM GLOBAL EVENT AGENDA - Wednesday, August 25 (1:30 p.m. - 5:00 p.m., Sheraton Center)
Exploring the possibilities to provide hockey with a long-term international event agenda for both national team and club events, further enhancing the IIHF-NHL cooperation for the growth of the game. Session topics will include:
Integrating the World Cup of Hockey into the international agenda and to consider a consistent rotation between the IIHF World Championship, the Olympics and the World Cup
Addressing the need for an annual World Club Championship (Victoria Cup) between the Stanley Cup champion and the European champion
Champions Hockey League - an opportunity for a re-launch
For the good of the game - growing hockey worldwide
Speaker: Ralph Krueger, former Swiss National Team coach.
Panelists: NHL Deputy Commissioner Bill Daly; Toronto Maple Leafs President and General Manager Brian Burke; KHL President Alexander Medvedev; New York Rangers European pro scout Anders Hedberg; Hockey Night in Canada broadcaster Glenn Healy; Paul Romanuk, international broadcaster.
WOMEN'S HOCKEY AFTER VANCOUVER 2010 - Thursday, August 26 (8:30 a.m. - noon, Sheraton Center)
What steps need to be taken to close the competitive gap between North American and European teams to insure women's hockey remains an Olympic sport? Session topics will include:
Reviewing the approach towards women's hockey in all IIHF member associations
Do federations have a vision for women's hockey and visionaries who are prepared to commit to the cause?
Increasing registration and participation among girls in the emerging women's hockey nations
Growing the competitive environment in women's international hockey
How should the IIHF assist emerging nations?
Speaker: Hayley Wickenheiser, Canadian National Women's Team.
Panelists: Mel Davidson, Canadian National Women's Team coach; Mark Johnson, Head Coach of 2010 U.S. Olympic Women's Ice Hockey Team ; Arto Sieppi, Finland's director of women's ice hockey; Peter Elander, Swedish coach at 2010 Olympic Winter Games; Angela Ruggiero, U.S. National Women's Team.
GROWING PARTICIPATION IN HOCKEY- Thursday, August 26 (12:30 p.m. - 3:00 p.m., Sheraton Center)
Growing hockey means both recruiting new players and retaining our current ones. It is important to promote positive messaging about our game and share best practices from around the world. Chicago Blackhawks President John McDonough; Ottawa Senators Sports and Entertainment President Cyril Leeder; Finland's Director of Women's Hockey Arto Sieppi; Tommy Boustedt, Director of Hockey Development and National Teams with the Swedish Ice Hockey Association, Dr. Paul Dennis, professor of sport psychology at the University of Toronto and York University; Hockey Canada Chief Operating Officer Scott Smith; and USA Hockey Assistant Executive Director, Membership Development Pat Kelleher will bring the Summit to a close by sharing their experiences and best practices in growing the game at all levels.
For more information contact:
NHL: Julie Young (jyoung@nhl.com)
Hockey Canada: Andre Brin (abrin@hockeycanada.ca)
IIHF: Szymon Szemberg (szemberg@iihf.com)
USA Hockey: Dave Fischer (davef@usahockey.org)
NHLPA: Jonathan Weatherdon (jweatherdon@nhlpa.com)
CHL: Paul Krotz (pkrotz@chl.ca)
Molson: Adam Moffat (Adam.Moffat@molsoncoors.com)