Reignited in Calgary
Back in a Flames uniform for some 'unfinished business', Alex Tanguay looks forward to the 2010-11 season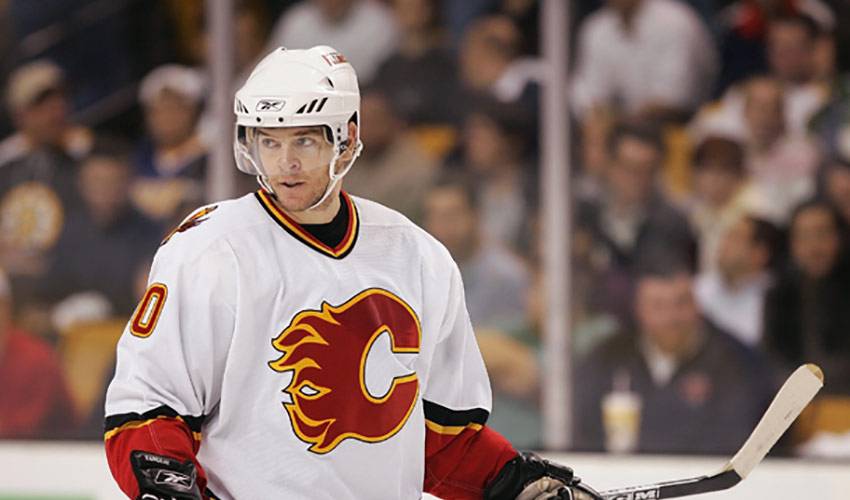 Alex Tanguay is a motivated man these days.
Referring to his return to Calgary as 'unfinished business,' Tanguay, who was originally acquired by the Flames from the Avalanche on June 24, 2006 in exchange for Jordan Leopold, a second-round choice in the 2006 Entry Draft and a conditional pick in the 2007 Entry Draft, is hoping the 2010-11 NHL campaign will be a renaissance of sorts.
Tanguay rejoins the Flames after playing two seasons with the Western Conference club during 2006-07 and 2007-08. He was traded to Montreal by Calgary on June 20, 2008.
The Ste, Justine, Quebec native recorded a career high for points with 81 during the 2006-07 campaign, finishing second to Jarome Iginla. His 59 assists led the team in that category. In 739 career NHL games, the former first-round selection has recorded 617 points (203 goals, 414 assists) and 377 penalty minutes.
The 6'1" 190-pound forward has appeared in 98 NHL career playoff games notching 59 points (19 goals, 40 assists). In 2001, Tanguay captured a Stanley Cup with the Colorado Avalanche posting 21 points in 23 post season games.
Tanguay was selected 12th overall in the 1998 Entry Draft, one of four picks the Avalanche had in the first round that year.
"Mentally, you have to ready to play with the big boys," said Tanguay, who played three seasons of major junior with the Halifax Mooseheads of the Quebec Major Junior Hockey League (QMJHL). "You have to be prepared to play full out every single game. You can't get away with anything in the pros. You might be a step ahead of most guys in junior, but that's not the case when you play in this league. You have to prepare yourself, but you still need a year or two to experience it and learn from it."
Adjusting to life away from home didn't prove to be an issue for the played who was named to the QMJHL All-Rookie Team in 1997.
"For me, it wasn't that big of adjustment," admitted Tanguay. "It really wasn't a huge deal. When I left to go play hockey in junior with Halifax, it was what I wanted to do. You have to make certain sacrifices when you play hockey. I wanted to learn English and really fit in with everyone. Since you're so busy and focusing on becoming a better player, you don't have too much time to be homesick. It's not that tough because I love what I do."
Tanguay, who scored his first NHL goal on October 8, 1999 against the Pittsburgh Penguins, finished with 51 points in 1999-2000, his rookie season.
After improving to 77 points in his second campaign, Tanguay contributed 21 points in the playoffs to help Colorado win the 2001 Stanley Cup championship. In the Finals against the New Jersey Devils, Tanguay scored a goal in Game Six to help tie the series at three in a 4–0 victory. In Game Seven, Tanguay netted the opening two goals and assisted on the third in Colorado's 3–1 victory. His second goal was the Cup-winning tally.
Tanguay points to a goaltending legend as a key figure in his development, a former teammate who literally opened doors for him.
"When I made it to Colorado, the team was looking for a billet family for me to stay with in my first year," recalled Tanguay, who recorded his 200th QMJHL career point on February 24, 1999, with three assists at Rouyn-Noranda. "They couldn't find anyone for me, so Patrick Roy took me under his wing. I lived in his basement for a year and it proved to be a great learning experience for me. He gave me great advice. I would ask him questions and he was always there for me.
"It's always nice to have someone help you get better. Patrick was like a big brother to me and the guys on the team were great. It's not always easy at the beginning of your NHL career, but everyone supported me throughout my time there."
Now, as he heads into his 11th NHL season, Tanguay will look to utilizie his veteran expertise to help Calgary return to the playoffs. Last year,the Flames finished third, with 90 points, in the Northwest Division.
And who better to help lead the charge than a familiar face and a player eager to show he's still got what it takes to make an impact.
"I know there are some people that might have some doubts, but I'm very excited to be back in Calgary. I'm really looking forward to the new season."