Aaron Ward Retires After 13 NHL Seasons
Aaron Ward, a veteran of more than 13 NHL seasons, 17 seasons in professional hockey, and a three-time Stanley Cup winner, announced his retirement today.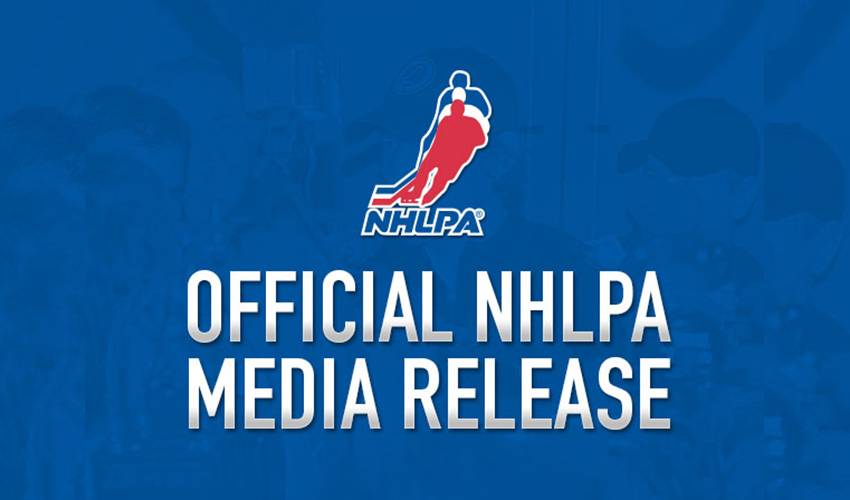 AARON WARD RETIRES AFTER 13 NHL SEASONS
TORONTO (August 24, 2010) – Aaron Ward, a veteran of more than 13 NHL seasons, 17 seasons in professional hockey, and a three-time Stanley Cup winner, announced his retirement from the National Hockey League today.
Ward underwent a third surgery on his knee after last season, and it was recently determined that he would not be ready for the start of the 2010-11 campaign.
"I'm very proud to have played for as long as I did in the NHL, with and against the best players in the game," said Ward. "This game has left me with countless memories and relationships, especially from those Stanley Cup winning teams in Carolina and Detroit. Thank you to my family, fans, friends and teammates for all of the great years."
Ward, 37, played in 839 career NHL games and recorded 44 goals, 107 assists and 151 points to go along with 736 penalty minutes. He spent the first five seasons of his career with the Detroit Red Wings (1996-2001), played in five seasons with the Carolina Hurricanes over two separate stints (2001-2006, 2009-10) and played in three seasons with the Boston Bruins (2006-2009), as well as played in one season for both the New York Rangers (2006-07) and the Anaheim Ducks (2009-10). Ward was also part of three Stanley Cup teams, winning two championships in Detroit (1997, 1998) and one in Carolina (2006).
The native of Windsor, ON was a first round draft pick – selected 5th overall – by the Winnipeg Jets in the 1991 NHL Entry Draft, drafted after his first of three seasons spent playing hockey at the University of Michigan. On October 5, 1993, Ward made his NHL debut for the Detroit Red Wings in Dallas and, three days later, he scored a goal for his first career NHL point in a 7-2 win at Anaheim on October 8th. After spending most of the next three seasons with the Red Wings' AHL affiliate in Adirondack, Ward secured a regular spot in Detroit's lineup in the 1996-97 season.
In his NHL rookie season, Ward played in 49 regular season games and an additional 19 playoff games in the spring during the Red Wings' 1997 Stanley Cup championship run. The steady, consistent defenceman played the next four seasons in Detroit prior to being traded to Carolina in July of 2001. During his first season with the Hurricanes, in 2001-02, Ward played in 79 regular season games and 23 playoff games – a key member on the team's blue line during their exceptional postseason that led to a Stanley Cup finals appearance.
In 2005-06,Ward played 71 regular season games in Carolina, setting personal highs in goals (6), assists (19) and points (25). He scored the opening goal in Game 7 of the 2006 Stanley Cup Finals en route to the Hurricanes defeating the Oilers for the franchise's first championship. Ward was chosen by his teammates as the Hurricanes' nominee for the 2005-06 King Clancy Memorial Trophy and he also won the "Good Guy" Award that season as selected by the Carolina chapter of the Professional Hockey Writers Association. He signed in New York the following season and played 60 games for the Rangers before getting traded to the Boston Bruins in February of 2007. Ward played the next two full seasons with the Bruins, helping to lead the club into the playoffs each year. In 2009-10, he rejoined the Hurricanes and finished his final season in Anaheim following a trade deadline deal.
Always a consummate professional and durable defender, Ward provided toughness, leadership and strong play in his own end everywhere he played, contributing with hits, blocked shots and playing key minutes. He amassed 95 playoff games over seven postseasons; he also suited up in at least 71 regular season games six times in his career.
Wherever he played, Ward was an enthusiastic contributor to local charities, such as 'Cuts for a Cause' in Boston, and enhanced his clubs' charitable support for U.S. military service persons.
Aaron will reside in North Carolina with his wife, Kelly, and their three children. He looks forward to continuing his television work as a hockey analyst in the upcoming season.