Brim Full of Asham
Pugnacious & physical player looking forward to plying his trade in Pittsburgh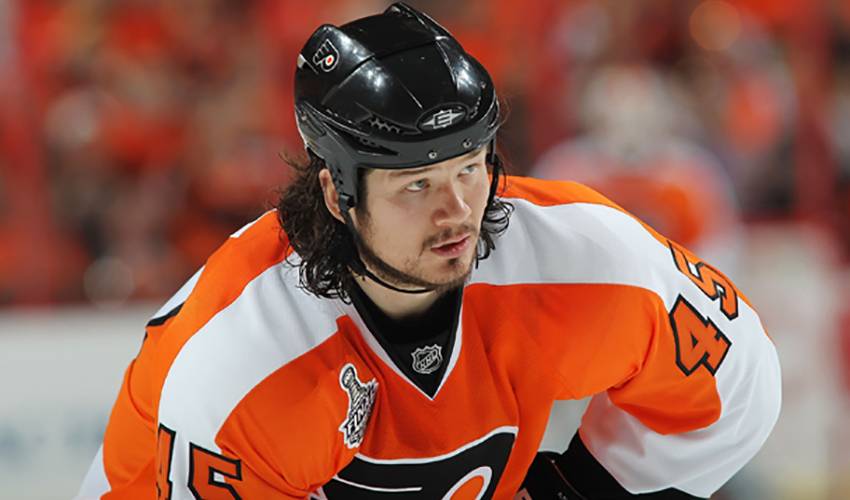 Arron Asham is by no means an explorer, but the gritty NHL veteran has, with just one exception, conquered hockey's version of the Atlantic.
When it comes to familiarity with pro hockey's Atlantic Division, no one quite knows it the way Asham, the pride of Portage la Prairie, Manitoba, does.
The 32-year-old, who recently signed a one-year contract as an unrestricted free agent with the Pittsburgh Penguins, has now played on every team in the division except for one club.
"I guess this means I'll play for the New York Rangers one day," laughed Asham, who has suited up with Atlantic squads New Jersey Devils, New York Islanders and the Philadelphia Flyers, over his 648-game NHL tenure. "I don't know what it is. All I know is that I love to play this game."
For the past two seasons, the 5'11", 210-pounder skated with Philadelphia, including a 10-goal, 24-point campaign in 2009-10, one that saw the Flyers make it all the way to the Stanley Cup final, before losing to the Chicago Blackhawks.
Asham is eager to take things a step further with the Penguins in 2010-11.
"We had a great run last year, but losing leaves a bitter taste in your mouth," said Asham, who was selected 71st overall by the Montreal Canadiens in the 1996 NHL Entry Draft and made his NHL debut with Montreal during the 1998–99 season. "I want to get back there. I think Pittsburgh gives me a great chance to win the Cup. I'm not getting any younger and I'd love to be able to experience the thrill of winning it all."
There is no shortage of familiar faces in Pittsburgh for Asham, including three players and a head coach.
"I've played with Eric Godard, Mike Rupp and Paul Martin before, so it will be nice to have the opportunity to reunite with them," offered Asham, who scored one of the biggest goals of his career in Game 5 of the Eastern Conference Finals versus Montreal, an eventual 4–2 victory that eliminated the Canadiens and put the Flyers into the Finals against the Blackhawks. "(Head coach) Dan Bylsma was an assistant coach when I was with the Islanders, so he's familiar with what I bring to the team."
What Asham brings is an effective blend of hard work, hard hits, timely goals and unselfish play.
His hard-nosed approach, which has resulted in his dropping the gloves on more than a few occasions during a season, will make him a welcome addition to the Penguins.
Does that mean he'll have to offer a few apologies to some of his new teammates?
"It is kind of funny, isn't it?" quipped Asham. "I know a lot of these guys, at least on the ice, from playing against them for so many years. I've had battles with a lot of them. But that's the great thing about hockey. You can go up against guys and have heated exchanges, but once you meet them, you usually have a laugh about it."
Asham also doesn't need to be reminded he'll have to do the very same against his old Flyers mates whenever the two teams face off in the battle of Pennsylvania.
"I played with great linemates in Philly in Claude Giroux and James Van Riemsdyk," said the right-winger. "Now, it's part of my job to try and keep them off the scoresheet."
As for his 2009-10 performance, Asham hopes to start this campaign where he left off.
"At the beginning of the year, I started out slow," he recalled. "I was playing just five minutes a game. Then (head coach) Peter Laviolette, who I played for with the Islanders, came in and gave me some opportunities. That gave me a lot of confidence."
Asham, who scored four goals in the 2009-10 playoffs, should have no problem becoming an instant fan favourite in Pittsburgh. His robust style has made him a popular figure dating back to his days in the Western Hockey League when he played with the Red Deer Rebels.
"In the juniors, I was a bit of a scorer, but I played hard too, dropped the gloves when I had to and tried every shback-to-back 40-plus goal and 90-plus point seasons with the Rebels. "I think people appreciate hard work and grit."
It's obvious his new teammates do.
"I got a call from Sidney Crosby welcoming me to the team," noted Asham. "That makes you feel good. I'm excited about this year for a lot of reasons."