Nash looking ahead to 2010-11
Accomplished forward wants to reach greater heights with Blue Jackets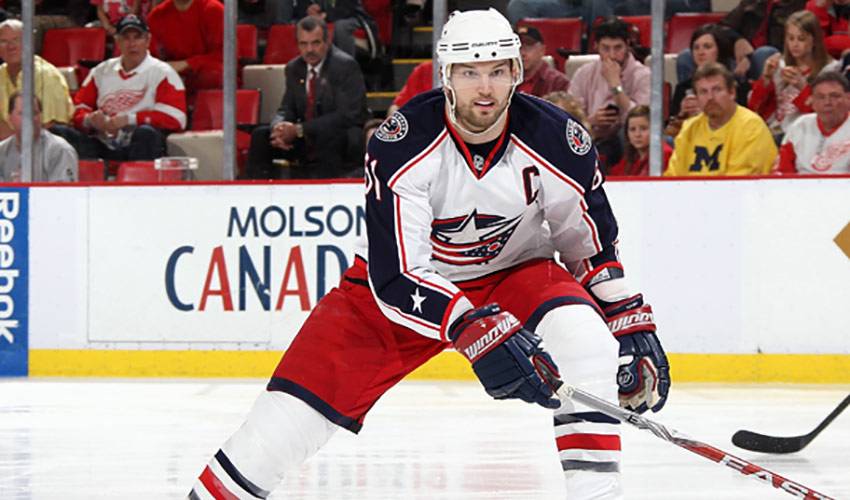 On or off the ice, Rick Nash is anything but selfish. But he makes no excuses for wanting more of something when it comes to his NHL career.
He's been an impact player at every level of the game, a player who combines a potent mix of skill, size and competitiveness. There is very little missing from his impressive hockey resume, with one glaring exception.
"Obviously, you play for that chance to win the Stanley Cup," said Nash, the first overall selection in the 2002 Entry Draft, who has just four games of NHL playoff experience since joining the league in 2002-03. "It's never easy to take when you are watching the playoffs and not competing in them."
Nash made a splash during his junior hockey days with the Ontario Hockey League's London Knights. He scored 63 goals and 75 assists in 112 games with the club, who was named to the OHL All-Rookie Team and Canadian Hockey League All-Rookie Team, along with CHL Rookie of the Year honours in 2001.
He launched his NHL career with Columbus the season immediately following his draft and was nominated for the Calder Memorial Trophy as rookie of the year.
"I'm just trying to stay level-headed, not getting too high or too low," Nash told NHLPA.com in his rookie season. "It's been amazing. Growing up and watching hockey, and now getting the opportunity to play against some of these superstars, it's a dream come true.
"If you want to be the best, you have test yourself against the best," he continued. "These are the top players in the world, so that will make me raise my own game to be able to compete. It will always be that way."
Nash has certainly kept his word.
The forward, who became just the eighth No. 1 overall draft pick to score in his first-ever NHL game and was also the first no. 1 overall draft pick to score in his first game in his draft year since Mario Lemieux achieved the feat in 1984, has maintained his standing as one of the top offensive players in the games.
In his second NHL season, he scored a career-high 41 goals to tie with Jarome Iginla and Ilya Kovalchuk for the Rocket Richard Trophy as league goal-scoring champion. He was the first Blue Jackets player to earn a major post-season award from the NHL.
A four-time NHL All-Star, Nash always has people intently watching him whenever he takes to the ice. Well, at least most of the time.
Whenever she's afforded the opportunity to watch her son play live, Liz Nash admits it's far from comfortable viewing. And while the proud parent isn't about to come right out and say it, being an observer isn't always easy.
"It's always amazing for me to watch Rick play in the NHL," said Liz, who was on hand to see her son score his first-career big-league goal. "I'm very proud of how hard he worked to realize his dream. But for me, it's not always easy to watch. I guess that's just part of being a mom."
Nash is grateful for the support.
"My family has always been there to support me from the very first time I played the game," said Nash, who scored a goal in his first NHL game, on October 10, 2002. "They were always behind me, driving me to early morning practices or taking me to games after work. I wouldn't be here without them."
Nash has made the most of his career to date, appearing in over 500 regular season games while being recognized for his off-ice efforts, honoured with NHL Foundation Player Award in 2009 for his work in the community.
Internationally, Nash has represented Team Canada on several occasions.
He won a silver medal at the 2002 World Junior Championships, two World Championships silver medals, a gold at the 2007 World Championships and a gold at the 2010 Winter Olympics. He has also competed in the 2006 Winter Olympics in Turin.
Adding a Stanley Cup to the list is his foremost goal.
"You always have to work hard, especially in this league," said Nash. "If you want to be a success, you have to give everything you have each game. I just want the team to be successful. Hopefully, we can achieve our ultimate goal."