Same As It Ever Was ...
Leafs captain Phaneuf honoured with role; not changing his style or approach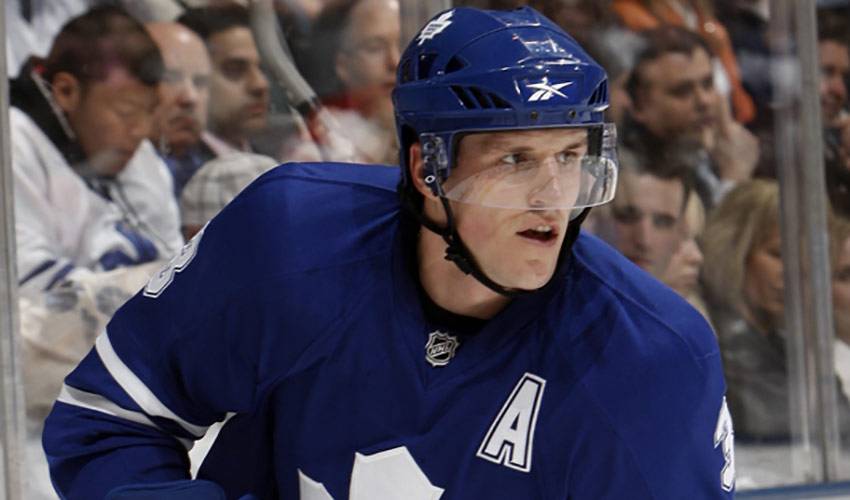 His jersey will look different when he takes to the ice in 2010-11, but Dion Phaneuf isn't about to change anything, at the rink or otherwise, when it comes to his approach.
When he came to the Toronto Maple Leafs via a trade with Calgary on January 31, Phaneuf also brought a reputation as one of the league's toughest blueliners, a defenceman whose hard-hitting, hard-nosed game was just what the Original Six team was looking for.
And it's just what Phaneuf, who was anointed team captain on June 14, has delivered.
Just don't expect to see anything different from the Edmonton native now that he's the undisputed leader of the Leafs.
"To be completely honest, I'm not going to change the way I play, the way I've been, the way I carry myself," said the ninth overall selection in the 2003 NHL Entry Draft. "I'm going to stay the exact same person, same player that I've always been to get me to this point. It's a huge honour for me to be captain of this team."
The Western Hockey League's Red Deer Rebels selected Phaneuf in the third round of the 2000 WHL Bantam Draft. One year later, he joined the Rebels for the 2001–02 WHL season and recorded 17 points in 67 games. He recorded two assists in 21 games as the Rebels lost in the WHL final against the Kootenay Ice.
Phaneuf improved to 16 goals and 30 points in 2002–03 as the Rebels again reached the WHL finals, where they lost again, this time to the Kelowna Rockets.
He further solidified himself as one of the top junior players following his draft year, netting 43 points in 62 games while earning the Bill Hunter Memorial Trophy as the top defenceman in the WHL in 2003-04.
Phaneuf was also named an Eastern Conference All-Star by the WHL, and a First Team All-Star by the Canadian Hockey League (CHL). He scored 56 points in 55 games in 2004-05 to finish his junior career with 146 points.
The following campaign, Phaneuf once again was recognized as the WHL's defenceman of the year, and was also named to both WHL and CHL All-Star Teams.
He set a Flames record for most goals, 20, by a first-year defenceman and was named a finalist for the Calder Memorial Trophy as top rookie in 2005–06. Two years later, he was a finalist for the James Norris Memorial Trophy as top defenceman.
Now, he'll look to get Toronto back to the playoffs. The Maple Leafs haven't been to the post-season in five consecutive campaigns following a pre-lockout run of six straight playoff appearances.
It's a team Phaneuf believes is destined for better days.
"I'm very excited about the moves we made this summer," said Phaneuf. "We made some really good moves. The guys have been back for a couple of weeks, skating together. Everyone is really excited about our team. We're a young team, we're a fast team. It's going to be an exciting fall.
"I had a great time in Calgary, but I'm really happy to be here and excited to be a Leaf," continued the 25-year-old. "The support we have in Toronto is unbelievable. We have great fans and we appreciate all the support."
And although the regular season is still weeks away, Phaneuf already has his game-face on.
"I spent my summer in Prince Edward Island," said the 6'3", 215-pounder, who has represented Canada internationally three times in his career, winning silver and gold medals at the World Junior Hockey Championship in 2004 and 2005 respectively, and a gold medal at the 2007 Men's World Ice Hockey Championships. "I was training down there, just excited to get things going. It's been a long summer and everyone is looking forward to getting back at it."
With his first season as a big-league team captain just around the corner, Phaneuf, who scored 12 goals between Calgary and Toronto in 2009-10, is as excited as he's ever been.
"Obviously, we want to make the playoffs," he said. "I just want to be consistent and do whatever it takes to help the team be successful. I like our team and hopefully, we have a good year together."