Goals & Dreams Fund and NHL Enhance Kraft Hockeyville 2010 Celebration
Charitable donations totaling $30,000 to assist grassroots hockey programs in Dundas, ON.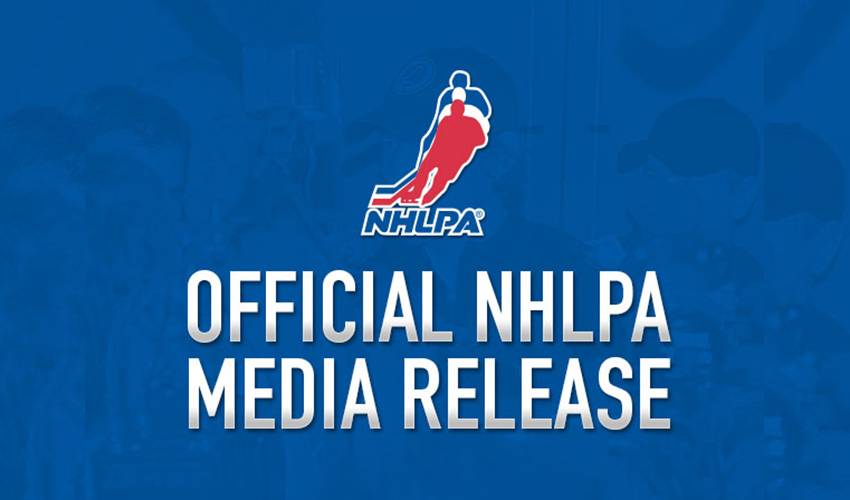 NHLPA GOALS & DREAMS FUND AND NATIONAL HOCKEY LEAGUE ENHANCE KRAFT HOCKEYVILLE 2010 CELEBRATION
DUNDAS, ON (September 28, 2010) – Furthering the Kraft Hockeyville 2010 celebrations, the National Hockey League (NHL®) and the National Hockey League Players' Association (NHLPA) announced that they have made donations totaling $30,000 towards grassroots hockey in Dundas, ON.
The NHLPA Goals & Dreams fund has donated 30 complete sets of brand new hockey equipment, valued at $15,000, to provide more local Dundas children with the means to play hockey; the Dave Andreychuk Foundation and the Rotary Club of Dundas will each receive 15 sets of equipment from the players' program. Buffalo Sabres defenceman Steve Montador was on hand at J.L. Grightmire Arena this morning to personally donate the equipment to children who are associated with each youth organization.
The NHL Foundation has donated $15,000 towards the "Gotta Be Dundas Legacy Project" to assist in the community's effort to raise $600,000 for upgrades to the J.L. Grightmire Arena.
"Kraft Hockeyville is a very exciting initiative that NHL players are thrilled to participate in, especially in a great hockey community such as Dundas," said Montador. "What makes it special is the chance to give back through programs like NHLPA Goals & Dreams, helping kids overcome obstacles that prevent them from playing the best sport in the world"
"The NHL is pleased to provide support for the Gotta Be Dundas Legacy Project and the initiative to refurbish the J.L. Grightmire arena," said Kyle McMann, Director of NHL Integrated Marketing. "The NHL recognizes the importance arenas play in our communities, and this donation exhibits that our biggest assists happen off the ice."
"Canadians are extremely passionate about hockey and Kraft Canada has been involved with hockey for over 30 years," said Dino Bianco, President, Kraft Canada. "By supporting local hockey arenas and community centres, Kraft Hockeyville connects friends and family through their love of hockey and promotes physical activity and a healthy lifestyle through sport."
ABOUT THE NHL
The National Hockey League, founded in 1917, is the second-oldest of the four major professional team sports leagues in North America. Today, the NHL consists of 30 Member Clubs, each reflecting the League's international makeup, with players from more than 20 countries represented on team rosters. According to a Simmons Market Research study, NHL fans are younger, more educated, more affluent, and access content through digital means more than any other major professional sport. The NHL entertains more than 250 million fans each season in-arena and through its partners in national television (VERSUS, NBC, TSN, CBC, RDS, RIS, ESPN America, ASN and NHL Network™) and radio (NHL Radio™, Sirius XM Satellite Radio and XM Canada). Through the NHL Foundation, the League's charitable arm, the NHL raises money and awareness for Hockey Fights Cancer™ and NHL Youth Development, and supports the charitable efforts of NHL players. For more information on the NHL, log on to NHL.com.
ABOUT NHLPA GOALS & DREAMS
In 1999, the National Hockey League Players' Association (NHLPA) launched the Goals & Dreams fund as a way for the players to give something back to the game they love. Over the past 10 years, more than 50,000 deserving children in 22 countries have benefited from the Goals & Dreams donations of full sets of hockey equipment; the players' program has also assisted with upgrades and the building of hundreds of arenas world-wide. To date, Goals & Dreams has donated more than $19-million to grassroots hockey programs around the world making it the largest program of its kind. For more information on the NHLPA, please visit www.nhlpa.com.
ABOUT KRAFT HOCKEYVILLE
Kraft Hockeyvilleis a nationwide search for Canada's most passionate hockey community. Communities enter to win by submitting a short essay with at least three photos depicting their hometown pride and hockey spirit. Along with the hometown pride that comes along with being crowned Kraft Hockeyville, the winning community receives an NHL® Pre-Season Game in their local arena and $100,000 from Kraft Canada to upgrade their hockey rink. The remaining top four communities also receive $25,000 from Kraft Canada for arena upgrades. Since the Kraft Hockeyville program launched in 2005, Kraft Canada has awarded over $620,000 to Canadian communities including; Salmon River, Nova Scotia; North Bay, Ontario; Roberval, Quebec; Terrace, British Columbia; and Dundas, Ontario.
NHL and the NHL Shield are registered trademarks of the National Hockey League. NHL and NHL team marks are the property of the NHL and its teams. All Rights Reserved.
NHLPA is a registered trademark of the National Hockey League Players' Association. All Rights Reserved.