Poti Elects for a 2nd Term in Washington
Steady defenceman signs extension with Capitals; Ready to push for elusive title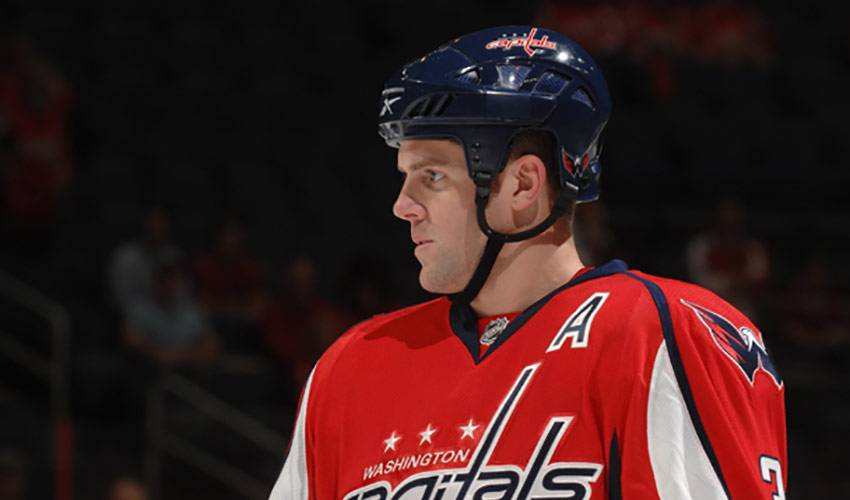 For almost 800 career NHL games, Tom Poti has made a habit of doing just about everything to contribute to his team's success.
Whether it's a legendary U.S. collegiate coach singing the praises of his game, or the General Manager and Vice President of his current club extolling his virtues, Poti has managed to impress more than a handful of people throughout his hockey career.
He's also managed to fit in with a talented-loaded Washington Capitals squad, a team eager to shrug off last year's bitter playoff disappointment that saw them sent to the sidelines after the Eastern Conference quarter-finals.
"We have a very tight-knit group, where everyone is on the same page," said Poti, who originally signed with the Capitals as a free agent on July 1, 2007, and just recently inked a two-year extension with the club. "Everyone is unselfish and willing to do whatever it takes to win."
It's obvious the Capitals are happy to have him on board.
"Tom has played very well for the Washington Capitals and has been a key part of our success since he joined the team," said Washington Vice President and General Manager George McPhee. "We are pleased that he has made the commitment to remain a Capital."
Boston University head coach Jack Parker didn't even need one game to figure out Poti was destined for the NHL.
"It was the first practice," said Parker, of when he knew Poti, who played two campaigns for him, was something special. "Really, it was right off the bat. He did amazing things offensively, but he was solid defensively, too."
Poti, who attended high school at Cushing Academy, had already built a reputation as a blueline talent.
As both a junior and senior, Poti was chosen Best Defenceman in the New England Prep School Athletic Conference, and was also an NEPSAC All-Star both years, leading his team to the NEPSAC tournament title in his senior year.
Poti was chosen to play with the U.S. World Junior Team that captured the silver medal at the 1996 World Junior Championships held in Boston.
The Edmonton Oilers selected the Worcester, Massachusetts native 59th overall in the 1996.
On October 10, 1998, the 6'3, 215-pound defenceman made his NHL debut against the Los Angeles Kings. Just over one month later, on November 18th, he scored his first goal against the Detroit Red Wings' Chris Osgood.
After 73 games, Poti recorded 21 points, delivered 35 hits and 82 blocked shots. He was also awarded the Oilers' Top First Year Player award and named to the league's All-Rookie Team.
Dealt to the New York Rangers with Rem Murray for Mike York and the Rangers' fourth-round choice (Ivan Koltsov) in the 2002 Entry Draft, on March 19, 2002, Poti, who helped the U.S. win a silver medal at the 2002 Olympic Games in Utah, continues to be a strong presence on the back end.
Parker, for one, isn't surprised to see Poti thriving at the NHL level.
"He's the type of person who cares about his friends and teammates," said Parker, of the 33-year-old, who played one season with the New York Islanders prior to joining the Caps. "He wants to get better. He'll always look at ways to improve any part of his game."
Poti is hoping his individual efforts translate into a first-ever Stanley Cup win for the Capitals.
Last season, he ranked fifth among NHL defencemen and third among Capitals defencemen with a career-high plus-26. He ranked second on the team with 121 blocked shots while averaging 21:24 of ice time.
"I'm very happy playing here," said the soft-spoken defenceman, who has recorded 19 points (2 goals, 17 assists) and 29 penalty minutes in 51 career playoff games. "Both on and off the ice, I feel very comfortable. It's a great situation."
One that could be even better if he were to see his name etched on hockey's most cherished team trophy.