Feeling At Home Abroad
Bruins defenceman Andrew Ference returns to a familiar spot, the Czech Republic, as part of the NHL Premiere Games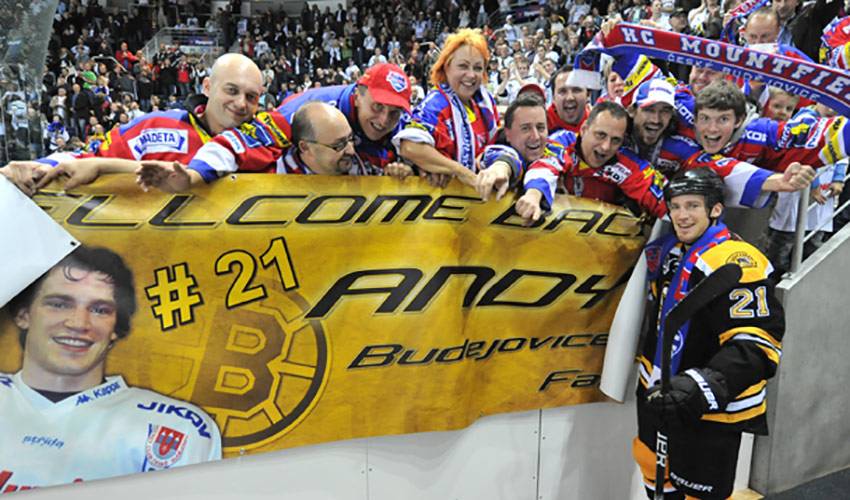 He played all of 19 games in the Czech Republic six years ago, but that doesn't mean Andrew Ference is a forgotten man.
When the 2004–05 NHL season was wiped out by the NHL lockout, Ference, like many of his fellow NHLPA members, took their skates and sticks and headed to Europe, to take to the ice.
The defenceman, then with the Calgary Flames, set his sights on the Czech Republic, eventually suiting up for HC Ceske Budejovice.
So when Ference, along with the rest of his Boston Bruins teammates, found out their 2010-11 regular season would start in the Czech Republic, the Edmonton native couldn't have been happier.
"I've been here before, so everything is pretty much as expected," Ference told NHLPA.com's Ryan Parker, in Prague.
"They have great fans, great hockey and great cities here. It was nice to come back."
And for Ference, it was humbling to see the Czech fans remembered his time playing for Ceske Budejovice, when Boston faced-off against Liberec, in what turned out to be a 7-1 exhibition win for the Bruins on Tuesday.
He was even given a memento of his time with the team from people in the stands.
"They had a bunch of fans from Ceske Budejovice in the stands at the game," noted Ference, who began his hockey career in the Western Hockey League for the Portland Winter Hawks, before he was selected 208th overall by the Pittsburgh Penguins at the 1997 NHL Entry Draft.
"They were chanting all night, welcoming me back. They made me a big sign. I just went over to see them and they gave me a scarf from the team. There was probably 30 or 40 of them. It was great."
This year marks the fourth consecutive season the NHL will open its campaign in Europe. A record three events are scheduled, all in previous NHL Premiere cities: Helsinki, Finland; Stockholm, Sweden; and Prague.
The season is scheduled to start on October 7, with the Bruins playing their opener against the Phoenix Coyotes on October 9, before they meet again the following day.
While it's a new experience for most, Ference couldn't be more thrilled to be back on familiar ice. He's even taken on the role of tour guide for his teammates.
"I took some of the guys on the team around and showed them some of the sights," said the veteran of 570 NHL regular season games. "Just places that I remembered from when I played here. It's neat being able to come back a second time.
"You know where stuff is, what to order on the menu and where to go," he continued. "You know what to skip and what things are must-see spots. Getting to see Prague a second time is incredible. The architecture is unbelievable and the castles just seem to go on and on.
There's so much to do."
Getting off to a good start, however, remains the focus.
Boston has fared well over the past two campaigns, making it to the Eastern Conference semifinals twice. In 2008-09, they were ousted in seven games by the Carolina Hurricanes. Last year, they were sent to the sidelines, also in seven games, by the Philadelphia Flyers.
"Hopefully, we can start out strong," said Ference, whose work with environmentalist David Suzuki led him to create a carbon-neutral program that hundreds of NHL players have joined. "We like our team and we're hoping to have a memorable season."
And while the 82-game schedule is a demanding one, Ference and the Bruins, who bested a squad of Belfast-based all-stars 5-1 in an exhibition game in Northern Ireland, on October 2, is eager to get things going.
"It's been a great experience so far, both in Belfast and in Prague," he said. "There's always a lot of anticipation and optimism at this time of the year. I'm looking forward to it."