In Brandon, We Prust
A strong work ethic & pugilistic abilities endears him to his Rangers teammates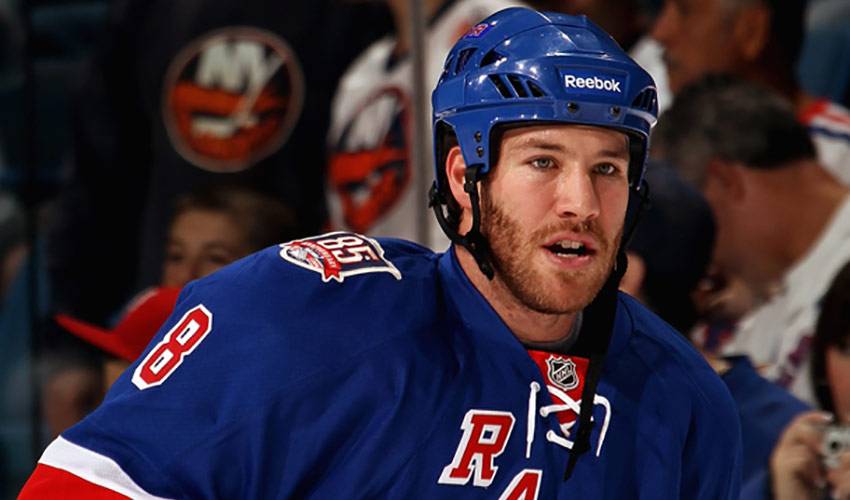 Brandon Prust's summer training regimen has definitely added some punch to the gritty forward's game.
They hail from the same city, are separated by just over a month in age and each know how to take and give a jab.
When Prust, in his first full year with the New York Rangers, he met up with fellow London, Ontario native and Ultimate Fighting Championship (UFC) competitor Sam Stout in their hometown. The two became fast friends and eventually training partners during the 2010 summer months.
"Both of us being from London and the same age, I guess it just made sense that would we meet at some point," said the 26-year-old Prust, who played his junior hockey with his hometown Knights, from 2002-05, winning the OHL title and Memorial Cup in his final year. "We became friends right away and that led us to do some boxing and training together."
Prust learned a great deal from and about Stout, including that the Canadian mixed martial artist and K-1 kickboxer has a strong jaw.
"He can definitely take one," said Prust, who was selected by Calgary in the third round (70th overall) of the 2004 NHL Entry Draft. "He's pretty quick, too. For as much as I learned about boxing, the workouts he does to prepare for his UFC fights are great in an all-round sense. You work your balance, core and strength, as well. Sparring a three-minute round is really taxing. I have a lot of respect for what he does."
Prust is equally deserving of respect for his role on the Rangers.
The 6'2", 195-pounder is by no means a heavyweight when it comes to the tough guy fraternity, but it doesn't stop him from doing his job when he's called upon.
"I think the team was lacking a little bit of what I do when I first came here," said Prust, who was traded from the Flames to the Rangers, along with Olli Jokinen for Aleš Kotalík and Christopher Higgins, on February 1. "I want to be that physical presence. I'll fight when I have to and show the boys that I'll stick up for them. I want to bring that high energy to all of my shifts and do something positive. I think the fans appreciate that and so do the coaches."
Prust, traded along with Matthew Lombardi and a first-round draft pick to the Phoenix Coyotes for Olli Jokinen on March 4, 2009, doesn't need to be reminded that every game, even in the early stages of the season, are important ones. He also doesn't wish to relive the heartbreaking ending to New York's 2009-10 campaign.
In danger of falling out of the playoff picture entirely in March, the Rangers went 7-1-2 record to finish the season. The final two games of the season saw them square off against rival Philadelphia in a home and home series.
The first game saw New York get the win, one that kept their post-season hopes alive. The final game would decide who would move on whose season would end.
In the second game, Philadelphia shooters fired 47 shots at Henrik Lundqvist, but beat him just once. The game went into a shootout, with the Flyers getting the victory.
"The NHL these days, it's just so close," said Prust. "When you hear that every game matters, it does. We don't want to be in the position where we get down to the last game again and then lose by a point. We looked back to the slumps we went through and it was a real learning curve for all of us."
For his part, Prust will continue to do what he's done best.
"I'm stronger than ever before due to the boxing and my summer training," he offered. "I wish I would have done this five years ago because I would have perfected it by now. I've really been able to utilize what I've done and made my game better. I want to be strong in my role and I want do the things that can help us be successful."
Prust hopes it adds up to give the Rangers a fighting chance in the Eastern Conference playoff picture.
"We know what we have to do to get what we're after," he said. "Everyone here understands their role and what the expectations are. We don't want to see what happened last year happen to us again this year."
Which is why Brandon Prust is willing to go the extra round to make sure it doesn't.