Kraft Hockeyville Returns to Award $100K in Arena Upgrades!
NHL players Joe Thornton, Dan Cleary, Brendan Morrison, Tyler Myers and Alex Burrows sign on as Kraft Hockeyville 2011 ambassadors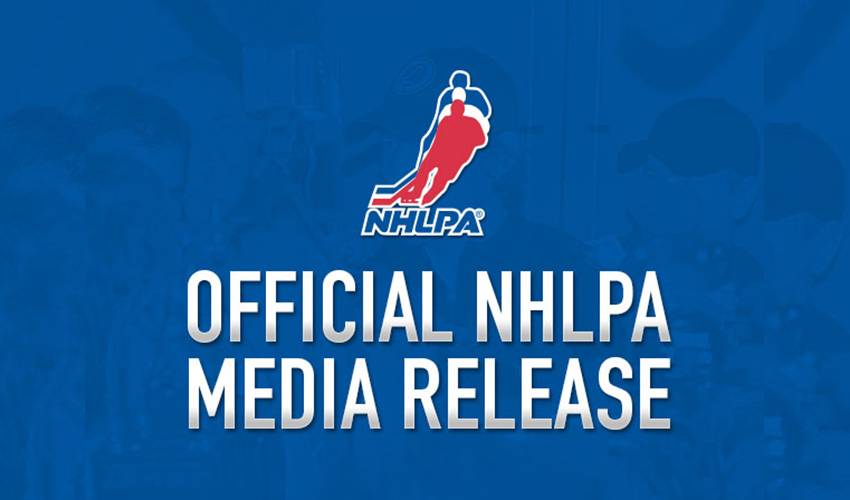 KRAFT HOCKEYVILLE RETURNS! WIN $100,000 IN ARENA UPGRADE MONEY FROM KRAFT CANADA AND A 2011-12 NHL PRE-SEASON GAME AT YOUR LOCAL ARENA
Toronto, ON – November 8, 2010 – Every new NHLseason marks the beginning of a new Kraft Hockeyville competition. The Kraft Hockeyville partners including; Kraft Canada, CBC, The National Hockey League (NHL) and the National Hockey League Players' Association (NHLPA) have opened the nomination phase for Kraft Hockeyville 2011 – the search for Canada's most passionate hockey town. Canadians from coast-to-coast can enter to win $100,000 in arena upgrades courtesy of Kraft Canada and a 2011/12 NHL® pre-season game played at their local arena plus a special CBC's Hockey Night in Canada broadcast from their community. Four runner-up communities will receive $25,000 each for arena upgrades from Kraft Canada. The nomination phase closes on January 30, 2011.
This year, the competition has introduced an updated logo and a new format that will split the country into five regions to allow for a greater representation. Additionally, five NHL® players have joined as regional ambassadors for Kraft Hockeyville 2011 including; San Jose Sharks forward Joe Thornton (Ontario), Vancouver Canucks forward Alex Burrows (Quebec), Calgary Flames forward Brendan Morrison (Pacific), Buffalo Sabres defenseman Tyler Myers (West) and Detroit Red Wings forward Dan Cleary (Atlantic). Entrants will be able to watch each player's video testimonial in the near future on the new Kraft Hockeyville website at www.krafthockeyville.ca. Tyler Myers has played in a previous Kraft Hockeyville NHL pre-season game.
"The great thing about Kraft Hockeyville is that it brings the game back to its roots at the local rink." said Dan Cleary, Detroit Red Wings forward. "It's a great reminder of how hockey plays such a big role in our lives and brings communities together across the country."
Beginning November 5, 2010 Communities can enter the Kraft Hockeyville 2011 competition by logging-on to a new website, www.krafthockeyville.ca and nominating their community. Communities must complete a simple application form and submit a short essay (up to 4,000 characters) with up to three supporting photos (at least one photo must be submitted to qualify) that depicts their hometown pride and passion for the game.
Participants have until Sunday, January 30, 2011 at 11:59:59 p.m. ET to submit their application. The top 10 communities chosen to compete for the Kraft Hockeyville 2011 title will be revealed on the Kraft Hockeyville 2011 show on CBC on Tuesday, March 8, 2011. Canadians will then vote for their top five communities from March 8 – March 13, 2011. Once the votes have been tallied, the top five communities will be announced on CBC's HOCKEY NIGHT IN CANADA on March 19, 2011. At that point the slate will reset, and Canadians will vote from March 19 to March 21, 2011 for their favourite top five community and ultimately, the Kraft Hockeyville 2011 champion.
On Saturday, April 2, 2011 the Kraft Hockeyville team and CBC's HOCKEY NIGHT IN CANADA crew will visit and broadcast live from each of the top five communities. The Kraft Hockeyville 2011 winner will be announced live that evening on CBC'S HOCKEY NIGHT IN CANADA. The winning community will join previous champions from Dundas, ON (2010); Terrace, BC (2009); Roberval, QC (2008); North Bay, ON (2007); and Salmon River, NS (2006).
"What I love about the Kraft Hockeyville competition is the way it showcases the incredible community spirit and passion that Canadians have for their communities and the game of hockey," said Dino Bianco, President, Kraft Canada. "With exciting new elements this year including a regional format and NHL player representation in each region, we anticipate even greater inspiration for communities in their quest to become the next Kraft Hockeyville."
"Kraft Hockeyville continues to be a terrific success," said Scott Moore, executive director CBC Sports and general manager of the Revenue Group. "It is a program that truly showcases the pride and enthusiasm Canadians have in their communities. Last season, once again remarkable submissions were received from right across the country, and the winning community of Dundas, Ontario was fantastic. We can't wait to see what this year holds."
"The NHL is pleased to continue the successful partnership with Kraft, CBC and the NHLPA to showcase the many passionate hockey communities across Canada," said Brian Jennings, the NHL's executive vice president of marketing. "We look forward to celebrating the sixth installment of Kraft Hockeyville and awarding one deserving community with an NHL pre-season game.
"Kraft Hockeyville provides communities across Canada with a unique opportunity to bring the world's best hockey players to their local arena," said Mike Ouellet, NHLPA Chief of Business Affairs. "Over the last five years, including this past September in Dundas, Kraft Hockeyville has been an amazing experience for the fans in the winning communities and for the NHLPA members who have participated. We encourage communities across the country to start working on their applications in hopes of seeing NHL stars playing this game in their hometown."
The Kraft Hockeyville team will be keeping fans up-to-date throughout the competition. To view videos and receive insider updates, fans should join the Kraft Hockeyville Facebook page, check out coverage on NHL.com and follow @hockeyville on Twitter. For more information on Kraft Hockeyville 2011 and to receive updates and information on how to enter your community, visit www.krafthockeyville.ca.
Kraft Canada has supported hockey for over 30 years through sponsorships and grassroots programs. The Kraft Hockeyville partners have provided $790,000 in arena upgrade money, equipment and local food bank donations through the Kraft Hockeyville program.

NHL and the NHL Shield are registered trademarks of the National Hockey League. NHL and NHL team marks are the property of the NHL and its teams. © NHL 2010. All Rights Reserved.
©NHLPA. NHLPA, National Hockey League Players' Association and the NHLPA logo are trademarks of the NHLPA and are used under license.
About CBC
CBC/Radio-Canada is Canada's national public broadcaster and one of its largest cultural institutions. The Corporation is a leader in reaching Canadians on new platforms and delivers a comprehensive range of radio, television, Internet, and satellite-based services. Deeply rooted in the regions, CBC/Radio-Canada is the only domestic broadcaster to offer diverse regional and cultural perspectives in English, French and eight Aboriginal languages. For more information, visit www.cbc.ca.
About the NHL
The National Hockey League, founded in 1917, is the second-oldest of the four major professional team sports leagues in North America. Today, the NHL consists of 30 Member Clubs, each reflecting the League's international makeup, with players from more than 20 countries represented on team rosters. According to a Simmons Market Research study, NHL fans are younger, more educated, more affluent, and access content through digital means more than any other major professional sport. The NHL entertains more than 250 million fans each season in-arena and through its partners in national television (VERSUS, NBC, TSN, CBC, RDS, RIS, ESPN America, ASN and NHL Network™) and radio (NHL Radio™, Sirius XM Satellite Radio and XM Canada). Through the NHL Foundation, the League's charitable arm, the NHL raises money and awareness for Hockey Fights Cancer™ and NHL Youth Development, and supports the charitable efforts of NHL players. For more information on the NHL, log on to NHL.com.
About the NHLPA
The National Hockey League Players' Association (NHLPA), established in 1967, is a labour organization whose members are the players in the National Hockey League (NHL). The NHLPA works on behalf of the players in varied disciplines such as labour relations, product licensing, marketing, international hockey and community relations, all in furtherance of its efforts to promote its members and the game of hockey. In 1999, the NHLPA launched the Goals & Dreams fund as a way for the players to give something back to the game they love. Over the past 11 years, more than 50,000 deserving children in 23 countries have benefited from the players' donations of hockey equipment. Goals & Dreams has donated more than $19-million to grassroots hockey programs, making it the largest program of its kind. For more information on the NHLPA, please visit www.nhlpa.com.
About Kraft Foods
Kraft Foods is building a global snacks powerhouse and an unrivaled portfolio of brands people love. With annual revenues of approximately $48 billion, the company is the world's second largest food company, making delicious products for billions of consumers in approximately 170 countries. The portfolio includes 11 iconic brands with revenues exceeding $1 billion – Oreo, Nabisco and LU biscuits; Milka and Cadbury chocolates; Trident gum; Jacobs and Maxwell House coffees; Philadelphia cream cheeses; Kraft cheeses, dinners and dressings; and Oscar Mayer meats. Approximately 70 brands generate annual revenues of more than $100 million. Kraft Foods (www.kraftfoodscompany.com; NYSE: KFT) is a member of the Dow Jones Industrial Average, Standard & Poor's 500, Dow Jones Sustainability Index and Ethibel Sustainability Index. In Canada, company brands include Kraft Dinner macaroni and cheese, Christie cookies and crackers, Kool-Aid and Del Monte beverages, Caramilk chocolate, Maynards candy, and Stride and Dentyne gum.
KRAFT HOCKEYVILLE 2011: BROADCAST SCHEDULE
Saturday, January 22
CBC's Legacy Feature: How the Kraft Hockeyville program has grown over the years and the impact it has had on local communities.
Tuesday, March 8
KRAFT HOCKEYVILLE 2011 ON CBC: Top 10 communities revealed
Saturday, March 19
CBC'S HOCKEY NIGHT IN CANADA: Top five communities revealed
Saturday, April 2
CBC'S HOCKEY NIGHT IN CANADA: Kraft Hockeyville 2011 winner revealed
Saturday, April 9
KRAFT HOCKEYVILLE 2011 ON CBC'S HOCKEY NIGHT IN CANADA AFTER THE HORN: Recap feature