NHLPA's Allstate All-Canadians Mentorship Program Launches
NHL players to guide the next generation of Canadian grassroots hockey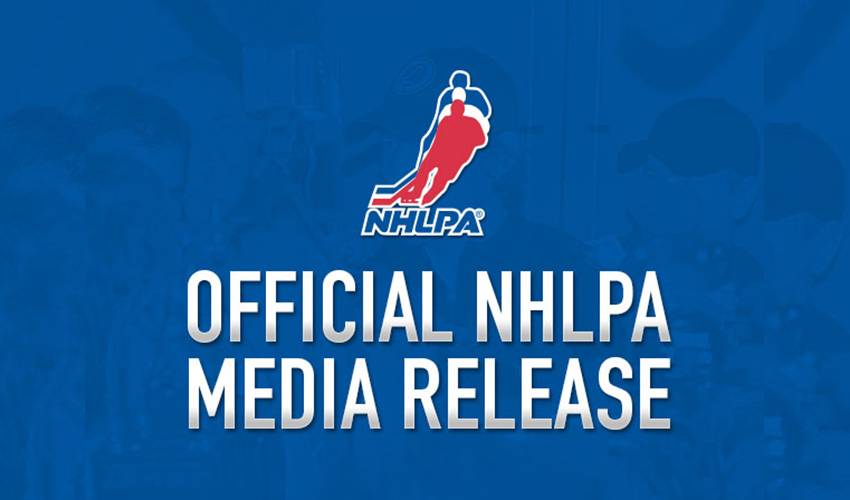 NHLPA AND ALLSTATE CANADA LAUNCH THE ALLSTATE ALL-CANADIANS MENTORSHIP PROGRAM
TORONTO, ON (November 15, 2010) – The National Hockey League Players' Association (NHLPA) in partnership with Allstate Insurance Company of Canada is pleased to announce the Allstate All-Canadians program, one of the most significant player-driven initiatives in hockey history, designed to re-invest in the grassroots of the game. Unveiled today, Allstate All-Canadians is a mentorship program designed to guide the next generation of Canada's hockey youth.
The new Allstate All-Canadians program will provide young players, coaches and parents with the opportunity to access exclusive on-ice drills and off-ice development tips directly from NHL players and other hockey industry experts via the program's newly-launched website allstate.all-canadians.com. This site will be the number one destination for Canadians looking to access expert information directly from NHL players.
The NHLPA and Allstate Canada will also be working to benefit young hockey players at the elite level. The 40 best Bantam prospects in Canada will be scouted, identified and invited to attend a special "Next Generation" camp where they will receive one-on-one mentorship and instruction on a variety of key on-ice and off-ice topics from Canadian hockey heroes.
"Teaching the skills of the game of hockey is important, but we also see an opportunity for NHL players to offer so much more through the Allstate All-Canadians program," said Mike Ouellet, NHLPA Chief of Business Affairs. "The NHLPA and Allstate Canada will provide information in all of the areas necessary for young players to be at their best – nutrition, sports psychology, conditioning, physical fitness and leadership."
Eleven years ago, the NHLPA launched the NHLPA Goals & Dreams fund, which to date has donated more than $19-million to grassroots hockey around the world. NHL players are now further giving back to grassroots hockey in Canada through this program with Allstate Canada to help mentor the next generation of youth hockey nationwide to keep the game of hockey strong and vibrant.
"The Allstate All-Canadians hockey mentorship program is a tremendous opportunity for young Canadians to learn how to become better players, better teammates and ultimately, better members of the community while learning from NHL players," said Chris Kiah, President and Chief Executive Officer of Allstate Canada. "This unique program, through our partnership with the NHLPA, is just another example of Allstate Canada's commitment to giving back to the community and investing in the next generation of future leaders."
Allstate Canada will be an active partner in the Allstate All-Canadians program as the company's more than 600 trusted agents will help to deliver the program's resources directly to Canada's minor hockey community.
"This program will provide life lessons for aspiring young players from a source they can trust," said Dr. Paul Dennis, sport psychologist and Allstate All-Canadians contributor, who formerly served as the Player Development Coach with the Toronto Maple Leafs. "The new website will give us a means of teaching all players, coaches and parents the mental skills to cope with the pressures of the game, perform at their peak and keep their eye on the bigger picture at the same time – hockey is about fun!"
The "Next Generation" camp will be run by Gary Roberts and current NHL players from August 3-6, 2011, at the Hershey Centre in Mississauga, Ontario. The four-day camp will conclude with an exhibition game. This unprecedented camp for some of the country's most promising young players will allow them to learn what it takes to succeed directly from their hockey heroes.
"We are going well beyond on-ice instruction to help these talented young players in the Allstate All-Canadians program", said Roberts. "I truly believe that if these players focus on building a strong foundation based on proper training, good nutrition and respect for the game, it will help them be the best players, and people, they can be now and into the future. I was well into my career before I fully appreciated the importance of everything it was going to take to keep me on the ice performing at an optimum level."
As part of the Allstate All-Canadians, the NHLPA and Allstate Canada are pleased to announce that six NHL players will serve as Player Ambassadors for the program: Mike Cammalleri (Richmond Hill, Ontario), Jordan Eberle (Regina, Saskatchewan), J.S. Giguere, (Montreal, Quebec), Eric Staal (Thunder Bay, Ontario), John Tavares (Mississauga, Ontario) and Shea Weber (Sicamous, British Columbia).
For generations, mentorship at the community level is what has kept Canada's game strong as the knowledge and love of the game gets passed from generation-to-generation, coach to player and parents to children. Hockey is an intergenerational Canadian tradition that has been passed down from our forefathers and one that will in turn be passed on to the next generation – now with the help of NHL players through Allstate All-Canadians.
About Allstate Insurance Company of Canada
The Allstate Insurance Company of Canada has provided solutions that bring peace of mind to Canadians with our home and auto insurance products since 1953. Our slogan, You're in Good Hands®, exemplifies the commitment, knowledge and professionalism of Allstate's trusted advisors to customers, as well as our dedication to making a difference in local communities. We have built a legacy of excellence in customer experience – we help protect customers' and their family's most valuable assets and develop products that anticipate their needs. If the unexpected happens, our customers know they have people and coverage they can count on. As much as we touch the lives of Canadians through our products and services, we also carry a proud heritage of community involvement and are firm believers in good corporate citizenship. Our employees, through volunteer efforts and the Allstate Foundation, lend a hand to a wide range of not-for-profit and charitable organizations such as Mothers Against Drunk Driving (MADD Canada), Crime Stoppers, United Way and Junior Achievement.
About the National Hockey League Players' Association
The National Hockey League Players' Association (NHLPA), established in 1967, is a labour organization whose members are the players in the National Hockey League (NHL). The NHLPA works on behalf of the players in varied disciplines such as labour relations, product licensing, marketing, international hockey and community relations, all in furtherance of its efforts to promote its members and the game of hockey. In 1999, the NHLPA launched the Goals & Dreams fund as a way for the players to give something back to the game they love. Over the past 11 years, more than 50,000 deserving children in 23 countries have benefited from the players' donations of hockey equipment. NHLPA Goals & Dreams has donated more than $19-million to grassroots hockey programs, making it the largest program of its kind. For more information on the NHLPA, please visit www.nhlpa.com.