Smalltown Boy, Bigtime Player
Murray Harbour PEI native, Brad Richards continues to hone his skills & reach new heights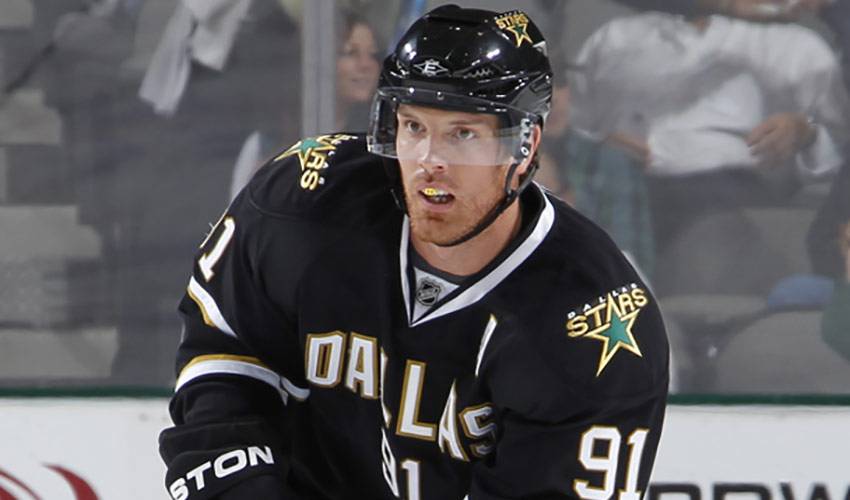 He might be a small-town kid at heart, but Brad Richards has quietly become a big-time star at hockey's elite level.
Even after a remarkable junior career and several memorable NHL seasons, Richards, now 30, still has a rookie-like fondness for the sport he thrives in, relishing every moment he's on the ice, regardless if his name appears on the scoresheet.
That exuberance is readily apparent from the opening day of training camp each year right up until the final game of each season for one of hockey's most versatile performers.
The reason for his positive outlook can be directly traced to his hometown, the small and picturesque town of Murray Harbour, Prince Edward Island, a place where hockey rules seven days a week, 365 days a year.
"I was very lucky because there were two ponds right behind my grandparents' house," recalled Richards, who put them to good use when he was growing up. "It was very convenient for me. I couldn't even add up all the hours I spent out there."
His affinity for the sport never diminished, even as the demands increased. When Richards left home in 1996 to play for Notre Dame of the Saskatchewan Junior Hockey League, he carried the hopes of Murray Harbour residents and his dream of working towards a career in the big leagues.
The toughest transition, remembered Richards, wasn't bracing for the challenges that lay ahead, but rather in what he was leaving behind.
"It was tough to leave, no doubt about it," admitted Richards, who went on to play alongside future NHL teammate Vincent Lecavalier as members of the Rimouski Oceanic of the Quebec Major Junior Hockey League. "But I knew if I wanted to pursue hockey as a career, it was the only decision. I owe a lot to my parents, not just for what they taught me, but how they have supported me throughout the years."
Aside from a Memorial Cup championship with the Oceanic in 1999-2000, Richards won a slew of individual awards during his time in the 'Q', including Canadian Hockey League Player of the Year, QMJHL Most Valuable Player and CHL's Top Scorer.
"It was still tough being away from home, but the fans and my teammates made it a lot easier for me in Rimouski," said Richards, who recorded 186 points in 1999-2000, his final season with the Oceanic. "I have nothing but great memories of my time there."
Richards, who was selected in the third round, 64th overall, by the Tampa Bay Lightning in the 1998 NHL Entry Draft, has continued to create more lasting moments since joining the NHL ranks.
After several stellar seasons with the Lightning, Richards was dealt on February 26, 2008, just hours before the NHL trade deadline, to the Dallas Stars, along with goaltender Johan Holmqvist, for goalie Mike Smith, centre Jeff Halpern, winger Jussi Jokinen and a 2009 fourth-round draft pick.
Richards' first game in Texas couldn't have gone any better.
He set a career high and made Stars franchise history by recording five assists in his first game with Dallas. The Stars bested the Chicago Blackhawks 7–4, and Richards was named the number one star of the game.
The centreman hasn't shown any signs of slowing down. In 2009-10, he matched a career-best by recording 91 points, including 24 goals.
"I think it's only natural that you increase your expectations each season," said Richards, who recently reached the 200-goal plateau. "You have to capitalize on what you achieved and expect more from yourself."
But it's not only on the ice where Richards has earned numerous accolades.
During his time in Florida, Richards rented a suite for Lightning home games and invited families dealing with various forms of pediatric cancer to use it. After eto watch Tampa play.
When he was traded to Dallas, he continued his charity work with the Children's Medical Center's Oncology Department. And in September, Richards donated $500,000 to the Queen Elizabeth Hospital in Charlottetown, Prince Edward Island.
He has also hosted the Brad Richards PEI Celebrity Golf Classic for the past six years. The event supports two charities: Children's Wish Foundation, Prince Edward Island Chapter and Autism Society of Prince Edward Island.
It's ample proof that good guys don't always finish last. In fact, some of them to turn out to be the most genuine stars you'll find.