Putting in work, on & off the ice
Rob Schremp sees better days ahead for the Isles & is eager to share it with the fans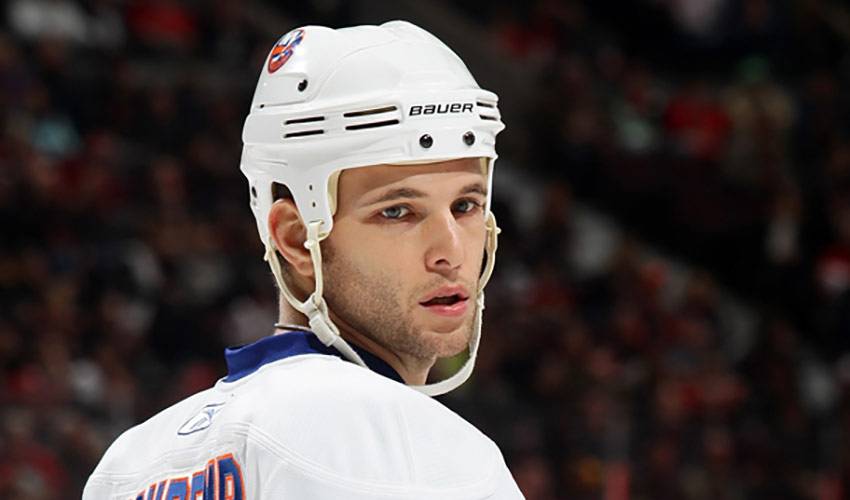 Rob Schremp does not believe in keeping fans at an arm's length.
It's a unique event, an evening that Schremp has marked on his calendar.
On November 30, Schremp, along with New York Islanders teammate Andrew MacDonald, will rub elbows with fans at a dinner, a night that also gives Isles' backers a ticket to a home game of their choice.
Schremp didn't need to be asked twice.
"I guess you can say I'm not really the shy type," said the former 25th overall selection of the Edmonton Oilers in the 2004 NHL Entry Draft. "To have a chance to sit down in a relaxed environment and talk to fans, it's a great idea. We're spoiled when it comes to our fans. I'm really looking forward to it."
Social, a restaurant just across the street from the Coliseum, is hosting the night. Included is a three-course meal from Danny Gagnon of "Top Chef" and personal visits to your table by Schremp and MacDonald. On this evening, autograph requests and taking of photographs are encouraged.
Don't expect either player to be camera-shy.
"I guess you could say we're both chatterboxes in the room," said Schremp, who broke into the Ontario Hockey League in 2002-03 and was named the league's Rookie of the Year after tallying 75 points in 65 games. "We're always talking and keeping things light. So for us, this type of event is right up our alley. It should be a lot of fun."
It hasn't been what one would term fun for both Schremp and the Islanders early in the 2010-11 NHL season.
The 24-year-old, who suffered a lower back injury during the Isles' exhibition contest against the New Jersey Devils in early October, has only played in a handful of regular season games to date.
The Islanders, after a promising beginning to their campaign, have dropped 11 games in a row, including a three-game sweep on a California trip. Scott Gordon, their head coach was fired, with Jack Capuano, the coach of the Islanders' AHL affiliate, the Bridgeport Sound Tigers, taking over behind the bench.
For a team that has not won a playoff series since the 1992–93 NHL season and who were ousted in five games in the opening round in their last post-season appearance in 1996-97, it's hardly what they need.
But Schremp isn't willing to concede anything yet.
"I can tell you it's certainly not from lack of effort," said the native of Syracuse, New York, who, as a member of the London Knights, would help the OHL squad capture the 2005 Memorial Cup and become one of the most dominant junior teams in history. "Everyone is playing hard, but the results aren't there."
Lucky bounces, it seems, have hardly come the Isles' way.
"That's been the most frustrating part," said Schremp, who followed up his remarkable junior season by leading the OHL in points with 145 in 2005-06. "We've had chances and either it's been the puck hitting the post or getting swept away at the very last second. And it seems when the opposition gets a similar chance, the goal light goes on."
Yet through all the tough losses, the players have been resilient, something Schremp sees in practice and within the room.
"When you see a respected veteran like Doug Weight working his butt off day in and day out, you notice," said Schremp, who appeared in his first NHL game as a member of the Edmonton Oilers on April 5, 2007. "That tells each and every one of us that we won't give up. It's good for all of us to see."
It's why Schremp sees better days ahead.
"We have a great group of veteran players, guys like Doug, Dwayne Roloson and Rick Di Pietro, who all know how to lead. We also have some very talented young players that know we can get out of this. Every game is tough and with playoffs races being so tight, every game has meaning. We all know that."
Wins and losses aside, Schremp, at least for one night, will put all of it aside when he gets to talk the talk with hockey fans.
"There are points in the year when you get brief time to spend with fans, but this will allow us to get to know the people that come to the games. It's a great idea and it should be a great night."