A Wish Gone Unfulfilled
John Erskine knows exactly what he would ask for this holiday season; another shot at the Stanley Cup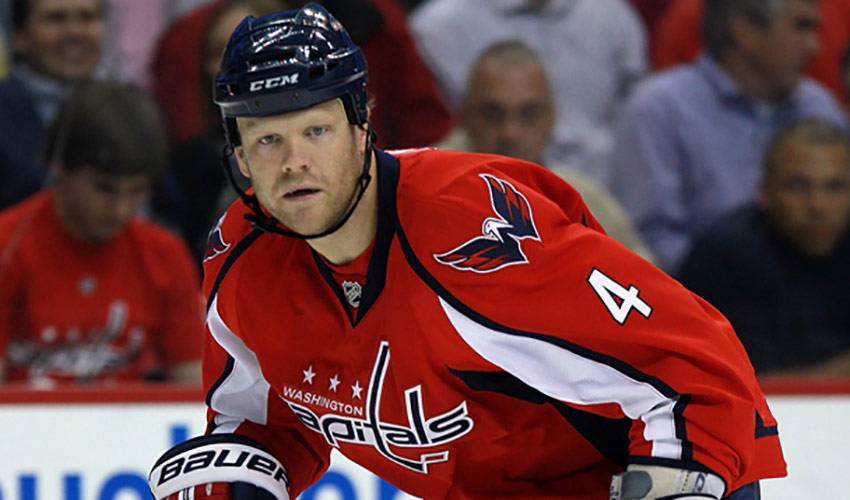 John Erskine wasn't overly tempted to ask Santa for his own personal wish when he recently took his kids to see the man from the North Pole, but he definitely knows what that wish would have been.
You could forgive Erskine, Washington's imposing defensive defenceman, if he had felt inclined to ask Jolly Old St. Nick to deliver him a shiny silver trophy, one that all NHLPA members dream of hoisting aloft, when he had the chance.
After all, the 2009-10 season, one that appeared to be full of promise and a possible Stanley Cup parade, ended in bitter disappointment for Erskine and the Capitals.
"I really never thought of asking Santa for a Stanley Cup, but I suppose that would have been what I asked for," Erskine told NHLPA.com. "None of us liked what happened last year. We had big hopes and it ended badly for us."
The Capitals finished the regular season first overall in the league with 121 points. Alexander Ovechkin, who would receive his third NHLPA Ted Lindsay Award, led the team in points with 109, and finished as the third highest goal scorer, despite playing nine games fewer than the league leaders Sidney Crosby and Steven Stamkos.
Nicklas Backstrom finished with 101 points, fourth most in the NHL. Blue-chip blueliner Mike Green led all defensemen in points, with 76. The Capitals also dominated the plus/minus category, finishing with five players in the top six.
Yet none of the success, team-wise or individually, translated into post-season glory. The Capitals championship hopes were dashed in shocking fashion, when they were ousted by the eighth-seeded Montreal Canadiens in the first round of the playoffs.
A quarter of the way through the 2010-11 and the players haven't forgotten the disappointing conclusion to last year's campaign.
"It was tough to deal with last year and everyone still knows how bad it felt," said Erskine, who was selected 39th overall by the Dallas Stars in the 1998 NHL Entry Draft. "When we came to camp this year, it was still there. I suppose you could look at it as playing angry, in knowing that we have the talent to do better and we have to go out there and prove it."
Erskine is eager to show what he can do in the post-season. Last year, he didn't suit up for any playoff action, something he wants to experience in 2010-11.
The former Max Kaminsky Trophy winner as the top defenceman in the OHL in 1999–2000 worked overtime in the summer to be in peak physical condition.
It's obvious his hard work has paid off.
Known primarily for his stout defensive work in his own end, Erskine has chipped in with some timely offence, including a memorable game in November against division rival Atlanta.
The rugged defenceman fired a slapshot into the net for his second goal in four games, a marker that put the Capitals up by a goal with less than seven minutes remaining in regulation. The goal stood as the game-winner.
Could the offence have stemmed from his contributions to Movember, a moustache growing charity event held during November each year that raises funds and awareness for men's health?
"You never know, maybe it was," laughed Erskine, who was traded in 2005-06 to the New York Islanders for defenceman Janne Niinimaa. "My wife actually gave the thumbs-up to the idea of the mustache. I was going to keep it for the Winter Classic (Washington visits Pittsburgh for the outdoor event on January 1 at Heinz Field), but it started driving me crazy, so it's gone."
The look might be a thing of the past, but Erskine's focus remains unchanged.
"We know what we are capable of doing, it's just a question of putting it all together," said the Ontario native, who signed as a free agent with the Capitals on September 14, 2006. "This year, we still have been inconsistent. We want to be better and everyone is committed to that."
For his part, the avid weightlifter, fisherman, hunter and golfer, who played three seasons of major junior hockey with the London Knights in the OHL, is hoping his simple, yet effective approach to the game helps the Caps net their first championship.
"I just want to go out every shift and be responsible in my own end and if the opportunity comes my way to add some help in the offensive zone, that's great," said Erskine. "I didn't like the feeling of not playing in the playoffs and I trained hard to be at the top of my game.
"I worked with four other NHL guys over the summer. I worked on my core and strength and it really has helped me."
It seems Erskine might not need a little help from Kris Kringle after all.
"Well, it's a nice thought, to think about winning the Stanley Cup," he said. "It's what we all dream about and it's what we all play for."