Ville Has Made It in Philly
A strong showing in the the playoffs has solidified Leino's position with the Flyers; Finnish winger eager to continue his strong play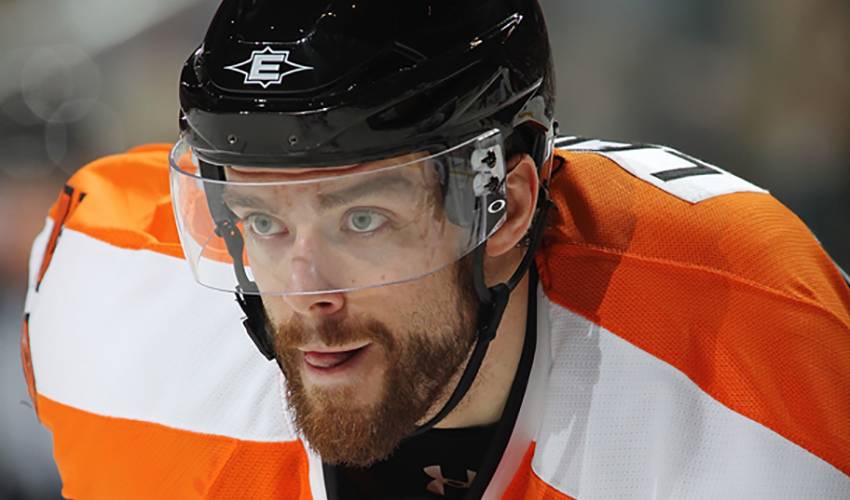 Nothing, not even off-season surgery, could derail the rise of Ville Leino as a genuine NHL talent.

Since 2008 and for most of the 2009-10 campaign, Leino, who went undrafted, lived in relative anonymity in NHL circles.

The native of Savonlinna, Finland, who signed a one-year contract with the Detroit Red Wings in May of 2008, was traded to the Philadelphia Flyers in exchange for Norwegian defenceman Ole-Kristian Tollefsen and a fifth-round pick in the 2011 NHL Entry Draft, on February 6, 2010.

While the deal didn't muster much reaction from the hockey world, Leino's play in the 2009-10 playoffs certainly had everyone talking.

But it wasn't that way at the beginning.

Leino, who had two goals and two assists in 14 games with the Flyers in the regular season, started the 2010 Stanley Cup Playoffs in the press box. But injuries to Simon Gagné and Jeff Carter called Leino into action.

Forming the most potent line in the post-season with Daniel Brière and Scott Hartnell, Leino recorded seven goals and fourteen assists for 21 points in 19 games. It tied the rookie record for most points in the Stanley Cup Playoffs held by recent Hall of Fame inductee Dino Ciccarelli.

"I was just hoping for an opportunity, a chance to show that I could play at this level," said Leino, who also set the standard for most assists in the Stanley Cup Playoffs by a rookie. "When I was given that chance, I wanted to make the most of it. Things just came together and I was more and more confident as the playoffs went on. I had two great linemates and we really gelled together."

While the Flyers fell short of their ultimate goal, losing to the Chicago Blackhawks in the Stanley Cup final, Leino stamped himself as a player on the rise, a left winger with plenty of upside.

Even so, personal success is of little concern to Leino.

"I'm glad I was able to contribute in the playoffs, but we didn't win," said the 27-year-old. "I just wanted to build on what we accomplished and for me, I wanted to get better."

It wouldn't be easy.

Offseason hip surgery kept Leino from his usual summer training regimen, putting him behind schedule ahead of training camp.

He didn't need to be reminded of the hard work he faced.

"You do think about what's ahead and how you might not be at 100 per cent when you want to be," said Leino, who, in the first period of his NHL debut on January 31, 2009, scored a goal in a 4-2 loss to the Washington Capitals. "It's not a great feeling because you want to build on the momentum you had.

"The hip was slowing me down at the start of the year and I couldn't do everything I wanted to," continued Leino. "You want to win the battles and you want to be at top speed. But you just have to fight through it. I could feel it getting better and better as the season went along."

For Leino, the 2007-08 Finnish SM-Liiga Golden Helmet (player of the year), dealing with the mental aspect of the injury was equally as tough as the physical discomfort.

"You just want to dig yourself out of the tough times and get back to doing what you love," said Leino, who was signed by Finnish Elite League squad Jokerit, where, in his first season he broke the franchise record for most regular season points with 77. "There are times where you worry, but when you get back out there and start feeling good, you gain that confidence back quickly."

It seems the man from Savonlinna, the city has hosted the Mobile Phone Throwing World Championships annually since 2000, is definitely dialed-in these days.

Finding his game in Philadelphia, he admits, is extremely satisfying.

"For me, it's about building on things," offered Leino. "I was happy in a lot of ways with how things went last year, but it's about keeping that momentum going and working hard every practice and every game."

With a healthy hip and a strong beginning to his 2010-11 season, Leino really has no reason to look back on anything. He does, however, have plenty of reasons to look forward to a promising future.