A Canuck Captain Honoured
Former Lester B. Pearson Award recipient Markus Naslund saw his number 19 sweater raised to the rafters in Vancouver, surrounding by his family, former teammates and close friends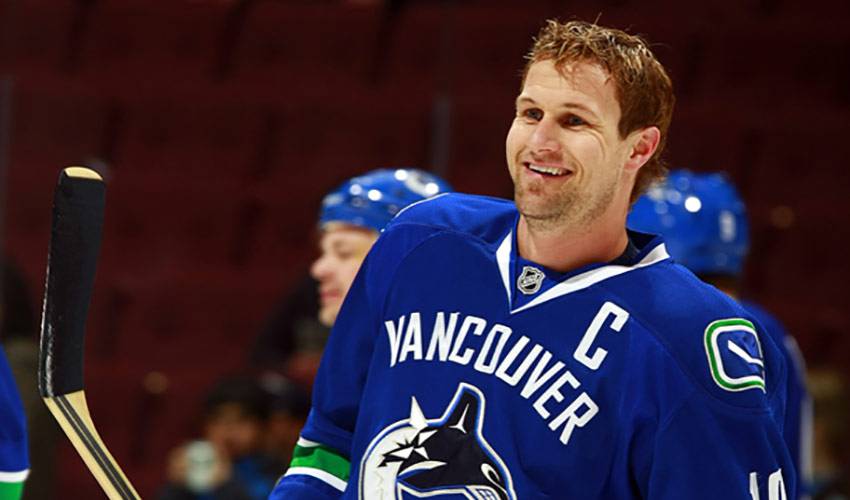 The last time Markus Naslund was on the ice of Rogers Arena - then known as General Motors Place - the ending left a lot to be desired for him. In what would be his final game in a Vancouver Canucks jersey on April 6, 2008, Naslund, a veteran of 12 seasons in Vancouver, and his teammates were defeated by the Calgary Flames in their season finale after 12 seasons. The following summer, Naslund would sign as a free agent with the New York Rangers, playing the 2008-09 season in Manhattan before announcing his retirement after one season with the Blueshirts.
On Saturday night, December 11, 2010, Naslund will be back in Vancouver under celebratory circumstances , as his #19 jersey will be lifted to the rafters of the arena, as he joins Stan Smyl and Trevor Linden as the third player in Canucks franchise history to have his number retired by the club. The native of Örnsköldsvik, Sweden, who received a call from Canucks general manager Mike Gillis this past summer informing him of the team's plans, told NHLPA.com it was "a great surprise, and a great honour to hear the news."
Naslund finished his Canucks career as the franchise's leading point-getter and goal-scorer, ranking just ahead of Smyl and Linden, having notched 346 goals and 410 assists during his time in Vancouver. His eight years as team captain also match the record set by Smyl as the longest to serve in the role. Despite his impressive resume as a Canuck, the notoriously humble Naslund was surprised to get the call informing him of the club's plans to honour him.
"I didn't expect it all," Naslund said. "There's so few to have this done and you look at all the great players who have come through over the years, with only two to have it done before me, it makes it even more special."
His season in New York allowed him to get a first-hand perspective on the kind of ceremony that he will be the focus of on Saturday night. Naslund was on the ice as the Rangers retired the numbers of Adam Graves, Harry Howell and Andy Bathgate in front of a raucous crowd at Madison Square Garden. Even after seeing these types of ceremonies in the past, Naslund is still unsure of how exactly he will handle the emotions of the moment when he takes the ice in front of the Vancouver fans.
"It will probably hit me that night when I'm standing there, it's hard to predict how it will feel ahead of time," Naslund said, when asked if the honour has sunk in yet. "But it's pretty neat. To see the emotions they had, I'm pretty excited for Saturday."
Naslund arrived in Vancouver for the first time on March 20th, 1996, after being traded from the Pittsburgh Penguins for Alek Stojanov. Both players had been first-round draft picks, yet struggled during their times in the respective cities, and the trade was looked upon as a way to give both a fresh chance. Stojanov would only play parts of two seasons for the Penguins before leaving the NHL, but Naslund shone, reaching tremendous heights in Vancouver.
"No, not at all," Naslund said, when asked if he could have imagined this when he first went to Vancouver. "I went through a stretch where I was a healthy scratch and it looked like the next step might be to head back and give up this thing. It started off rough in Pittsburgh, but I had troubles even when I first came to Vancouver. To look back it now like that, it was quite a turnaround."
That turnaround included a 104-point season in 2002-03, a season that saw him honoured by his fellow NHLPA members as the recipient of the Lester B. Pearson Award (now known as the Ted Lindsay Award), as well as five trips to the All-Star Game, numerous occasions where he suited up for Sweden in international competition, including two World Cups and the Olympics in 2002. Naslund mentioned the Pearson Award, which is voted on by NHLPA members and presented to the player they deem to be the 'Most Outstanding' for that season, when discussing where Saturday night's ceremony will rank in his career accomplishments.
"The Lester B. Pearson award was obviously a great honour, to be voted on by your peers, but the jersey retirement is something that's definitely up there. Looking back on my career, this is obviously going to be very memorable. to be able to be there with family and friends to share such a special night."
"It will probably be tough not to shed a tear," Naslund said. "Usually I'm not emotional, but I haven't been through a lot of things like this."
It promises to be a special night for Naslund, his friends and family, the Canucks organization and the fans in Vancouver.